Safety
Staying safe is all about taking care to avoid accidents
We should all take care of our own, and others', safety. There are hazards to avoid and we must be prepared to cope if something happens. Safety is all about what we do; it is about the way that we behave.
Accidents can happen when there is a hazard and we do not take care. Sometimes we create our own hazards, like leaving a bag where someone may trip over it or not doing a gate up properly.
Essential online training (free to British Rowing members)
Take a look at the Safety Basics online training module within RowHow; it will help you to think about safety in a structured way.
Please also see the Advanced Risk Assessment module which shows you how to produce a Risk Assessment.
Essential downloads for clubs
Completed Risk Management Plan example
Completed Risk Assessment example
Guidance for rowers and canoeists on shared water
Essential downloads for competitions
Completed Risk Assessment example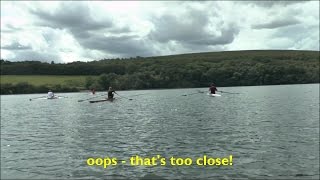 Play Video
Collision avoidance
Collisions are too common and can cause serious injuries. Help to avoid collisions by keeping a good lookout and making yourself easy to see. Look at the short video on Collision Avoidance.
Incident reporting
If you are involved in an incident or even if you just see one then please report it using the Incident Reporting system. This helps us to understand what is happening so that we can provide appropriate advice.
Safety alerts
From time to time Safety Alerts are issued to Club Rowing Safety Advisers (CRSAs) to let them know about important safety issues. There is an archive of Safety Alerts and an archive of safety articles originally published in Rowing and Regatta magazine.
You can find further guidance in RowSafe. If you have any questions talk to your Club Rowing Safety Adviser. If you need further advice then contact your Regional Rowing Safety Adviser, or contact the Honorary Rowing Safety Adviser: safety@britishrowing.org.
---
Remember to take care and be safe!