Why Row?
Rowing club members love the sport for lots of different reasons but for many, being part of a community is the most important
Rowers also row for the good of their physical and mental health and for some, because they like to race.
Rowing is a community
Rowing is a very social sport. Rowing clubs provide a ready-made community where you can meet new people and make life-long friends. And if you compete or participate in rowing tours away from your club, you'll quickly get to know people in other clubs too.
Everyone is welcome in the sport, whatever your ambition.
Most clubs organise social events too, from drinking tea after training to quiz nights and annual dinners.
Rowing promotes teamwork and camaraderie not just for rowers but for all club members and volunteers who work together to make rowing the vibrant community that it is today.
Why rowers love the social side of our sport
Find a rowing club
See all the rowing clubs near you and get links to their websites.
"The community and mix of people is great. People give up a lot of their time to enable and encourage others to enjoy the sport." Nastaran, Lea RC
"The main reason is because of the people you meet. I'm a cox and I like that I'm there for my crew to get the best out of them. That wouldn't be the case if rowers weren't so hard working, among many other things. Also, the sunrises aren't bad." Christie Tsioupra, Bournemouth University BC
"I hope rowing will always be part of my life. The biggest thing for me is the people you meet and the magic of contributing to a unit that you know is more than the sum of its parts." Emma Clifton, Cambridge University Lightweight Women's BC
Find out what members of other rowing clubs love about where they row here.
Rowing is good for your health
Aside from being fun, rowing has many physical and mental health benefits.
Whatever form of rowing you try, it is a great way to stay physically active or develop your fitness even further. Rowing works nearly all of the muscles in your body so it is a very efficient work-out… if that's what you want out of it!
Rowers generally do a combination of land and water training. Land training could include anything from sessions on the indoor rowing machines to circuit training (sometimes using weights depending on your experience) and core stability. Benefits include improvement of strength and endurance and preparation for your water sessions.
Water sessions might cover technical skills and drills or rowing for extended periods of time, again depending on your level of ability.
Aside from feeling good in yourself there is plenty of scientific evidence demonstrating that regular physical exercise lowers the risk of many diseases and improves your health. Benefits to your health have been shown to come from as little as 30 minutes of aerobic exercise three times per week.
Rowing can be a good way to burn off fat as it is predominantly an aerobic sport.
Why rowers say rowing is good for their health
"After 10 weeks of the Learn to Row course I was completely hooked. Rowing on the beautiful River Wear with the recreational rowers during the week and on Saturdays in an eight in the hugely motivating, competitive and hilarious company of our Masters squad is a total joy. Losing 10 kilos and improving my fitness is a bonus too." Ray Peacock, Durham Amateur RC
"Rowing completely changed my life. Ever since then I have taken care of my body and nutrition." CJ White, Fairlop RC
"Keeps my ticker in good nick! I forward to Mondays and come out every day in all weather. I wish I'd taken it up earlier." John Hunter, 79, Cambridge
Please see our Health and Fitness page for more information.
Racing
Lots of rowers like to race, although many prefer to row recreationally.
Rowing competitions affiliated to British Rowing fall into two seasons. Regattas are sprint races that allow for side by side racing, or at bigger events, multi-lane racing. Distances vary but cover anything from 500m to 2000m. The regatta season runs throughout the summer (generally from around May to August).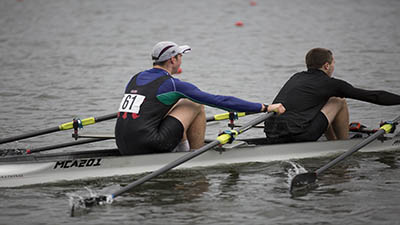 Head races are time trials, generally over longer distances with boats starting one after the other. The head season runs throughout the winter.
Why rowers love the competitive side of rowing
"For me it's ultimately about winning – the satisfaction that it brings after all the months of hard training. In the gym or out on the water, I feel a sense of escapism, and having fun with like-minded people keeps me coming back for more. Every session and every win fires my ambition to row for GB." Hattie Orr, Shiplake Vikings RC
Competition Calendar
Get dates for future regattas and head races and links to their websites.
"If you are looking for the most physically demanding, intense competitive sport, then rowing is the sport for you – if conversely you just like being out on the water in nice weather with a few like-minded people then rowing is also just the sport for you. It so happens that both reasons fit me to a T." Pete Jacobs, Poole RC 
"The real answer is that I love the feeling when I've got eight guys, in perfect time, giving their all and watching crews to the left and right fall behind us." Rory Cruickshank, Norwich School RC 
Types of rowing
You can row on rivers, lakes and reservoirs and off the coast, in sliding seat boats (the kind you may have seen used on TV in the Boat Race the Olympic Games) or in traditional fixed seat boats. And you can row recreationally or train to race. Find out more about these different types of rowing here.