Adaptive Rowing
Adaptive rowing is for people with impairments
Anyone can get involved in rowing regardless of physical, sensory or learning impairment.
"I love that adaptive rowing is accessible to so many varied disabilities. There always seems to be a solution to each individual's issues, allowing them to get into a boat and on to the water whatever their disability." – Hilary Birkinshaw, Guildford RC Adaptive Squad
There are many benefits to being involved in rowing; the sense of freedom, making life-long friends, and learning new skills whilst keeping fit and healthy. You can do all this on the water or indoors, just for fun or to compete in races.
Adaptive Rowing is about removing barriers to participation in the sport for anyone who has an impairment or disability.
Getting started
Give rowing a try!
Within Adaptive Rowing racing there are two main streams.
Para-Rowing for rowers who have successfully been through the classification process and have been assigned a Sport Class. These rowers are eligible to compete at all levels including the corresponding Rowability grouping and PR3, PR2, PR1 events up to and including the Paralympic Games.
Adaptive rowing forrowers who have been through the classification process and have been confirmed as meeting a minimal disability but are not eligible for Para-Rowing. These rowers will have been assigned a classification and are eligible to compete in all British Rowing competitions up to but not including the British Rowing Championships.
For more information about Classifications head to our dedicated page. For those interested in indoor rowing you can find more information about Indoor Adaptive Rowing Classifications here.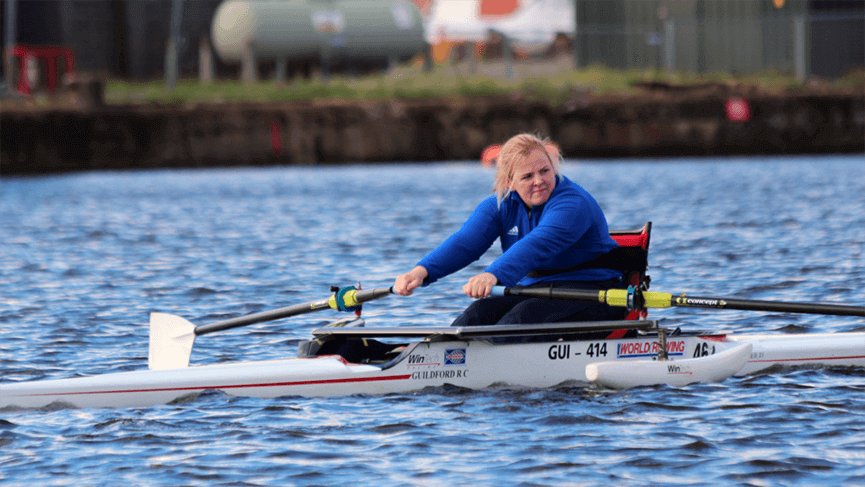 "Adaptive rowing is a fantastic sport because almost anybody with any kind of disability is able to participate." – Scott Ballard-Ridley, Evesham RC
The first rowing club for those with a disability was affiliated to British Rowing in 1998 and there are now a number of clubs across the country that offer adaptive rowing.  Advances in the equipment available for rowers with a disability and the increasing number of accessible rowing venues has meant that rowing is truly becoming a leader in inclusive sport.
Great Britain's success at international level is also proving an inspiration.  The GB Rowing Team has been winning gold medals in Para-Rowing classes at World Championships since 2003. Rowing was first included in the Paralympic Games at Beijing 2008, when GB single scullers, Helene Raynsford and Tom Aggar both brought home gold medals for the team. At London 2012, the GB's mixed coxed four claimed a stunning gold medal on home water. GB was the only nation to qualified all four boats classes for the 2016 Paralympic Games in Rio, where our crews won an incredible three gold medlad and one bronze. At Tokyo 2020 the PR2 Mixed Double Scull and the PR3 Mixed Coxed Four both retained their titles.
You can find out more about getting started by contacting us by email.
Capsize drill for adaptive rowers
We've created a helpful video that shows what adaptive rowers need to do if they capsize. Watch it here (the adaptive capsize drill starts at 09:35).
Give adaptive rowing a go!
Just click the button below, fill in the form, and we'll be in touch. We're here to help you get started!
British Rowing Adaptive Rowing Strategy 2023-2028
This strategic plan aims to increase participation and inclusion of rowers with any type of impairment within rowing club settings.
Download the Adaptive Rowing Strategy
Think you could be a Paralympic rower?
The GB Rowing Team's Para-Rowing squad hold trials three times a year.  For more information on attending trials, or if you think you have potential to represent Great Britain in this sport, please send email us.
Adaptive rowing FAQs
Rowing with particular impairments
Is it safe for people with spinal cord injuries to row?
British Rowing strongly advises that anyone who wants to try adaptive rowing are classified prior to taking part in rowing activity and complete British Rowing's Pre-activity health questionnaire. In addition to a set of questions that record pertinent medical history, the coach can ask the athlete if they wish to share relevant information to make their rowing sessions a safe and enjoyable experience. All information should be kept confidential, but with their consent, may be shared with coaches to ensure their needs are met when taking part in rowing activities.
Depending on whether the athlete has a complete or incomplete injury will determine what assistive devices they may require in the boat. These may include stable boats, postural support seats, pressure sore prevention cushions/pads, strapping, pontoon floats to provide additional stability in the boat, etc.
In discussions with the athlete, you will be able to determine on what assistive devices they may need (seats, cushions, strapping) based on the level of their injury and what parts of their body might be affected by paralysis and loss of function.
Can you row if you have limited hand function?
Gloves are available to aid handgrip on the indoor rowing machine or on an oar, such as the 'Active  Hands™ general purpose gripping aid'. This consists of a self‐closing Velcro glove that tensions to wrap fingers around oar/scull handle. These are widely used by para‐rowers and particularly ideal for those with tetraplegia/quadriplegia, cerebral palsy, stroke recovery, finger amputees or any disability that affects hand function. It works by the tightening of a strap in the upper section, which gently pulls the hand into a fist shape, in order to facilitate an ergometer, oar or scull handle. The wrist strap is also adjustable and the aid is padded to reduce chafing.
Our article on Indoor rowing machine adaptations has more information on this.
Is it safe for people with a hearing impairment to go out rowing?
Coaches will always need to assess the risk before agreeing on any activity. There should not be a concern as long as the rower understand the rules of the water‐way and are aware of other water users, the environment and conditions. There does not need to be much modification to a coaching session, other than to ensure that there is adequate supervision from a safety/coaching boat or other crews/scullers alongside if they are in a single scull, to warn of any danger.
If someone has a visual impairment will they be able to row with others when they can't see what everyone else is doing?
Yes. Rowing is a sport that relies very much on feel and once they have been taught the basic rowing technique on a rowing machine and in a sculling boat on a one‐to‐one basis with you as coach, they will soon be able to row with others in crew rowing.
A visual impairment does not constitute a serious limitation for performing the rowing movement. In practice, a sighted rower does not constantly look at his/her blade or crew members, but relies on an instinctive 'feel' for the boat.
The athlete will be able to feel how the boat is moving and how others are moving in the boat. They will be able to keep in time with the others in the crew by listening for clues ‐ the sound during the placement of the oar in the water at the Catch and removal at the Finish. In crew boats, a coxswain can give specific commands to help them follow the crew rhythm and timing.
There are many exercises that coaches can use with crews that are relevant to individuals with a visual impairment. These include simple placement drills and 'slapping' the water before the catch. This will help the athlete (whether they have full or partial sight) become more aware of where their oar is in relation to the water at the catch.
Additional aids can include having straws in the boat at the catch indicating where they need to raise their hands to – this provides a physical and kinaesthetic stimulus. You can also place tactile markers on the oar or scull handles to indicate when the blade is 'square' and the correct relation to the water. These can be easily removed, once they have learnt the skill.
How can rowers keep in time in a crew boat if they have a visual impairment?
If the athlete is in a crew boat that has a coxswain, it is the coxswain's role to ensure that the rhythm of the boat is transferred from stroke to bow and to provide any additional support to an athlete with a visual impairment. In a coxless boat, another crew member will pay particular attention to timing, rhythm and coaching calls to help the individual concentrate and enhance the kinaesthetic feel and feedback from the boat itself. You should reassure the athlete and, where possible, fully integrate them into sighted crew boats.
How can athletes with a disability find out if they are eligible for competitive adaptive rowing?
Rowers
How do I get started?
Adaptive Rowing means that we try to modify the equipment for the users' needs and ability as closely as possible. Rowing lends itself to all impairment groups, including those with visual impairment (VI), amputees, wheelchair users and those with learning difficulties (LD).
Many British Rowing affiliated clubs offer Adaptive Rowing programmes and have accessible facilities. However, if your local club does not offer anything officially they still may be able to help get you started within the sport.
Use our Club Finder tool to find your nearest club that offers Adaptive Rowing.
Coaches and Volunteers
How can I get involved in coaching adaptive rowers?
Use our Club Finder tool to find your nearest club that offers Adaptive Rowing.
Do I need any qualifications?
You do not need any qualifications to volunteer with the coaching of rowers with an impairment or disability, although the club may ask you to fill in a DBS (Disclosure and Barring Service) form for participant welfare purposes. First aid and power boat qualifications are good to have but not essential.
If you are volunteering as a coach, there is an advantage to having a rowing coaching qualification or be working towards one; but do not let this put you off if you don't – if you have coached a different sport and wish to have a go at coaching rowing there is no reason why you should not get in touch with your local club. You do not need a different qualification to coach Adaptive Rowing participants; however you may wish to acquire some further disability-specific information or training to upskill. Details can be found through your County Sports Partnerships (CSPs).
How should I communicate with the athlete if they have a hearing impairment?
Ask the individual. They know their own preferred means of communication best. Some rowers are able to lip‐read and some may choose to use simple sign language which can be agreed between coach and athlete.
Clubs and Centres
What facilities do we need?
This will depend on the nature of the individual's impairment or needs; do not assume that all individuals will be wheelchair users. A warm welcome and a receptive approach are a good start. Some rowers will need minimal adaptations, if any. Others will need adaptations to enable them to access your club – for more advice see the Activity Alliance's resources.
What equipment will we need?
As mentioned above, not all rowers with disabilities will need adaptations to equipment. For further details, email us.
An individual with a visual impairment has asked to join the rowing club; will he/she be able to row in a single scull?
There is no reason why an individual with a visual impairment should not be able to row in a  single scull. Coaches should always perform a risk assessment on planned activities. They would need  to do the same in this instance particularly thinking about what other water users there are and what  level of supervision is required. Help with navigational direction from the coach or a fellow sculler alongside will be helpful. The use of one‐way radios can be used to aid steering.
A wheelchair user has asked to try rowing. How do I ensure they can get into a rowing boat safely?
A wheelchair user may or may not require help when transferring from a wheelchair to a boat – remember to always ask rather than assume what assistance they may require.
There will be different considerations and basic guidelines depending on whether the athlete is transferring from a shore or pontoon/dock. A transfer from a shoreline may require two people to assist, to support either side of the boat.
If the individual rows regularly from a particular venue, it may be worth considering permanent aids to help them transfer. Such aids vary from simple devices such as a sliding board, which is useful where the transfer gap is wide and the seat in the boat is at a similar height to the seat of their chair. A  simple transfer box will help them transfer from wheelchair to transfer box then onto pontoon/dock, before transferring to the boat. A hoist can be installed on a stable dock, however, this may be unsuitable for a floating pontoon.
British Rowing has published a guide to Adaptive Rowing which you may find helpful, as it illustrates a methodical and safe way of self and assisted transfer to the rowing boat.
Further information is available in 'Adaptive Rowing: A Guide'.