GB Coastal Sculling Academies
Coastal Sculling Academies identify and develop rowers with the potential to perform at international level in the Beach Sprint format
The GB Coastal Sculling Academies have been created jointly by British Rowing, Welsh Rowing and Scottish Rowing following the recent inclusion of Beach Sprint rowing in the programme for the 2028 Olympic Games in Los Angeles. They are based at clubs/locations across Great Britain, which are recognised as suitable environments to identify and develop new and existing coastal or river rowers with the potential for future international representation for GB and/or Commonwealth Home Nations teams to develop their Beach Sprint performance.
The first wave of GB Coastal Sculling Academies are: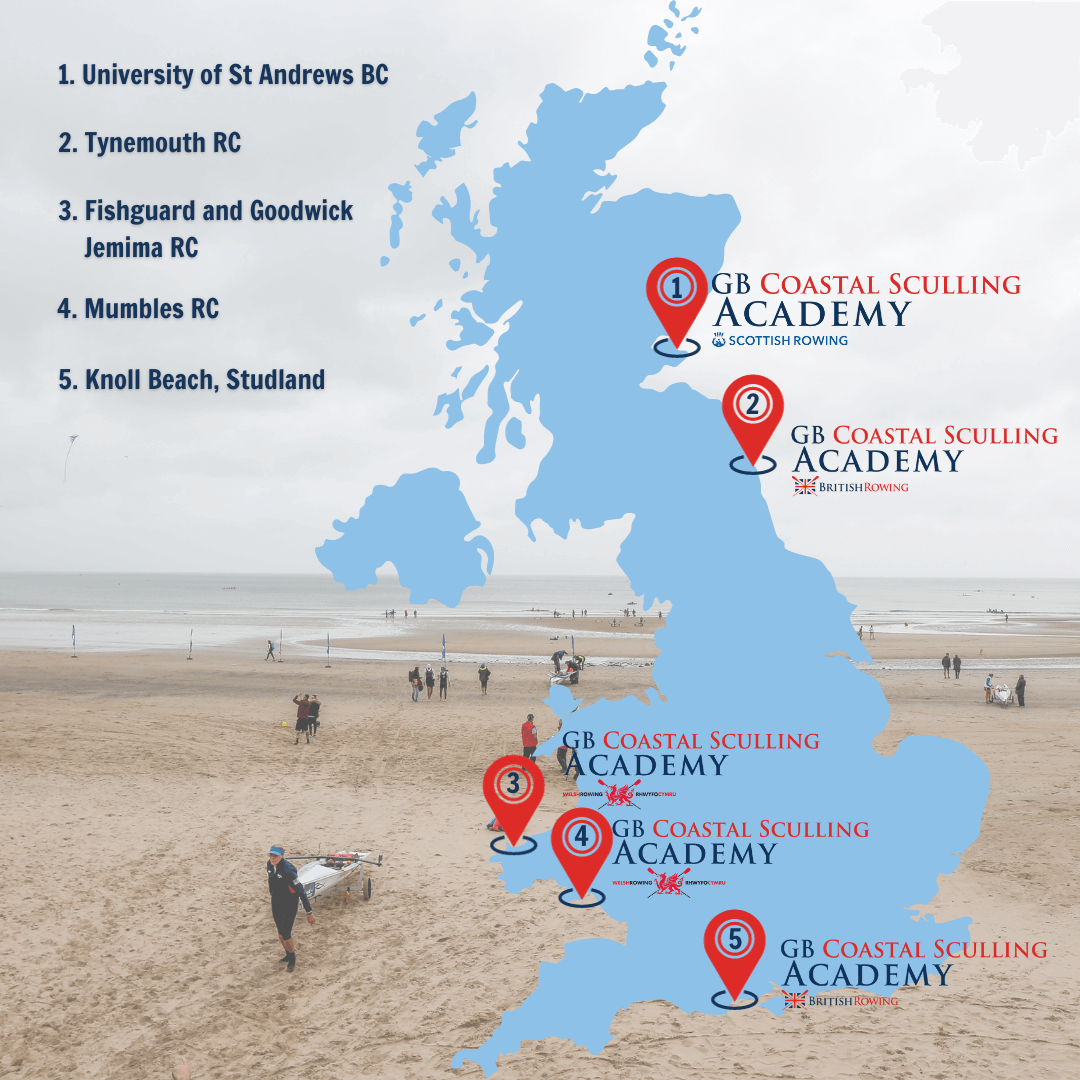 Want to hear more about Beach Sprint teams?
If you'd like to receive further information about the GB and Home Nations Beach Sprint programmes – whether you're a current or prospective rower, cox, coach, boat handler, or parent of an under-19 – just fill in the form below to register your interest
How to apply to become a GB Coastal Rowing Academy
Any club, group of clubs or other training location based on England, Scotland or Wales can apply. To be accepted as a GB Coastal Sculling Academy the club/s will need to demonstrate they can develop an appropriate environment, facilities and coaching to support rowers with the potential to represent GB and/or Home Nations Beach Sprint Teams. Such clubs do not need to be actively involved with coastal sculling and/or beach sprints currently and many will be doing other forms of coastal or fixed seat rowing and/or river rowing.
This should be seen as an opportunity to provide an additional activity to the rowing already taking place at the club/location, for a specific group of individuals, rather than something which replaces the traditional activity of the club/location. Similarly, the activity could take place in a variety of environments. Whilst a beach location is helpful, the skills and training associated with rowing coastal sculling boats can be developed within a variety of different environments, including lakes, rivers and the sea.
Clubs involved will be promoted as part of the wider network of Academies across Great Britain for the key role in supporting the successes of the GB, Wales, Scotland and England teams. The coaches and rowers based at each Academy will also benefit from visits and support from the coaches and other staff employed by British, Scottish and Welsh Rowing to support the development of Beach Sprints. They will also be supported to find ways to obtain boats and other equipment to run the activity within their Academy.
Clubs, groups of club, or other organisations/training locations interested in becoming a GB Coastal Sculling Academy should contact tom.pattichis@britishrowing.org. Applications are assessed through a panel of representatives from British Rowing, Welsh Rowing and Scottish Rowing.