Performance Development Academies
Our GB Performance Development Academies identify, recruit and develop individuals with no prior rowing experience to become Olympic rowers
Performance Development Academies (previously known as the Start or World Class Start programme) were established in 2001 with funding from the National Lottery. They form one of the most successful Olympic sport 'talent ID' programmes in Great Britain.
Apply for Olympic Talent Testing
What's it like being a rower at a Performance Development Academy?
As an athlete at a Performance Development Academies, you'll not only develop as a rower, but you'll also learn important life skills such as resilience, teamwork, leadership, accountability, discipline, and many more.
Here, Cedol from Bangor explains the positive impact training at a Performance Development Academy had on his life outside rowing, as well as showing that ANYONE can sign up, no matter what your background or sporting experience!
All athletes training at Performance Development academies get together at six National Development Camps per year – in October, November, February, March, April and August.
Who are Performance Development Academies for?
We are looking for females 5'10 and taller aged 14-22 years old, and males 6'2 and taller aged 14-20 (see above). You don't need any prior rowing experience; just the right physique and attitude to give rowing a go.
The GB Rowing Team's Performance Development Academies give you the opportunity to push yourself to achieve more than you thought you could, expand your horizons, and develop into a high-performance athlete.
Many graduates of our Performance Development Academies have gone on to win Olympic, World and European medals.
How do I apply to a Performance Development Academy?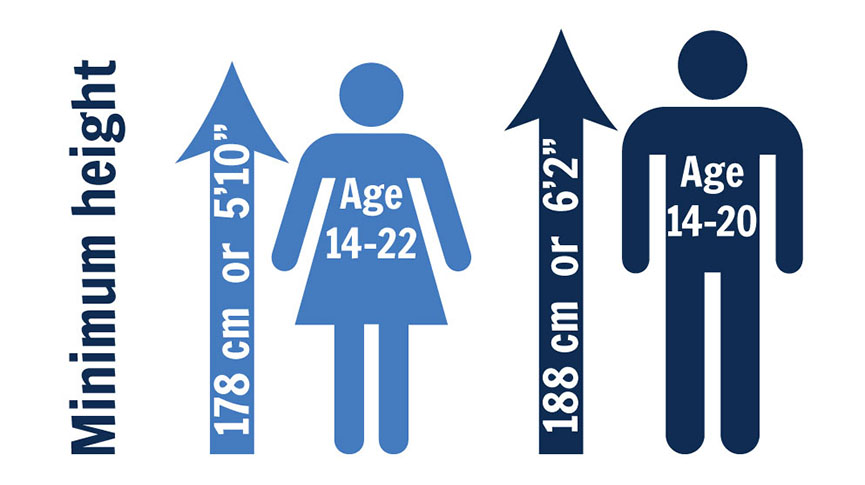 We are looking for females 5'10 and taller aged between 14-22 years old, and males 6'2 and taller aged between 14-20. If you think you have what it takes, please click on the link below to fill out an application form.
Apply for Olympic Talent Testing
If you don't meet these criteria, but you are already rowing, our Athlete Development Pathway offers support to talented rowers aged 15-22.
Find out more
Where are the GB Rowing Team's Performance Development Academies?
There are six Performance Development Academies around the UK that provide a training base for athletes. Each Academy is hosted by a local rowing club equipped with world-class facilities that support their development. All rowers will be a member of their host club. If there isn't an Academy local to you, it is sometimes possible to train from a satellite club.
Each Academy run by a GB Rowing Team Performance Development Coach, supported by a Satellite Coach, who is responsible for the recruitment and development of athletes. As part of this development, all athletes attend regular training and testing camps to monitor athletes' progression. These take place in the UK and overseas.
Find out more about each Performance Development Academy
Open All
South West Performance Development Academy and Satellite Academy
Hosted in Bath by the University of Bath and Minerva Bath RC, this Performance Development Academy was set up in 2003, and has produced some of GB's most decorated rowers including double Olympic Champions Helen Glover and Heather Stanning.
All athletes at this Performance Development Academy have access to excellent training facilities at the university's Sports Training Village, which includes a fully-equipped high performance gym, a physio and medical treatment centre, physiology lab and video analysis suite.
Minerva Bath RC is based on a 4km stretch of the River Avon.
The South West also has a Satellite Academy at Hartpury University and College in Gloucester. This Academy is hosted by Gloucester RC, one of the oldest rowing clubs in Great Britain, located on one of longest stretches of unlocked water in the country.
The relationship between Hartpury and Gloucester RC has seen the Under 19 programme develop into one of the strongest in the UK, thanks to excellent facilities both on and off the water.
The College offers accommodation and education for students on the programme and has access to a strength/conditioning and a cardio-vascular gym, as well as support services covering physiotherapy, sports psychology and lifestyle management. There is also provision for Under 23 and senior level rowers to train in association with Hartpury University.
Midlands Performance Development Academy
Our Performance Development Academy in Nottingham, established in 2003, benefits from links to both Nottingham RC and the National Water Sports Centre in Holme Pierrepont country park.
Nottingham RC is based neat Trent Bridge on a stretch of the River Trent. Athletes occasionally use the river but predominantly train on the lake at the National Water Sports Centre, 10 minutes away from the city centre. Ergo and weight sessions take place at Nottingham RC's training centre.
This Performance Development Academy has strong links with local schools as well as the University of Nottingham, Nottingham Trent University and Loughborough University. Rowers have also been recruited from Harlequins Women's Rugby and Newcastle Falcons academy.
Yorkshire Performance Development Academy
The Yorkshire Performance Development Academy is based at Stourton Boathouse in Leeds, home of the University of Leeds BC and Leeds RC, on a 4km stretch of the Aire and Calder Navigation Canal. This provides ideal training conditions for learning to row as well as regatta preparations. Land training is split between using the facilities at the boathouse as well as at University of Leeds for strength and conditioning sessions.
North West Performance Development Academy
The Performance Development Academy in Manchester was set up in 2004 and is hosted by Agecroft RC, at Salford Quays. Founded in 1861, Agecroft is one of the oldest open membership rowing clubs in the world. The current club building is a purpose built watersports centre and is fully equipped with ergo and weights rooms.
The centre is located on a quiet 5km stretch of the River Irwell, and benefits from being the only boathouse in the area. Based just outside Manchester, there are excellent travel links, and the programme recruits from local universities – Manchester, Manchester Metropolitan, Salford, Liverpool, and Lancaster.
East London Performance Development Academy
Our East London Performance Development Academy was launched in September 2022 and works alongside London Youth Rowing and the University of East London.
This location is located in the heart of a community that has not, historically, had access to rowing, particularly on an Olympic pathway. Working with London Youth Rowing, the East London Performance Development Academy works with under-represented groups to support talented individuals to ensure that a young person's circumstances does not limit their ability to succeed within sport.
It is based at the London Regatta Centre and boast access to a 2km training lake and excellent facilities including gym, rowing tank and quality fleet of racing boats. On the other end of the lake, the University of East London Campus houses three separate gyms including a dedicated athlete performance gym. Dependent on age, athletes are invited to train with the LYR or UEL boat club to fully integrate into the sport and train with teammates.
The East London Sports Talent Pathway (ELSTP) provides an extensive athlete support network. Alongside access to UEL facilities, it provides workshops to assist with aspects such as nutrition, lifestyle and time management.
Scottish Performance Development Academy
The GB Rowing Team's Performance Development Academy is hosted by Scottish Rowing  at Strathclyde Country Park near Motherwell.
Strathclyde Park is the only 2000m multi-lane course in Scotland and was built in 1986 for the Commonwealth Games. Athletes train mostly at the Scottish Rowing Centre, beside the Strathclyde Park Watersports Centre, which boasts a recently refurbished multi-use gym with a strength and conditioning area, ergometers, static bikes and an indoor rowing tank.
More FAQs
Open All
Do I need rowing experience?
I don't meet your height or age criteria. Does this mean I can't row for Great Britain?
No! Training at one of our Performance Development Academies is just one way to develop a rowing career. Many of our Olympians learnt to row at school, university or a local club. Find out about the other ways to get into rowing here.
Why do you have age criteria?
To become an Olympian takes time so we want to recruit people that have the years ahead of them to develop the skills and fitness that can take them to the podium.
Why do you have minimum height criteria?
Many of the most successful rowers are tall. This is because their long levers (arms and legs) help to gain maximum propulsion and make the boat go faster.  Our talent ID programme is therefore looking for people with this attribute.
I am tall enough, but I am not yet 14 years old. Why can't I be tested?
You will still have a lot of growing and developing to do, so if you are under 14 years of age we would advise you to take part in a broad range of sporting activities to develop your general fitness and co-ordination. We'd love to hear from you once you are old enough so please get in touch with us then!
What does talent testing involve?
You can find out more about what happens when you're invited to a attend a talent testing session here.
I don't live close to a Performance Development Academy, but I meet the minimum testing criteria. Can I still be tested?
Yes, of course.  We would like to work with anyone that shows Olympic potential. We will try to work with anyone who has good test results including being a "satellite athlete" with a local rowing club.
If I am selected to join a Performance Development Academy, how often will I need to train?
Your coach will set your training programme depending on your age and where you are in your rowing development. You will need to fit your training around other commitments such as school/college so expect some early mornings! For example, a 14 year old might train four times per week, whereas a school leaver would be aiming for 12 sessions per week.
I was not selected but I still really want to row. What should I do?
You can still learn to row and perform to a high standard.  Use the Club Finder to find your nearest club.