Super six stun as GB crews secure more Olympic qualification slots 
Six more GB boats qualified for the Paris 2024 Olympic Games and progressed to A finals in a day of intense semi finals at the World Rowing Championships in Belgrade, Serbia
With friends and family cheering from a packed grandstand, and despite some challenging, windy conditions, the mood in the team was buoyant as crews crossed the finish line knowing that their boat would be on the trailer to Paris.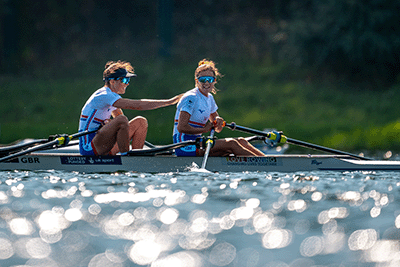 Continuing their unbeaten run, Emily Craig and Imogen Grant dominated their Lightweight women's double sculls (LW2x) semi final, qualifying the boat for Paris almost five seconds ahead of Romania. "I'm really happy with that race," Imogen said. "The conditions are unpredictable but we just wanted to focus on us. As head-windy as that was and as slow as it was, it was really enjoyable." Emily added: "I think the stakes are higher in a semi, especially with qualification at stake, everyone went out so much harder. It's a real testament to how well we execute, because it would have been easy to lose our nerve, but calming down and setting up that rhythm really paid off."
The Women's four (W4-) of Heidi Long, Rowan McKellar, Helen Glover and Rebecca Shorten were pure class, leading the field from the off and cruising to victory. "I feel like we stepped on from the heat," Helen said, "And hopefully we've got another step for the final. It's also  awesome to qualify the boat for Paris. It's Heidi's first experience of qualifying for the Olympics, so for us to have that moment with her crossing the line, it's super exciting. We'll let ourselves have a little pat on the back and then move on to the main job on Saturday."
Heidi added: "It's one of those races that you think is a dream! You just enjoy it and take it a stroke at a time. I think we've had a clear goal to focus on our process, from getting from A to B and ignoring what the result is going to be. We just wanted to step on from the heat, and not think about what the race meant, and now that it's over I'm very happy and can just enjoy the rest of today."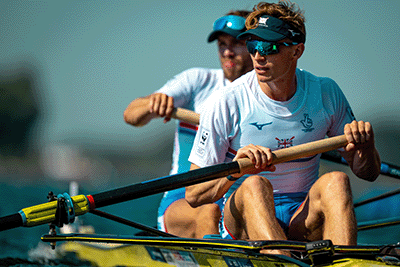 Once again the GB duo of Ollie Wynne-Griffith and Tom George led from the start to win the Men's pair (M2-) semi final in convincing style. Tom said: "It's not a secret that we didn't qualify a pair for the Tokyo Olympics, so job number one is done. That's what we trained for all year. Now we focus on the big task ahead on Saturday and the A final." Ollie added: "I'm very happy and it's good to have a few seats that we didn't have in Tokyo qualified. We crossed the line and we said: job one, done. A job done for the team most importantly, but Saturday can be very much for us and about us, which is a nice feeling. Overall, I'm happy with the row and happy that we are stepping on through the regatta despite the tough conditions."
It was a composed and classy win for the Men's four (M4-) of Oli Wilkes, David Ambler, Matt Aldridge and Freddie Davidson, who now race the A final on Saturday. Freddie said: "There are some tough conditions out there, so we knew it was going to be a long race, a long slog and that everyone was going to be gunning for it. We were fighting all the way down and are very happy to have come away with a semi final win and to also qualify the boat for the Olympics, but it's not 'job done' for us. We've got to look ahead to Saturday as that's the real aim of the season."
The Women's quadruple sculls (W4x) of Lauren Henry, Hannah Scott, Lola Anderson and Georgie Brayshaw were thrilled to win in the fastest time across both semi finals, and qualify for Paris. Georgie said: "It feels so good, I've never been to a qualifying regatta before so to have qualified for the Olympics is a step forward and I'm really happy. Now we've got to park that and move on to step two which is the final and hopefully some medals!"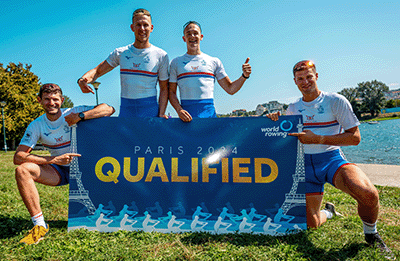 The Men's quadruple sculls (M4x) of Callum Dixon, George Bourne, Matt Haywood and Tom Barras were second in their semi final, behind Netherlands. "I think that's the job done in terms of what we needed to do for that race," said Tom, adding: "We put ourselves in a sketchy situation early on but it's a testament to the boys that we kept it calm and composed throughout the race. So I think that is job done today and we definitely need to build for the final. It's great that we have qualified the boat for the Olympics but we now need to try and push the top boats and medal in the final."
With 11 qualifying spots available, Emily Ford and Esme Booth will have another opportunity to qualify the Women's pair (W2-) for Paris in the B final following a sixth place finish in their semi final.
In the remaining races of the day, Olivia Bates is into the Lightweight women's single sculls (LW1x) B final after finishing fourth in the semi, Lucy Glover will race the Women's single sculls (W1x) D final, and Kyra Edwards and Saskia Budgett will race the Women's Double Sculls (W2x) C final after a great sprint to the line saw them win the C/D semi final.
You can follow the World Rowing Championships live across British Rowing social media channels, here on our World Rowing Championships hub and on the World Rowing website. Finals will be shown on BBC2, BBC iPlayer and the BBC website.
Results from Day Five at 2023 World Rowing Championships
Photos: Benedict Tufnell