Super Saturday for GB Rowing with seven medal haul
God Save the King rang out five times at the Sava River as Great Britain ended the day with five gold, one silver and a bronze at the World Rowing Championships in Belgrade
GB Rowing currently sits top of the medal table with seven medals in total and have three further A finals to contest tomorrow.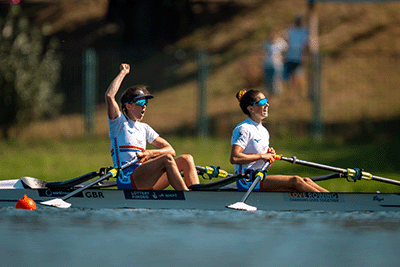 Both the PR2 Mixed double sculls (PR2 Mix2x) and PR3 Mixed coxed four (PR3 Mix4+) won gold in the Paralympic class boats. In the Olympic class boats there was gold for the Women's quadruple sculls (W4x), Lightweight Women's double (LW2x) and the Men's four (M4-) a silver in the Men's pair (M2-) and a bronze in the Women's four (W4-).
The Women's quadruple sculls (W4x) of Lauren Henry, Hannah Scott, Lola Anderson and Georgie Brayshaw had a real tussle with the Netherlands throughout the 2k course but kept their heads to win GB's first World gold medal in that boat class since 2010. "It was absolutely amazing," Lauren said, "We've practiced our race plan so many times, and we just executed it down to the wire. It was unbelievable. I'm so grateful to all these girls, they've helped me so much this season. It's my first year on the team and my first World Championships and I can't believe we've just won gold. I was so excited I let go of my blade at the finish! This season I was aiming to get a gold at U23s, so to get a gold at seniors is beyond anything." Georgie added: "It's a first senior gold medal for all of us, and to do it today it's just like all the stars have aligned. We have worked so hard to get to this point, we've kept it calm, we lost a blade over the finish line but it doesn't matter because I'm so proud of everyone!"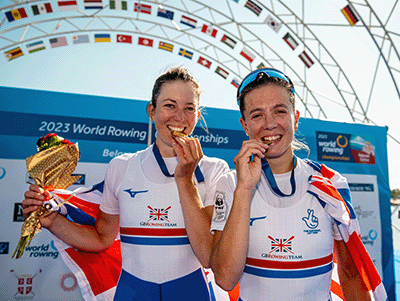 Emily Craig and Imogen Grant are now consecutive double World Champions in the Lightweight women's double sculls (LW2x), as they continued their unbeaten run since the delayed Tokyo 2020 Olympic Games. "I don't have any words to describe how great that was!" Imogen said, "I feel like this whole Olympiad the excitement has been building. It's an understatement to say how much we've improved in the last few months and I'm really excited to see what next season brings!" Emily added: "We missed out on the podium in Tokyo by such a small margin and I have the photo finish printed off, on my living room wall. It's not a negative reminder anymore it's more 'look at how close we were in some incredibly trying circumstances' and we are now at the point where we've had two exceptional seasons together and gained a wealth of experience so that the 6 minutes, 50 seconds of Tokyo 2021, pales into insignificance."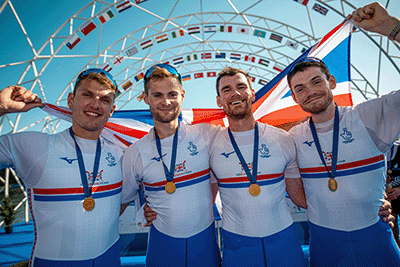 Another boat celebrating becoming consecutive double World Champions were the Men's four (M4-) of Oli Wilkes, David Ambler, Matt Aldridge and Freddie Davidson, who pulled away from the pack in the last 500m to win by over 2 seconds. Freddie said: "It was an epic race. We said beforehand, people are going to do crazy things, it's a World Champs final, you don't just go off and settle for second or third, so we knew it was going to be hot all the way down the field. I'm just amazed, all of us are, it was an epic crew effort and epic commitment all the way."
Oli said: "With the unbeaten season that we've had I think we felt a lot of pressure coming into this, but at the end of the day if you've had a good season you want to finish on a high and we managed to do it. It was an epic row from these three guys in front of me, I felt I could sit back and do my thing while these guys were hauling today. I'm really happy for us."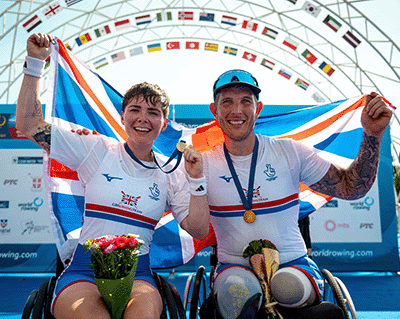 Double Paralympic Champion Lauren Rowles and former Royal Engineer Commando Gregg Stevenson won a tight race in the PR2 Mixed double sculls (PR2 Mix 2x), pulling away from China in the final strokes to cross the line first to continue their dominance in this boat class this season. Lauren said: "The China crew are phenomenal athletes. I raced them in Tokyo, they drove us out hard in Tokyo and they've driven us out hard here too. We were in the middle of that race and the Chinese started pushing back and we wanted to let them know that this is our day, this is our medal. For me I know they're going to come out fighting, and that's what we want! We want good racing, we want a great spectator sport! So for us that was a brilliant race."
Gregg, celebrating his birthday as well as his first World Championship gold medal said: "I've never been in such a tight race, every other race we've managed to get out front. But that was something else and I was filled with adrenaline and we stuck at it together. I'm really glad we managed to get the win today."
The PR3 Mixed coxed four (PR3 Mix4+) of Frankie Allen, Giedre Rakauskaite, Ed Fuller, Morgan Fice-Noyes and cox Erin Kennedy won another gold medal continuing the long running unbeaten status of the boat class. "It feels pretty special to be World Champions again," Ed said, adding: " It was special last year, but to be able to come back with a different crew and do exactly what we did last year is phenomenal. It wasn't very easy out there, the headwind was strong and made quite hard work for us, but at the end of the day it's about getting your bows across the lines first and that's what we did."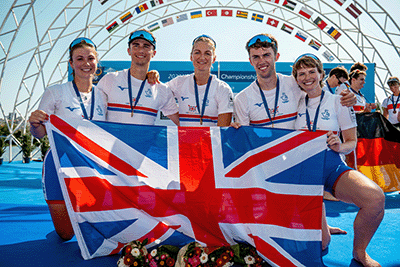 Frankie said: "It's a privilege to be part of such an amazing crew. To qualify the boat for the Paralympics on Monday then topping off the week by winning gold today feels amazing."
Erin, who has returned to cox the crew after her treatment and recovery from breast cancer said: "It's been a big year. I remember this time last year I was at home feeling pretty sorry for myself but so proud of the team. I've been dreaming of this for a long time and so to be here and to be on the top of the podium with the best team in the world, I couldn't be happier."
Ollie Wynne-Griffith and Tom George achieved their best World Championship result to date, winning silver in the Men's pair (M2-). Ollie said: "Some things didn't go our way today and that's sport. We want to win, so today feels like a bit of a missed opportunity, but we did well to get that silver medal and we qualified the boat for Paris so from that perspective, I'm pleased."
The Women's four (W4-) of Heidi Long, Rowan McKellar, Helen Glover and Rebecca Shorten were a little disappointed with their third place bronze. Rowan said: "It's not exactly what we were coming here for and I feel like we've just missed the mark today. We've stepped on in the last six weeks, throughout the regatta and that shows how much we can step on in the next year. It's definitely made us hungry and I think it will set us up for a really good year."
The Men's quadruple sculls (M4x) of Callum Dixon, George Bourne, Matt Haywood and Tom Barras narrowly missed out on a podium spot in the final strokes of the race to place fourth.
There was excitement earlier in the day with Olympic qualification places still up for grabs. Emily Ford and Esme Booth needed to finish fifth or above in the B final of the Women's pair (W2-). It was an epic race and they worked their way through the field to finish third (9th overall) to secure Olympic qualification. Emily said: "It's so exciting to qualify the pair and we could become the first British women to double up and qualify two boats if we get within the top five in the eight tomorrow. It would be awesome to make some history and we're one step closer to that!" When asked about doubling up and the number of races across the regatta, Esme commented: "The sunglasses are hiding a few sins there! It's one of the hardest races I think we've ever done, we just kept going earlier and earlier, we just wanted to get that bow ball ahead. Everyone says that qualification regattas are so hard and that was BIG!"
You can follow the World Rowing Championships live across British Rowing social media channels, here on our World Rowing Championships hub and on the World Rowing website. The BBC will be covering tomorrow's racing as follows:
All finals on BBC iPlayer live from 12pm (commentary from Katie Smith and James Cracknell)
Highlights on BBC2 at 3pm (with Matthew Pinsent and Katherine Grainger in the studio).
Results from Day Seven finals at 2023 World Rowing Championships
Photos: Benedict Tufnell.