GB wins nine medals at World Rowing Championships and qualifies 13 boats for Paris 2024
As the 2023 World Rowing Championships drew to a close in Belgrade, Great Britain finished with nine medals and qualified 13 boats for the Paris 2024 Olympic and Paralympic Games, placing second on the medal table, and tied first on number of golds
Highlights from the final day included a win and qualification in the Men's eight (M8+), Emily Ford and Esme Booth making history as the first British women to qualify two boats at the same regatta and Benjamin Pritchard returning to the podium in the PR1 Men's single sculls.
Summarising the regatta, Louise Kingsley, GB Rowing Director of Performance, said: "It's been a fabulous week. This last weekend particularly has just been stunning. My highlight was the Women's quad, they were sensational, but there have been many brilliant performances. The first important step this week was to gain qualification spots. We have nine boats securely through to the Olympics and four boats going to the Paralympics next year. The next step is to allow some time to enjoy the medals and then go back and do lots of analysis and then get our heads down for the big one next year."
The World gold in the Men's eight (M8+) was once again won by Great Britain. Jacob Dawson, Morgan Bolding, Rory Gibbs, Sholto Carnegie, Charlie Elwes, Tom Digby, James Rudkin, Tom Ford and cox Harry Brightmore secured their Olympic place in fine style before jumping into the River Sava to celebrate. Sholto said: "Olympic qualification is always going to be a little bit spicy. We just really believed in what Harry was saying and responded exactly to his calls, and stuck together as a unit. It's been a tough season but we've kept together, kept pushing forwards and kept learning all the time."
Rory added: "In a race like that, with that sort of competition, not only do you have to deliver your best race physically you have to execute it as best you can technically, which is a tall order. But we've done that, I think it's a credit to the whole crew, to our friends and family. Everyone is a part of it. The job isn't quite done, we've got next summer and the Paris Olympics, but for now we'll take that win, celebrate tonight and build towards next season."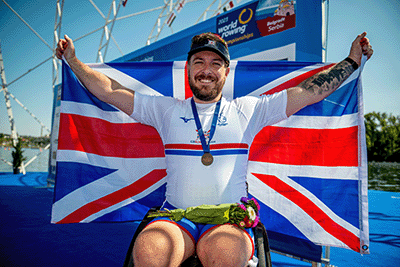 It was a second consecutive World bronze medal for Benjamin Pritchard in the PR1 men's single sculls (PR1 M1x). Speaking to the media after the race, Benjamin said: "I think it's a missed opportunity this year to move up the field, but given that I've only had twelve weeks training this season it's a worthwhile effort and we can build on it for next year. I'm happy, I'm just a bit gutted at the same time. But that's the life of an athlete, you're never quite happy with your performance. I did the plan, I executed it and I didn't have anything left – that's all you can ask for at the end of the day. Meg and the baby have been cheering me on back at home and in 24hrs I'll be there and in dad mode which I can't wait for."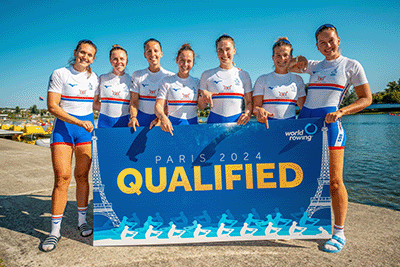 Narrowly missing out on the podium but securing an all-important Olympic qualification spot were the Women's eight (W8+) of Natasha Morrice, Rebecca Edwards, Lauren Irwin, Karen Bennett, Esme Booth, Emily Ford, Hattie Taylor, Annie Campbell-Orde and cox Henry Fieldman. Speaking after the fourth place finish Annie said: "I'm feeling mixed emotions. I'm very pleased to have qualified as it's something we've been working towards throughout the season. But, obviously, fourth is probably the worst place to finish, so I'm also sad. I think it's a product of the field this year, racing against the best. But this is such a new project for us, I'm proud of what we've achieved and ultimately I'm looking forward to next year because we've made it possible for there to be a next year!"
Commenting on Emily and Esme's historic feat in qualifying the women's pair and the women's eight, she added: "Two members of our crew qualified two boats, which was a new challenge that no one else has done, so I'm proud of what they have achieved. I'm so impressed with them. All of us watching were so proud of them. It's so hard to do it twice and they've done it. Next year we'll be so grateful for that because it gives us more seats. Bring on Paris 2024."
Kyra Edwards and Saskia Budgett fought hard to win the Women's double sculls (W2x) C final (13th overall) with another great sprint finish which held off a surge from Germany. Lucy Glover continued to build her experience in the Women's single sculls (W1x) crossing the line fourth in the D final, placing her 22nd overall.
Results from Final Day (Day 8) at 2023 World Rowing Championships
Photos: Benedict Tufnell