First boat qualifies for Paris 2024 Paralympic Games
The PR3 Mixed Coxed Four (PR3 Mix4+) of Frankie Allen, Giedre Rakauskaite, Ed Fuller, Morgan Fice-Noyes and cox Erin Kennedy won their heat in style today at the World Rowing Championships making this the first GB boat to qualify for the Paris 2024 Paralympic Games
"I'm sure we won't be the last to qualify," said Ed after the race, "it's a testament to how strong GB Rowing is as an organisation. I'm looking forward to seeing how the other Paralympic and Olympic boats do over the next few days, as the heats progress into semis and finals. As for us, the job's half done –  we've qualified for the Games but we've still got a final to win on Sunday, so our minds and our focus can shift to that."
Frankie said: "The conditions were challenging as there was a massive crosswind, so we just had to go out there and do our best to win the heat and qualify the boat. I'm so happy that the first goal is ticked off and we can now focus on the final."
In a morning of back to back racing, five Olympic class boats took to the water in their first races of the Championships and progressed to the A/B semi finals.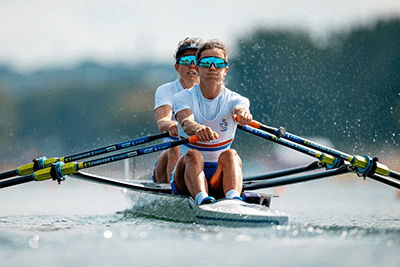 Still unbeaten this cycle, Emily Craig and Imogen Grant won their Lightweight women's double sculls (LW2x) race by six seconds, recording the fastest time across the heats. After the race Imogen said; "It's always nice to get the first one out the way, especially as we've been in a big training block since racing at World Cup III in Lucerne. It was quite gusty and cross-windy out there so we definitely had conditions to deal with but it's nice to get that out of the way and have the semi final in the bag."
Both the Women's four (W4-) of Heidi Long, Rowan McKellar, Helen Glover and Rebecca Shorten and the Men's four (M4-) of Oli Wilkes, David Ambler, Matt Aldridge and Freddie Davidson comfortably won their heats to progress to the next round.
Rowan from the Women's four said: "It was a good start to the regatta, we went into it focused on ourselves, and I felt like that's what we did the whole way down, just focused on our race and executed what we wanted to."
David from the Men's four said: "We're happy to get the win and qualify for the semis, so that's the job done today. Oli added: "It's nice to get underway and get those first race nerves out of the way. We have things to improve on but overall it was a decent row."
Happy to win their heat in challenging conditions were the Women's quadruple sculls (W4x) of Lauren Henry, Hannah Scott, Lola Anderson and Georgie Brayshaw. Lola said: The first race is always quite a crucial one so it's good to get it done and deal with the nerves. We did a good job of that today and can now focus on the next race on Thursday."
Callum Dixon, George Bourne, Matt Haywood and Tom Barras were second behind Italy in the Men's quadruple sculls (M4x) heat. George said: "It was pretty windy but it was a good start to get the job done and be through to the next round. Like last year, we've got to step up our game as we go through the championships, but we're confident that we can give it our best shot, hopefully make the final and see what pops out on Saturday."
Lucy Glover returned to race the repechage and secured a quarter final place in the Women's single sculls (W1x) with a solid second place finish.
Earlier in the day, Annie Caddick and Sam Murray were second in the PR3 mixed double sculls (PR3 Mix 2x), Emily Ford and Esme Booth were third in the Women's pair (W2-) and Kyra Edwards and Saskia Budgett were fourth in the Women's double sculls (W2x) heats. All three crews will now race a repechage.
Aidan Thompson and John Collins narrowly missed out on a quarter final place in the Men's double sculls (M2x), finishing third, and will now race the E final on Wednesday.
You can follow the World Rowing Championships live across British Rowing social media channels, here on our World Rowing Championships hub and on the World Rowing website. Finals will be shown on BBC2, BBC iPlayer and the BBC website.
Results from Day Two at 2023 World Rowing Championships: