Another Paris 2024 qualification spot secured for GB Rowing
Another good day of racing in Belgrade at the World Rowing Championships saw the PR2 Mixed double scull and the Men's eight progress directly to A finals and three other boats progress to the semi finals
Double Paralympic Champion Lauren Rowles and former Royal Engineer Commando Gregg Stevenson qualified the PR2 mixed double sculls (PR2 Mix 2x) for the 2024 Paralympic Games in a World Best Time (WBT) of 08:00.57 – their third WBT this season. "It is incredible and I'm feeling emotional about qualifying for Paris in a World Best Time with this guy," Lauren said. "We've worked really hard. A year ago we weren't even rowing together, and now we've booked our slot for Paris – it's just a very proud day for both of us and I think you could see that on the finish line. These things are to be celebrated. It's not every day that you qualify for a Paralympic Games!"
The Men's eight (M8+) of Rory Gibbs, Morgan Bolding, Jacob Dawson, Sholto Carnegie, Charlie Elwes, Tom Digby, James Rudkin, Tom Ford and cox, Harry Brightmore are through to the A final, after a solid win in their heat. "It was good." James said. "Since Lucerne we've been away at camp and have worked on quite a lot of stuff. The wind is pretty swirly out there but it's good to know that we're competitive within the field. Obviously we won last year, the opposition has stepped on and we hope we have too. We've just got to stay focussed, do our job and then we'll see what happens. We're looking forward to the final on Sunday."
Making his return to international racing this season was 2022 World bronze medallist Benjamin Pritchard who convincingly won his PR1 men's single sculls (PR1 M1x) heat to progress to the semi final. Benjamin said: "I was a bit nervous because I haven't raced this season but I wanted to get out there and put a marker down. I think I've done that and now I can recover and go again on Friday. I hope that my wife, new baby and all of Wales were up and watching me today!"
Emily Ford and Esme Booth were second in their repechage and are through to the semi final in the Women's pair (W2-). They were back in a boat a few hours later alongside Natasha Morrice, Rebecca Edwards, Lauren Irwin, Karen Bennett, Hattie Taylor, Annie Campbell-Orde and cox Henry Fieldman in the Women's Eight (W8+) where they finished second behind Romania and will race another repechage on Thursday.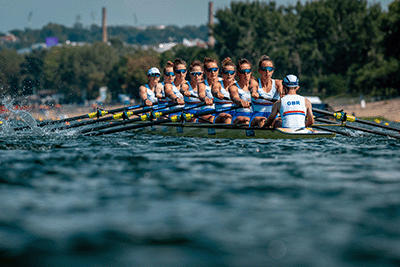 Photo: Benedict TufnellEsme said: "It's been a very busy day and I'm looking forward to getting back to the hotel and having a bit of a rest! The adrenaline is still pumping but we're happy to be through in the pair and know we have some things to work on in the eight but we'll go back tonight and have a watch over the race and make a plan going forwards." Emily added: "We built on what we wanted to work on in the pair and are happy with it. It's also good to get a race in the eight and we know we can build from there."
Olivia Bates won her repechage in the Lightweight women's single sculls (LW1x) and is also through to the semi final. "I feel like I didn't execute my race properly on Sunday so it was nice to correct that and execute a good race today," she said.
You can follow the World Rowing Championships live across British Rowing social media channels, here on our World Rowing Championships hub and on the World Rowing website. Finals will be shown on BBC2, BBC iPlayer and the BBC website.
Results from Day Three at 2023 World Rowing Championships