GB tops medal table with Italy at the World Rowing U19 Championships
Great Britain won six medals, three gold, two silver and a bronze, topping the medal table for the first time ever (tied with Italy), at the World Rowing Under 19 Championships, at the Vaires-sur-Marne Nautical Stadium in Seine-et-Marne, Paris from 2-6 August 2023
Taking on the course that Great Britain's Olympians and Paralympians will race on next year, and acting as a test event ahead of the 2024 Olympic and Paralympic Games, the event was hit with challenging weather conditions, which saw changes to the schedule and all finals taking place a day earlier than originally planned.
The schedule changes didn't faze the GB team, who picked up gold medals in the Women's and Men's eight and the Women's double scull, silver medals in the Men's quad scull and Women's four and bronze in the Women's quad scull.
The Women's eight was one of the most exciting races of the Championships, with four boats clocking times just 0.24 second apart. Great Britain got ahead in a final sprint to cross the line first in a photo finish.
All of the female athletes on the team took home a medal, with gold medallist Natalia Toms from Royal Shrewsbury School making history as the first woman to cox a GB Men's eight at a World Championships in any age group. It was also the first time that Great Britain has ever won gold in both the Men's and Women's eight at the same World Championship event at any level.
Both female coaches, Helen Taylor from Molesey Boat Club and Bethan Thomas from Kingston Grammar School, also took home medals for their work with the Women's four (silver) and Women's quad scull (bronze) respectively.
Bodo Schulenburg (Hinksey Sculling School) and Dan Safdari (Shiplake College) coached gold medal crews for the first time at an WRU19C, the Women's eight and Women's double scull respectively. Both of these races went down to the line with very focused racing from the athletes in each crew.
The Men's eight coached by Patrick Duggan (King's College School Wimbledon) finished the day with a dominant performance never leaving in doubt that they were the class crew in the event. A few races earlier the Men's quad scull coached by Mark Wilkinson (The Windsor Boys' School) and assisted by Alex Richardson (Claires Court School) had earned a quality silver medal in a tight race for the minor medals, behind Germany.
Commenting on the team performance, Peter Sheppard, GB Rowing Team Head Coach for the Olympic Pathway said: "Along with Coupe de la Jeunesse and U19 European Rowing Championships successes, it's been a great season for the U19 Programme. The results at the WRU19C on Saturday were an exceptional team effort and a result of the dedication and training put in over the last 11 months by the U19 athletes in the team. Thanks to all those coaches and support staff who have supported the U19s and facilitated training opportunities throughout the season."
The results by crew are: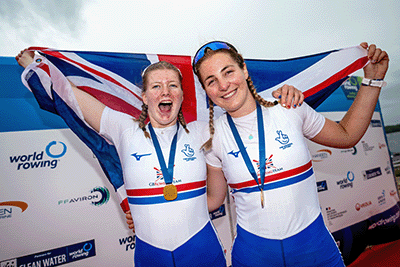 GOLD: Women's double sculls (JW2x)
Matilda Drewett (Kingston Grammar School)
Jessica Weir (Shiplake College)
Coach: Dan Safdari (Shiplake College)
---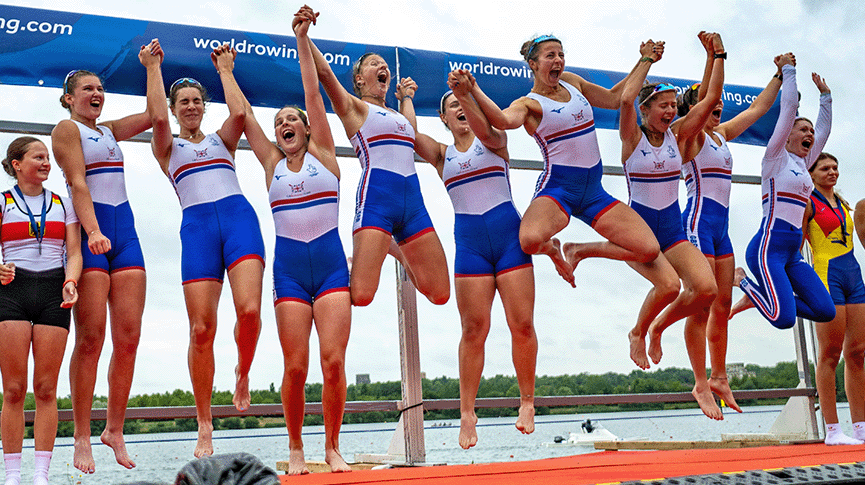 GOLD: Women's eight (JW8+)
Emily Myers (Hinksey Sculling School)
Tess Peake (Tideway Scullers School)
Helena Purves (Headington School, Oxford)
Aggie Burt (Wycliffe Junior RC)
Alice Colclough (Royal Shrewsbury School)
Niamh Comerford (Tideway Scullers School)
Ailish Harkin (Henley RC)
Isadora Kennedy (Surbiton High School)
Sophie Wrightson (Cox) (Headington School, Oxford)
Coach: Bodo Schulenburg (Hinksey Sculling School)
---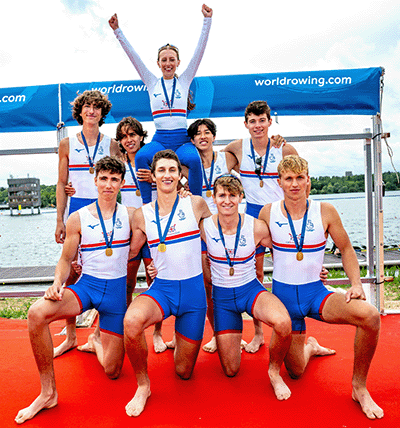 GOLD: Men's eight (JM8+)
Gabriel George (Radley College)
Freddie Middleton (Shiplake College)
Robert Rawlinson (Radley College)
Osian James (Llandaff RC)
Alp Karadogan (St Paul's School)
Jamie Ginsberg (Eton College)
Felix Peerless (St Paul's School)
Samuel Scowen (King's College School Wimbledon)
Natalia Toms (Cox) (Royal Shrewsbury School)
Coach: Patrick Duggan (King's College School Wimbledon)
---
SILVER: Women's four (JW4-)
Martha Shepherd (Hinksey Sculling School)
Rhiannon Luke (Henley RC)
Violet Holbrow-Brooksbank (Wycliffe Junior RC)
Madeleine Greenstock (Surbiton High School)
Coach: Helen Taylor (Molesey BC)
---
SILVER: Men's quadruple sculls (JM4x)
Alex Patton (St Andrew BC)
Nathaniel Gauden (Leander Club)
Harry Ruinet (Claires Court School)
Jack Cadwallader (The Windsor Boys' School)
Coach and Men's Sculling Lead: Mark Wilkinson (The Windsor Boys' School)
Assistant Coach: Alex Richardson (Claires Court School)
---
BRONZE: Women's quadruple sculls (JW4x)
Olivia Cheesmur (Molesey BC)
Eloise Etherington (Wycliffe Junior RC)
Chloe Sheppard (Hartpury University and College BC)
Lily Martin (Wycliffe Junior RC)
Coach: Bethan Thomas (Kingston Grammar School)
---
FOURTH: Men's four (JM4-)
Kai Schlottmann (Llandaff RC)
Alex Perkins (Eton College)
Max Peel (Westminster School)
Philip Wolfensberger (St Paul's School)
Coach and Men's Sweep Lead: Dave Currie (Shiplake College)
---
SIXTH: Men's pair (JM2-)
Jamie Pollock (Bryanston School)
Patrick Wild (St Paul's School)
Coach: Chris Clark (Royal Shrewsbury School)
---
12th: Men's single sculls (JM1x)
Byron Richards (Leander Club)
Coach: Jonathan Jackson (Leander Club)
---
Team Support
John Layng: Team Manager
Dan Cooper: Assistant Team Manager
Vicky Spencer: Lead Coach/Olympic Transition Coach (U19s – U23s)
Ryan Demaine: Women's Sweep Lead
Dr Andy Ciecierski: Doctor
Eoghan O'Connor: Physiotherapist
Photos: Benedict Tufnell for British Rowing