Lightweight women lead the way at World Cup II: First medal and a World Best Time in Varese
These results ended a fine day which saw GB Rowing looking to race a total of 13 A finals and five B finals on Sunday in Varese
Olivia Bates has put Great Britain on the medal table with her first senior medal. Speaking before collecting her lightweight single sculls (LW1x) bronze medal, she said: "It was great to come away with a medal and I can't wait to go again next time. This result shows that I have been able to step on since the Europeans and hopefully I can continue that into the next regatta. Thanks to Dec (Dec Gamble, coach), he's been my coach since I was 16, and he's an amazing coach."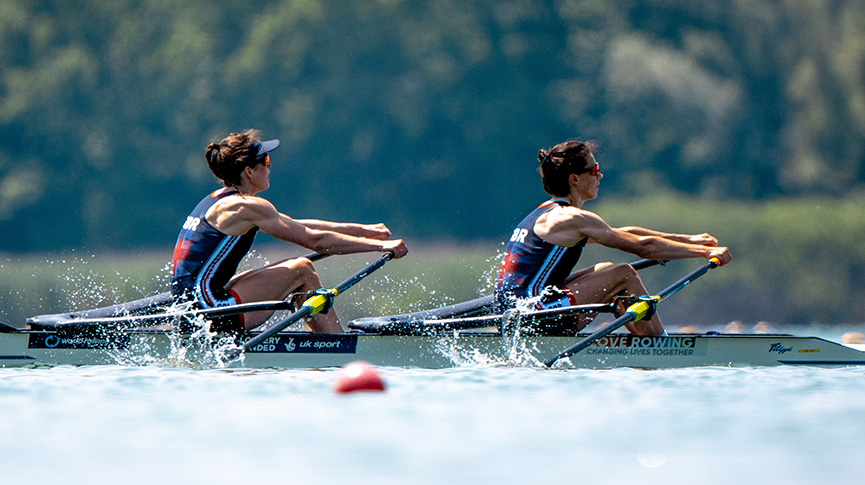 A thrilling world best time of 06:40:47 was recorded by Emily Craig and Imogen Grant as they rowed to victory in the Lightweight women's double sculls (LW2x) semi final. Speaking immediately after the race, Imogen said: "I'm so pleased. I think we've known that the winter's training has gone well and we had a lot of confidence in our rhythm, fitness and speed, so it's just a matter of waiting for the right conditions to show. The heats yesterday were fast, and when we boated it was a bit of a headwind, but the wind swung round. With us, it's all about the process. Getting the World Best Time today is the cherry on top really, but we still have to finish the job in the final tomorrow."
With The Ashes underway back in the UK, all eyes were on both the men's and women's four races, which saw the GB crews tussle with the Australians for the first time this season. The Men's four (M4-) of Oli Wilkes, David Ambler, Matt Aldridge and Freddie Davidson held their own and crossed the line almost two seconds ahead of the Australian Olympic Champions.
Matt said: "It's a good feeling. We got out well, stepped onto a good pace, let the rhythm carry us through the middle and managed to get a length up to control the last little bit and save some energy for tomorrow. I think both us and the Australians knew we were going to be in for a full-on race – we've had a historic rivalry in the fours so it was good to gauge each other a bit and see where we set up. It'll be an exciting final."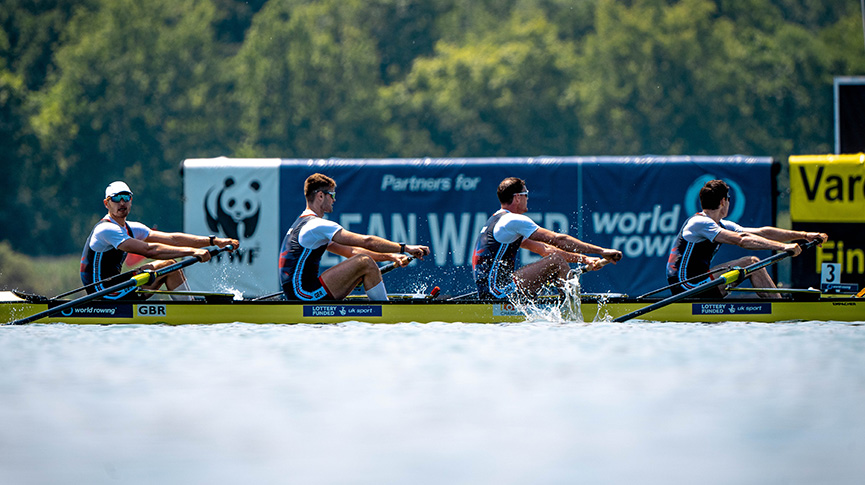 Heidi Long, Helen Glover, Rebecca Shorten and Sam Redgrave (GBR1) were bowball to bowball with Australia in the closing stages of the Women's four (W4-) semi finals and were pipped on the line by the narrowest of margins. Sam said: "We had some things we wanted to work on from the heat yesterday and we really went out and attacked that. We ticked a good box – and I think it's great because now we feel like we have more speed for tomorrow, so bring it on. I'm excited for the final."
Ollie Wynne-Griffith & Tom George recorded the fastest time across both men's pair (M2-) semi finals and will be looking to improve on their European silver medal in the final tomorrow. Reflecting on the race, Tom said: "We executed what we wanted to execute, we wanted to take it further down the course than yesterday and we've probably still got more to come. We're just excited to go out tomorrow and give it a good go."
Annie Caddick and Sam Murray won the repechage to qualify for the final of the PR3 mixed double sculls (PR3 Mix 2x).
The GBR2 Women's four (W4-) of Lauren Irwin, Karen Bennett, Hattie Taylor and Emily Ford will race the B Final after they finished 5th. In the Women's pairs (W2-), Rowan McKellar & Esme Booth (GBR1) grabbed the last final spot with a 3rd place finish and Natasha Morrice & Annie Campbell-Orde (GBR2) finished 4th to race again in the B final. These three crews will also double up, with cox Henry Fieldman to race in the women's eight (W8+) final on Sunday.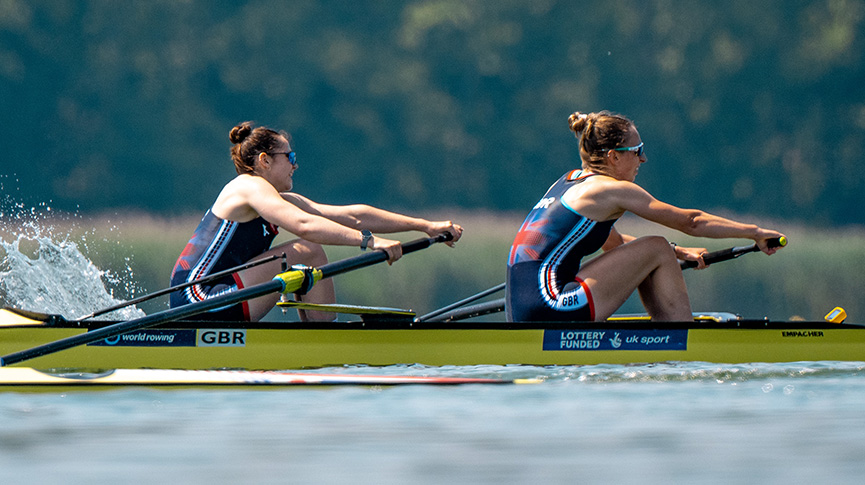 Looking ahead to a B final in the pair and A final in the eight, Tash Morrice said: "I'm really excited, I think we've got a good chance in the B final tomorrow. It's Annie and I's first race together and we're excited to step on, see what we can do tomorrow and get in the eight!
Annie added: "We've not raced either crew yet in the eight, so it'll be good to see where we're at. I'm trying to just think of each race as it's happening, but you can always find a bit more in an eight because you have seven other people too."
Kyra Edwards fought hard in the women's single sculls (W1x) semi final and will race in the B final after her 4th place finish. Both the Men's Double sculls (M2x) of John Collins and Aiden Thompson and the Women's double sculls (W2x) Lucy Glover & Saskia Budgett will race the B Final after finishing 5th in their semi final.
You can follow the action live across British Rowing social media channels and on BBC iPlayer and website.
GB Rowing Team Results from Day Two at World Rowing Cup II 2023
| Boat | Time | Position | Race | Next Race |
| --- | --- | --- | --- | --- |
| LW1x | 07:50.84 | | A Final | x |
| W2- GBR1 | 07:04.36 | 3rd | A/B Semi-final | → A Final |
| W2- GBR2 | 07:06.03 | 4th | A/B Semi-final | → B Final |
| W2x | 06:52.07 | 5th | A/B Semi-final | → B Final |
| W4- GBR1 | 06:19.76 | 2nd | A/B Semi-final | → A Final |
| W4- GBR 2 | 06:34.58 | 5th | A/B Semi-final | → B Final |
| W1x | 07:27.60 | 4th | A/B Semi-final | → B Final |
| LW2x | 06:40.47 | 1st | A/B Semi-final | → A Final |
| PR3 Mix2x | 07:23.34 | 1st | Repechage | → Final |
| M2x | 06:15.23 | 5th | A/B Semi-final | → B Final |
| M4- | 05:45.30 | 1st | A/B Semi-final | → A Final |
Boat:

LW1x

Time:

07:50.84

Position:

Race:

A Final

Next Race:

x
Boat:

W2- GBR1

Time:

07:04.36

Position:

3rd

Race:

A/B Semi-final

Next Race:

→ A Final
Boat:

W2- GBR2

Time:

07:06.03

Position:

4th

Race:

A/B Semi-final

Next Race:

→ B Final
Boat:

W2x

Time:

06:52.07

Position:

5th

Race:

A/B Semi-final

Next Race:

→ B Final
Boat:

W4- GBR1

Time:

06:19.76

Position:

2nd

Race:

A/B Semi-final

Next Race:

→ A Final
Boat:

W4- GBR 2

Time:

06:34.58

Position:

5th

Race:

A/B Semi-final

Next Race:

→ B Final
Boat:

W1x

Time:

07:27.60

Position:

4th

Race:

A/B Semi-final

Next Race:

→ B Final
Boat:

LW2x

Time:

06:40.47

Position:

1st

Race:

A/B Semi-final

Next Race:

→ A Final
Boat:

PR3 Mix2x

Time:

07:23.34

Position:

1st

Race:

Repechage

Next Race:

→ Final
Boat:

M2x

Time:

06:15.23

Position:

5th

Race:

A/B Semi-final

Next Race:

→ B Final
Boat:

M4-

Time:

05:45.30

Position:

1st

Race:

A/B Semi-final

Next Race:

→ A Final