Great Britain tops medal table at European Rowing Championships
The GB Rowing Team added five more medals to the five won yesterday (a total of 5 gold, 3 silver, 2 bronze) and ended the European Rowing championships in Bled, top of the table for the second consecutive year
Louise Kingsley, Director of Performance for the GB Rowing Team said: "This has been a solid start to the 2023 season and there have been some stunning performances out on the lake but there is still work to be done as we progress towards the World Championships later this year."
Double Paralympic Champion, Lauren Rowles and new partner Gregg Stevenson put in one of the performances of the weekend to set a new World Best time of 08:02.94 in the PR2 mixed double sculls (PR2 Mix 2x). Speaking before collecting their gold medal Lauren said: "You can't do much better than that. Certainly one of those days of your career that you will look back on and think it was a special day. One of the best – especially with this guy. We're having so much fun rowing together – he turns up with the determination and perseverance to make this boat go faster and it's given me the lease of life to do the same."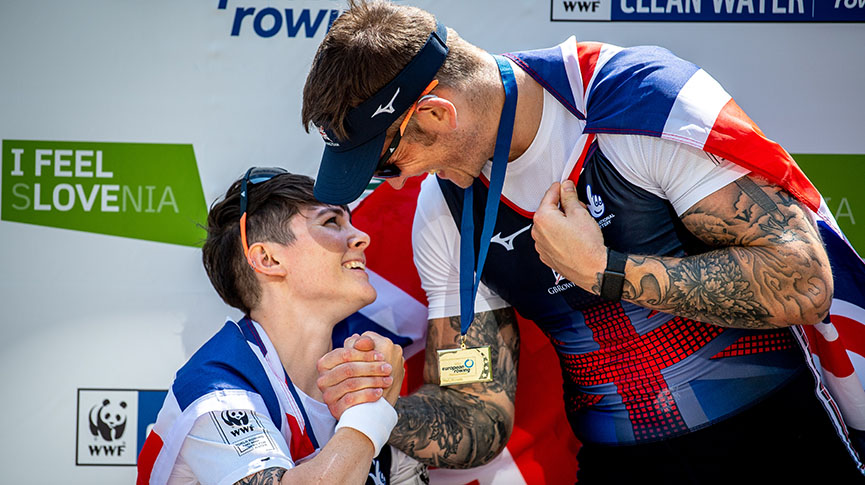 This is what it's all about." said Gregg, reflecting on winning gold in his first international regatta, adding: "it's been my first racing experience and a real learning curve, but there's sunshine, a fast course, beautiful Bled and rowing with Lauren. She's the GOAT!"
The Men's four (M4-) of Oli Wilkes, David Ambler, Matt Aldridge and Freddie Davidson retained their title as European Champions with a convincing clear water win. Matt said: "We're very happy with that. It's quite scrappy out there, windy and bouncy, but we dealt with it well. We got out and didn't let anyone back in. We're a new crew so we don't want to put too much pressure on ourselves – we're 50% different from last year's crew, but the two guys have jumped in and did amazingly well."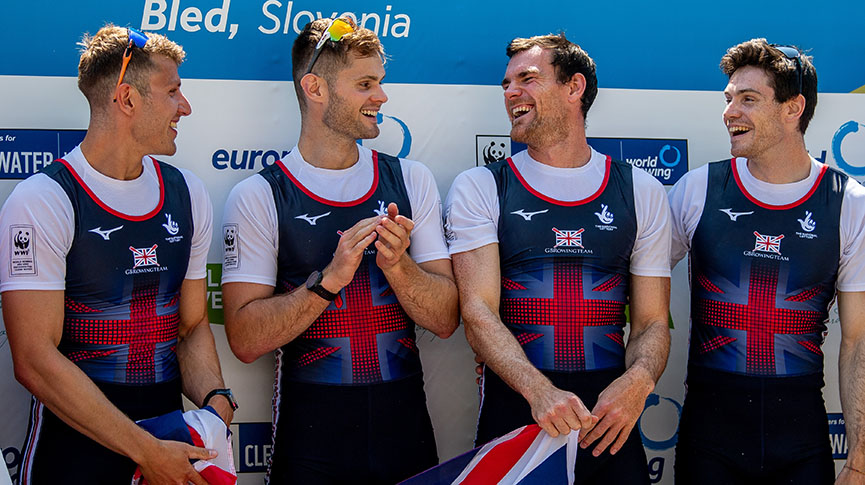 Freddie added: "We were expecting it to be bouncy so we were ready for it. I looked down and we were going a lot faster than I expected which was good. It's a case of trying to keep it clean and not lose any speed, and I'm happy with how we did that. Now the focus is to take this, go to the next world cup with no expectations and be free to do our race plan and see where we end up. That's our ethos in the four – go in with no expectations and enjoy our rowing and the racing and see what we get out of it."
The final gold medal of the day came in the PR3 Mix4+ with Erin Kennedy (cox), Frankie Allen, Giedre Rakauskaite, Ed Fuller and Morgan Fice-Noyes continuing to dominate in this boat class.
Erin, who was returning to the team after being given the all clear from breast cancer said: "I've run that moment over my head many times. I keep crying. It means so much to me to be back because the last time I raced was at the Europeans last summer where I was quite poorly, but I managed to get through. To be back here doing it again with a new combination and be European Champions is amazing. It goes to the credit of the team behind the team as well for everything they do to get us out and racing."
Ollie Wynne-Griffith & Tom George picked up another European silver Men's pair (M2-) medal after a photo finish which saw them just edged out by the Swiss. "It would've been nice to come home with the win," said Ollie, with Tom adding: "It's a strong field and something that we can learn from. There's a bit to build on as we move through the year, but a good start to the season overall."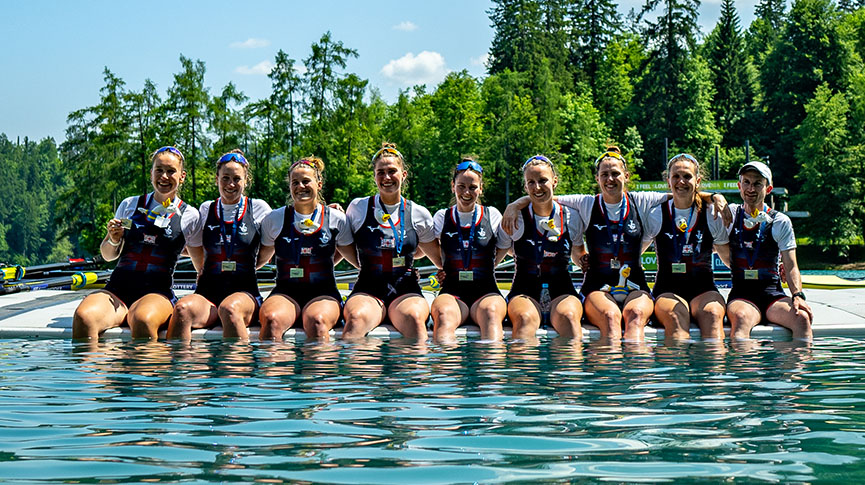 The Women's Eight (W8+) of Emily Ford, Esme Booth, Sam Redgrave, Lauren Irwin, Annie Campbell-Orde, Natasha Morrice, Karen Bennett, Hattie Taylor and cox, Henry Fieldman also won a silver medal.
Speaking after the race, Rio 2016 silver medallist and Tokyo 2020 Olympian, Karen Bennett said: "It was definitely a blast from the past for sure. The last race I did was the Olympics so it's just refreshing my memory and going out there and getting everything back on track. It's great to be back in the team alongside these girls who are just fantastic, and Henry as well of course. So we're getting back into the swing of things and a silver medal here is a great start to the season. There's still a lot of racing to come and hopefully we can step on as we go."
Emily Ford and Esme Booth who doubled up, finished fifth in the Women's pair (W2-) before picking up their silver in the Women's Eight.
Olivia Bates finished 8th overall after a tight B final race in the Lightweight women's single sculls (LW1x) while Saskia Budgett and Kyra Edwards finished 9th overall in the B final of the Women's double sculls (W2x).
Finals Results  at the 2023 European Rowing Championships
| Boat | Final Time | Position | Race |
| --- | --- | --- | --- |
| PR3 Mix4+ | 06:52.50 | | A Final |
| PR2 Mix2x | 08:02.94 | | A Final |
| W8+ | 06:08.01 | | A Final |
| LW1x | 07:52.03 | 2nd | B Final |
| W2-   | 07:15.20 | 5th | A Final |
| W2x | 07:06.09 | 3rd | B Final |
| M4- | 05:49.34 | | A Final |
| M2- | 06:22.44 | | A Final |
| PR1 M1x | 10:07.13 | 5th | A Final |
| PR3 Mix2x | 07:43.68 | | A Final |
| W4- | 06:23.72 | | A Final |
| W4x | 06:22.13 | | A Final |
| LW2x | 06:52.32 | | A Final |
| M4x | 05:44.10 | 4th | A Final |
| M8+ | 05:28.09 | | A Final |
Boat :

PR3 Mix4+

Final Time :

06:52.50

Position :

Race:

A Final
Boat :

PR2 Mix2x

Final Time :

08:02.94

Position :

Race:

A Final
Boat :

W8+

Final Time :

06:08.01

Position :

Race:

A Final
Boat :

LW1x

Final Time :

07:52.03

Position :

2nd

Race:

B Final
Boat :

W2-  

Final Time :

07:15.20

Position :

5th

Race:

A Final
Boat :

W2x

Final Time :

07:06.09

Position :

3rd

Race:

B Final
Boat :

M4-

Final Time :

05:49.34

Position :

Race:

A Final
Boat :

M2-

Final Time :

06:22.44

Position :

Race:

A Final
Boat :

PR1 M1x

Final Time :

10:07.13

Position :

5th

Race:

A Final
Boat :

PR3 Mix2x

Final Time :

07:43.68

Position :

Race:

A Final
Boat :

W4-

Final Time :

06:23.72

Position :

Race:

A Final
Boat :

W4x

Final Time :

06:22.13

Position :

Race:

A Final
Boat :

LW2x

Final Time :

06:52.32

Position :

Race:

A Final
Boat :

M4x

Final Time :

05:44.10

Position :

4th

Race:

A Final
Boat :

M8+

Final Time :

05:28.09

Position :

Race:

A Final