GB Rowing Team through to four more A Finals at European Rowing Championships
Great Britain will race in 12 A finals this weekend at the European Rowing Championships in Bled, Slovenia, after another four crews qualified today
Erin Kennedy, Paralympic Champion in the PR3 Mix4+ returned to cox the crew of Frankie Allen, Giedre Rakauskaite, Ed Fuller and Morgan Fice-Noyes, in her first race back almost a year to the day since she was diagnosed with breast cancer. They led the preliminary race from the start and are now looking ahead to the final on Sunday.
After the race Erin, who had a double mastectomy in January and was given the all clear a few weeks later said: "It's been just over a year since my diagnosis. It's been a lot but I've taken some time on my own processing and thinking about how great sport is and how cool it is that I do this for my job. Although today was really solid I was quite nervous, probably more nervous than I've been in many years. We have a new combination, I've had time out of the boat and the rest of the world is snapping at our heels so it was good to get the race done and for me to officially come back and be back racing. It feels good."
Looking ahead to the final, she added: "We've got more to come in the final. This was a case of putting together a solid race, but I  think the fireworks are going to come on Sunday. It's good to get out on the track to get the nerves away, for Morgan that was his first international race, and while Frankie, G and Ed are double world champions, it's easy to forget that two of them were making their debuts a year ago. It's exciting and a credit to the system that we can keep finding quality new athletes in the para field".
Emily Ford and Esme Booth raced in the Women's pair (W2-) and Women's Eight (W8+)  alongside Sam Redgrave, Lauren Irwin, Annie Campbell-Orde, Natasha Morrice, Karen Bennett, Hattie Taylor and cox, Henry Fieldman Both boats finished in second place in their repechage and preliminary races respectively.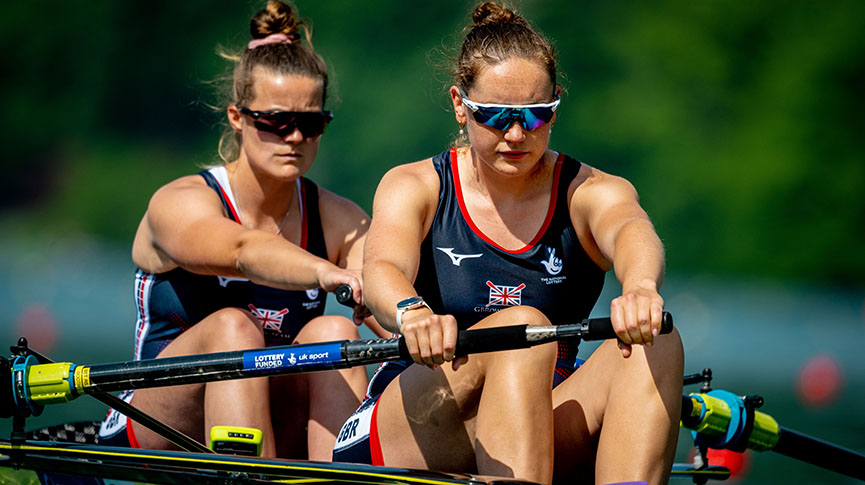 Speaking about racing in the Women's pair and reaching two finals, Emily said: "We've tried to change a few things from last year so you're obviously going to have peaks and troughs, but we're stepping on through the regatta, so let's see what we can do in the A Final. Now we have two opportunities to get on the podium. We're excited to get going and hopefully we can pick up some more medals."
Commenting on doubling up, Esme added: "It has been a tiring day, but it is fun jumping between the two boats. I think you learn a lot more about how to row each boat and you can take experiences from one into the other. I'm really enjoying the process of it."
It was a fourth place finish in the preliminary race for Annie Caddick and Sam Murray in the PR3 mixed double sculls (PR3 Mix 2x). This was their first competitive race as a double and they will go again in the final.
Saskia Budgett and Kyra Edwards came third in a very tight repechage race in the Women's double sculls (W2x) and will take to the water again in the B final. Also making the B final was Olivia Bates who put in a spirited performance in the Lightweight women's single sculls (LW1x). Making her senior championships debut, she narrowly missed out on a spot in the A final, finishing her repechage in third place.
The day's racing ended with Dan Jones and Dale Flockhart finishing 15th overall after racing in the Lightweight men's double sculls (LM2x) C final.
You can follow the action live across British Rowing social media channels and on BBC iPlayer. 
Results from Day Two at the 2023 European Rowing Championships
| Boat | Time | Position | Race | Next Race |
| --- | --- | --- | --- | --- |
| PR3 Mix4+ | 07:00.31 | 1st | Preliminary Race | → A Final |
| PR3 Mix2x | 07:35.80 | 4th | Preliminary Race | → A Final |
| W8+ | 06:22.69 | 2nd | Preliminary Race | → A Final |
| LW1x |   07:52.42 | 3rd | Repechage | → B Final |
| W2- | 07:15.00 | 2nd | Repechage | → A Final |
| W2x | 06:55.01 | 3rd | Repechage | → B Final |
| LM2x | 06:30.11 | 3rd | C Final | |
Boat :

PR3 Mix4+

Time :

07:00.31

Position :

1st

Race :

Preliminary Race

Next Race:

→ A Final
Boat :

PR3 Mix2x

Time :

07:35.80

Position :

4th

Race :

Preliminary Race

Next Race:

→ A Final
Boat :

W8+

Time :

06:22.69

Position :

2nd

Race :

Preliminary Race

Next Race:

→ A Final
Boat :

LW1x

Time :

  07:52.42

Position :

3rd

Race :

Repechage

Next Race:

→ B Final
Boat :

W2-

Time :

07:15.00

Position :

2nd

Race :

Repechage

Next Race:

→ A Final
Boat :

W2x

Time :

06:55.01

Position :

3rd

Race :

Repechage

Next Race:

→ B Final
Boat :

LM2x

Time :

06:30.11

Position :

3rd

Race :

C Final