British Rowing membership updates: fees freeze and cards go digital
Membership fees are being held at current rates for another year, and membership cards are going digital
We're pleased to share some updates about British Rowing memberships.
Fees freeze
Every year British Rowing reviews its membership prices, usually adjusting them to reflect external factors like inflation and to ensure that the fees paid by the various tiers of members are fair and proportionate to all. For the past three years, since the Covid-19 pandemic began, we have decided not to increase membership fees while opportunities to row and compete were limited.
Although rowing activity is now back to normal, we understand that the cost of living crisis means that everyone is feeling the pinch. At British Rowing we don't want to make this any worse for our members and we want everyone to continue to be able to enjoy our sport, which is why we're holding prices at 2019-2020 levels for the foreseeable.
Digital membership cards
Additionally, from next month, British Rowing membership cards will all become digital.
How will digital membership cards work?
Your current plastic membership card is still valid but any membership renewed after 29 March 2023 won't come with a new physical card in the post. Instead, when you renew, we'll email you with a link to save your digital membership card to an Apple or Google Wallet, or to download it as a pdf (and print if you prefer). Going digital means you'll always have easy access to your membership card on your phone to identify yourself at competitions.
If you forget to save your card from the email, or if you currently have a valid plastic card and want to save your digital card, you can also access your digital card at any time after 29 March 2023 from the British Rowing membership system by going to Membership, clicking on the membership type you have, and then clicking the green icon in the bottom right hand corner of the tile: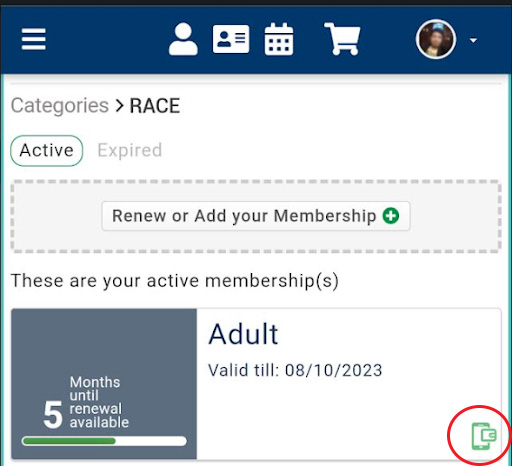 Why are membership cards going digital?
We recognise the importance of improving our sustainability and impact on the environment, especially as a sport that's so closely linked to nature. Many sports and membership bodies before us have made the move to digital already and we're now in the position to join them in taking a greener approach to membership.
This change will also reduce our costs, which has helped to keep membership fees flat.
If you have any questions on how your new digital membership card will work, please don't hesitate to contact us on membership@britishrowing.org.