Your Learning, Your Way: A new development approach for British Rowing coaches
Sarah Harris and Rachel Hooper from the Learning, Education and Development Team explain how research carried out in collaboration with UK Coaching and their own experiences have shaped significant changes in British Rowing's approach to coach learning, education, and development
We all recognise that quality coaching is fundamental to the success of our sport at every level. And for beginners, creating a welcoming, enjoyable and rewarding experience is key to them getting 'hooked'.
But what do we mean by quality coaching? And how can coaches develop the knowledge, skills and ability that will create an environment where anyone taking part can thrive and reach their own personal goals? In the past, 'going on a course' was the mainstay of coach education. Courses remain a core foundation for the development of coaches in rowing. However, there is also an evolution towards signposting a much more diverse range of opportunities which allow coaches to develop continually and at their own pace.
Individual, continual learning
Sarah explains that making learning an individual process is at the heart of the new approach. "Our role at British Rowing is to create resources and experiences that enable coaches to have a positive impact on our sport, and showcase rowing as a healthy, inclusive and life enhancing activity. We need to recognise that amazing coaches aren't simply the ones with medal winning crews," she says.
This is why the team has shifted their focus from the processes of 'education and training' towards facilitating a broader 'learning, education and development'. This means that the team at British Rowing will be concentrating on ensuring that coaches are fully aware and well signposted to the diverse range of development opportunities out there, above and beyond formal coach education. Examples include the Rower Development Guide, amazing networking opportunities, an array of online videos, forums and articles such as British Rowing Plus and PE Scholar's indoor rowing resources for secondary school teachers (see links below) as well as better links to what is happening regionally.
Rachel adds, "We want to understand more about what drives coaches to learn through trial and error, practice, and self-reflection. And we also need our sport as a whole to understand that coaches – just like athletes – need time to develop themselves. Well-signposted guidance will give coaches the opportunity to own their learning and access it the way they choose."
Development opportunities everywhere and always
Another important change is that learning opportunities no longer rely on being in the right place at the right time, but instead being well informed about the different places coaches can go (online and face-to-face) to learn through valuable experiences, and with people who can support their development.
The previous course-based approach has directed coaches along a linear pathway, moving up levels of qualification by providing standards, regulations, reassurance, competence and confidence to both coaches and employers. Now, Rachel says, "While qualifications are still valuable, they're only one element. We don't want coaches to complete a qualification and think 'that's it' in terms of learning. We know that learning takes place every day and we want to encourage coaches to become more curious about what is happening, not just in rowing, but across sport and society that will help them to continue to improve and create great experiences for the people they are coaching."
Sarah says, "We want to make it easy for coaches to understand what's available so they can engage in learning over a lifetime."
One challenge in focusing on ongoing learning is how to reward and recognise those coaches who continue to learn and challenge the behaviours and culture within our sport to keep improving. This is an area that the team will be exploring in coming months as coaches with a thirst for learning becomes established practice.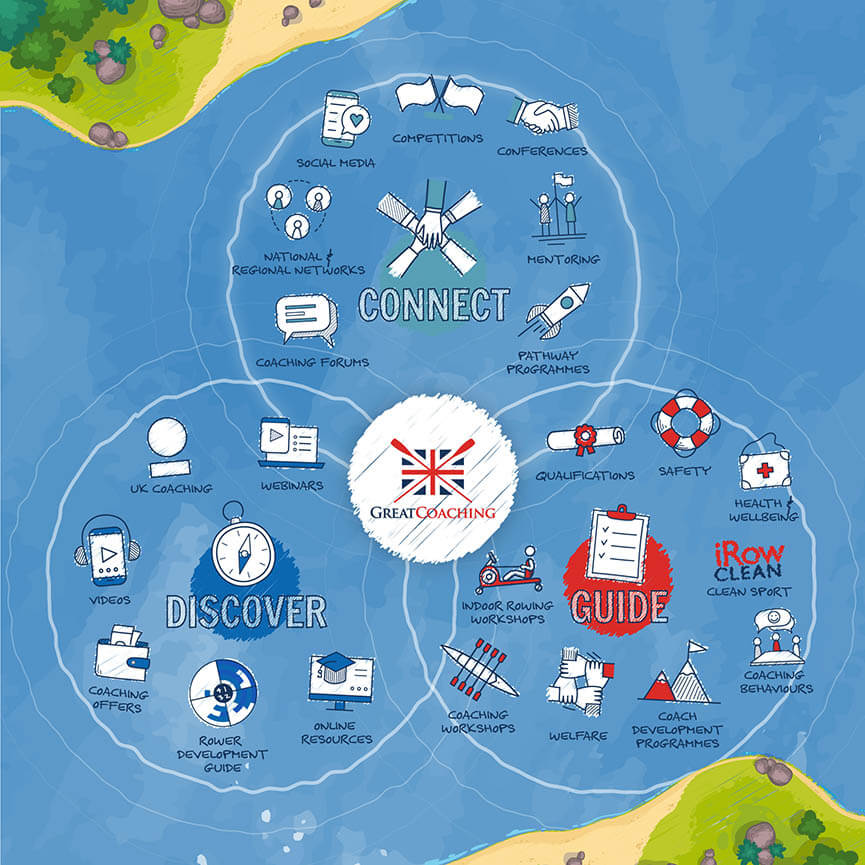 Sharing ideas with other coaches
Through her experience of working across multiple coaching programmes, Rachel has seen the positive impact of collaboration and sharing ideas on the development of coaches. This is something that GB Rowing Team's Olympic and Paralympic coaches at Caversham are increasingly doing. "I wanted our offer to recognise the value of working with others and in regional networks as part of learning to be a brilliant coach."
The experiences, opportunities and resources available through British Rowing give coaches the freedom to navigate and create their own learning through three key areas:
Discover: helps coaches to understand the wide range resources they can access anytime and anywhere, in a format that works for them.
Connect: means that coaches will be able to access more openly available and well publicised opportunities to work with others from grass roots to performance level.
Guide: signposts to learning through our formal qualifications, mentored programmes and workshops.
Evolution not revolution
Sarah adds that the new approach to learning is fluid and able to keep up with a changing society. "To develop and evolve what it includes, we want to get to know more about the tasks coaches do day in and day out, what challenges them, and their concerns. This will allow us to add to and refine what we signpost so we can support coaches better. In addition, we will look at the gaps in the resources coaches tell us they need and balance this with meeting rowers' needs." Rachel emphasises, "The new approach is very much a work in progress as we consider the environments and contexts that coaches are working in, whether volunteers or professionals or a mixture of both."
In conclusion, Sarah and Rachel say, "The research undertaken in collaboration with UK Coaching and our experience of developing rowing coaches, has given us the confidence to evolve our learning, education, and development offer. In particular, it recognises and values everyday experiences and reflections in coaching. The aim of the evolution has been to offer more than formal coaching qualifications and provide more diverse and accessible ways to support coaches. The result should be to improve the outcome and experience of the sport for their rowers by providing coaches with an opportunity to choose their learning in a way that suits them."
Key resources
The Rower Development Guide for coaches and athletes
Coaching articles on British Rowing Plus
PE Scholar indoor rowing resources for teachers
Coach Development Workshops including club and university coaching assistant training, and high-quality land training
GB Rowing Team performance coach mentoring programme
Mental Health Hub: tools and resources to support positive mental health
Courses and qualifications including Safeguarding and anti-doping