World Championship racing continues: GB Crews racing with intent at World Rowing Championships
Racing continues today at the 2022 World Rowing Championships in Racice – read on to catch up with results from Sunday and Monday
Racing continues today at the 2022 World Rowing Championships in Racice with some exciting heats including Great Britain's Benjamin Pritchard lining up in the PR1 men's single sculls (PR1 M1x) and the European Champions GB Men's Eight (M8+) of Rory Gibbs, Morgan Bolding, David Bewicke-Copley, Sholto Carnegie, Charlie Elwes, Tom Digby, James Rudkin, Tom Ford and cox Harry Brightmore also taking to the water.
Frankie Allen and Giedre Rakauskaite will race in the the PR3 women's pair (PR3 W2-) preliminary race and Maddie Arlett will race repechage in the lightweight women's single sculls (LW1x), after finishing second in her earlier heat.
Great Britain has made a strong start to competition in Racice, wearing their trademark World Championship 'hoops' all in ones and black ribbons as a mark of respect to HM The Queen, the Royal Family and the Nation.
Here's a quick recap of the results so far.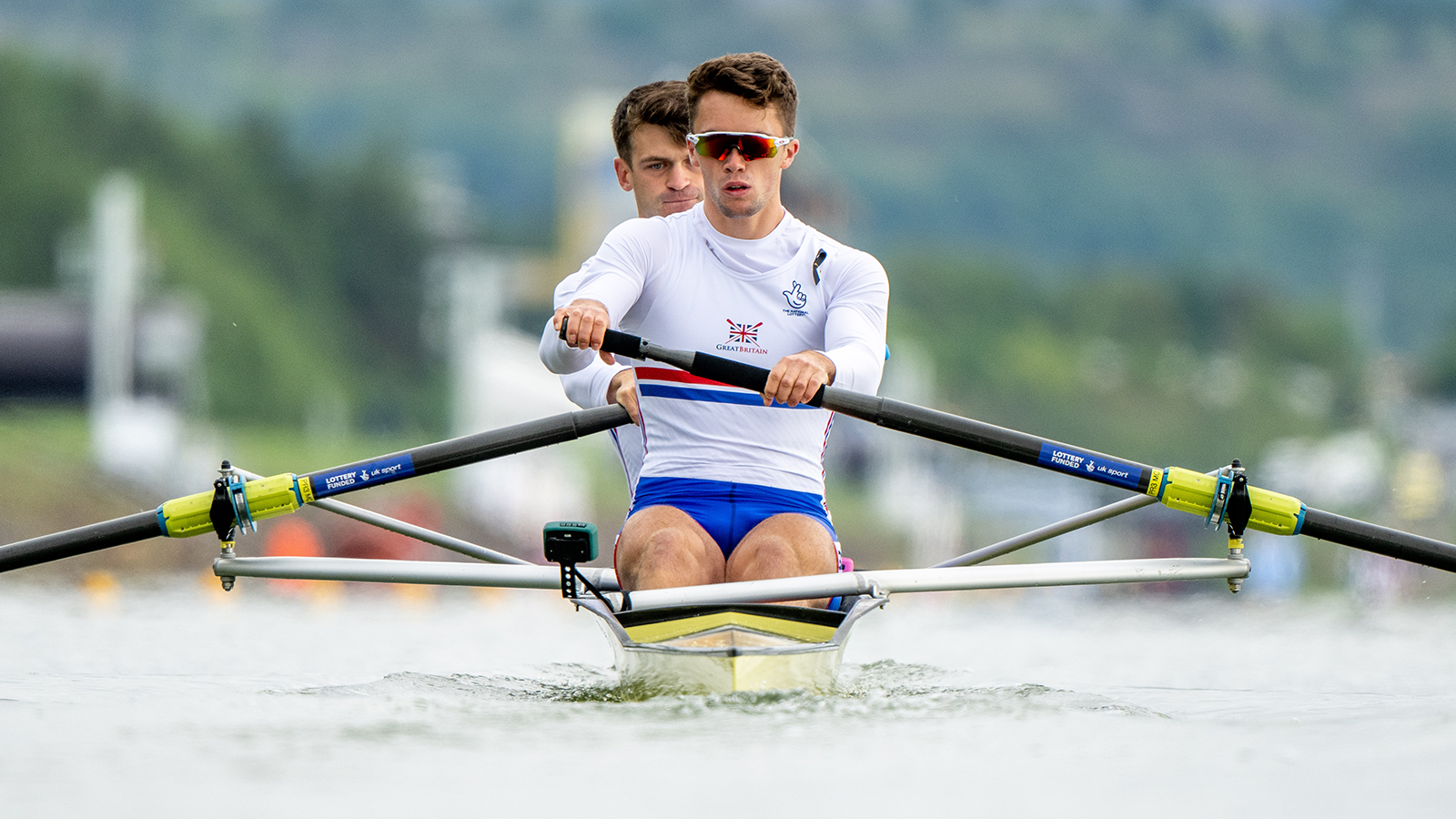 The unbeaten PR3 mixed coxed four (PR3 Mix4+) continued its dominance on the water with Frankie Allen, Giedre Rakauskaite, Ed Fuller, Ollie Stanhope and Morgan Baynham-Williams (cox) leading the field and booking a place directly into the final on Saturday. Ollie Stanhope and Ed Fuller also led the PR3 men's pair (PR3 M2-) preliminary race, setting the standard ahead of that final on Friday.
Graeme Thomas won his men's single sculls (M1x) heat and Dale Flockhart finished second in his lightweight men's single (LM1x) heat. Both have booked a place in Wednesday's quarter finals.
Nine crews have also progressed to their respective A/B semi finals.
European Champions Emily Craig and Imogen Grant in the lightweight women's double (LW2x), Jess Leyden, Lola Anderson, Georgie Brayshaw and Lucy Glover in the women's quad (W4x) and Heidi Long, Rowan McKellar, Samantha Redgrave and Rebecca Shorten in the women's four (W4-) all won their heats.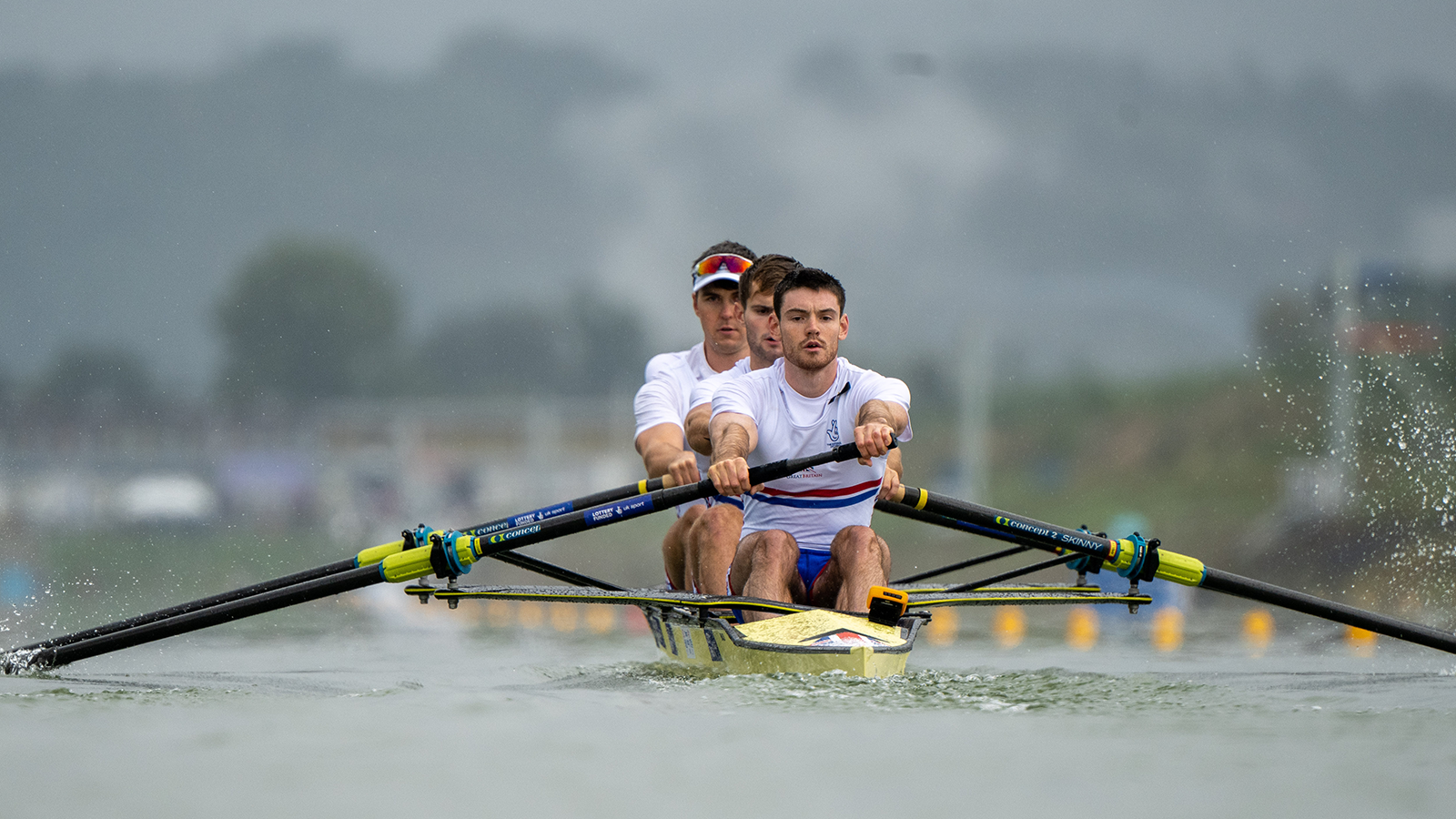 The European Champions Men's Four (M4-) won their heat following a medical substitution, with spare David Ambler stepping in to replace Matt Aldridge. Ambler joined Will Stewart, Sam Nunn and his best friend, Freddie Davidson, in the crew.
The men's quadruple sculls (M4x) of Harry Leask, George Bourne, Matt Haywood and Tom Barras registered their first win of the season and the men's pair (M2-) of Ollie Wynne-Griffith and Tom George also won their heat, progressing to the semi final on Thursday.
Second place finishes were also good enough for the women's pair (W2-) of Emily Ford and Esme Booth and the women's double sculls (W2x) of Saskia Budgett and Kyra Edwards to secure semi final spots.
Hannah Scott also made the A/B semi final in the women's single sculls (W1x) after finishing second in her heat and subsequent repechage.
From today you can follow the action live across British Rowing social media channels. Competition will be shown later in the week on BBC iPlayer with finals live on BBC2.
Find results on our event hub page as soon as they come through!
| Boat | Crew | Race | Time | Position | Next race |
| --- | --- | --- | --- | --- | --- |
| PR3 Mix4+ | Ollie Stanhope, Ed Fuller, Giedre Rakauskaite, Frankie Allen, Morgan Baynham-Williams (cox) | Heat | 07:14.84 | 1/4 | Final A |
| PR3 M2- | Ollie Stanhope, Ed Fuller | Prelim | 07:20.88 | 1/5 | Final A |
| W4- | Rowan McKellar, Heidi Long, Samantha Redgrave, Rebecca Shorten | Heat | 06:29.44 | 1/5 | Semifinal A/B |
| W4x | Jess Leyden, Lola Anderson, Georgie Brayshaw, Lucy Glover | Heat | 06:21.51 | 1/4 | Semifinal A/B |
| W2- | Esme Booth, Emily Ford | Heat | 07:07.58 | 2/5 | Semifinal A/B |
| W2x | Kyra Edwards, Saskia Budgett | Heat | 07:00.62 | 2/5 | Semifinal A/B |
| LW2x | Emily Craig, Imogen Grant | Heat | 06:55.47 | 1/6 | Semifinal A/B |
| W1x | Hannah Scott | Heat | 07:39.22 | 2/5 | Repechage |
| W1x | Hannah Scott | Repechage | 07:38.89 | 2/4 | Semifinal A/B |
| LW1x | Maddie Arlett | Heat | 07:46.09 | 2/6 | Repechage |
| M4- | Will Stewart, Sam Nunn, David Ambler, Freddie Davidson | Heat | 05:56.90 | 1/5 | Semifinal A/B |
| M4x | Harry Leask, George Bourne, Matt Haywood, Tom Barras | Heat | 05:41.91 | 1/6 | Semifinal A/B |
| M2- | Ollie Wynne-Griffith, Tom George | Heat | 06:29.92 | 1/5 | Semifinal A/B |
| M1x | Graeme Thomas | Heat | 06:49.93 | 1/6 | Quarter final |
| LM1x | Dale Flockhart | Heat | 07:03.52 | 2/6 | Quarter final |