Great Britain Win Two Golds on First Day of Finals at World Rowing Championships
The GB PR3 Men's and Women's Pairs both won dominant gold medals and a further three boats booked their places in A Finals at the World Rowing Championships on Friday
Great Britain's Para rowers set the tone today winning gold in the PR3 Men's and Women's Pairs races at the World Championships in Racice. Great Britain will race in another 12 finals across Saturday and Sunday.
The 2022 World Championships are the first time Great Britain has entered the PR3 Pairs races and saw the European Champion PR3 Mix4+ crew 'doubling up' in the respective men's and women's races.
In the PR3 Men's Pair final, Ollie Stanhope and Ed Fuller got out fast and held the lead throughout to the cheers of their friends and family in the stands. Speaking before collecting his medal, Ollie said: "This pair has been an absolute dream to be a part of. From the minute we got here, we knew we were in pretty good nick, but to go out there and produce a performance like that was really good fun.
"As a squad we're always trying to push the boundaries of what we're capable of and I think that showed out here. Nobody sees the December miles, the horrible miles on the erg when it's cold and windy. They see this stuff. This is why we win, it's because we go home and work hard so we can come out here and make it look easy."
Ed added: "Going into it we thought we might challenge for the world best time, and in the warm up we knew the conditions were fast, and then it was basically nip and tuck the whole way. We knew once we'd crossed the line we didn't quite get it, and we were just told we were a second off it. The gold is incredible and amazing though, and we're thrilled to be World Champions!"
Frankie Allen and Giedre Rakauskaite took to the water in the the PR3 Women's Pair (PR3 W2-) and also led from the start, confidently crossing the finish line ahead of the field. Giedre said: "We managed to stay calm, consistent and improve our race plan from the preliminary race a couple of days ago." Speaking about doubling up in the Pair, she added: "It's a refreshing challenge. It also really helps mix up our training."
Frankie was overwhelmed to become World Champion at her first senior World regatta. She said: "It's quite surreal. If you'd have asked me a year ago what I'd be doing in a year's time, it definitely would not be this! I just would not have not believed you. It's amazing, it's so good that all our hard work and training has paid off. I'm really happy with how we performed."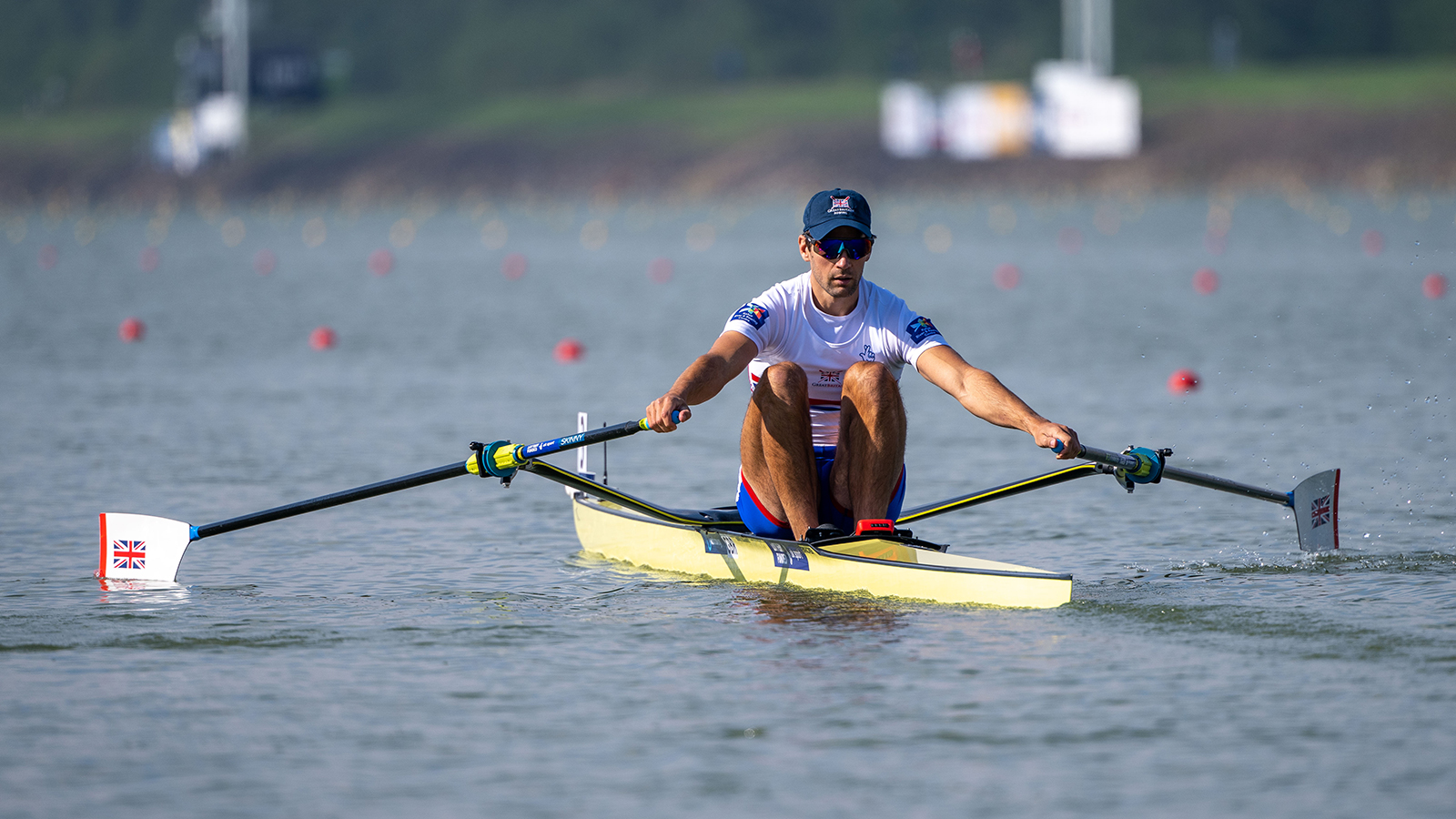 In the single sculls events raced earlier in the day three athletes secured A final places.
Graeme Thomas came in second behind Germany in the Men's Single Sculls (M1x) semi final. "The main objective was to get in the final, so I'm not going to read too much into all the different ways it played out. It's just nil-nil again on Sunday for the final and hopefully I can find a little bit more," he said, adding: "Seeing so many GB boats make finals in such a dominant way gives you that little bit of confidence that the training you've done is working. It's just a case of keeping the mental side on-game because you know that you've done everything to get your body in the best place."
Great Britain's Benjamin Pritchard won the PR1 men's single sculls (PR1 M1x) semi final and said: "It's always great to go up against some of the best people in the world. It's no mean feat to come and race Erik (Horrie), so it's always nice to get out there and even better when you can pip him. It gives me some confidence going into the final on Sunday. I know the job's not done, I know he'll come out racing and fighting for it, and the other semi was a lot faster than mine, so there's a lot of work to be done. We'll keep our head down and we'll get on with it and see what happens on Sunday."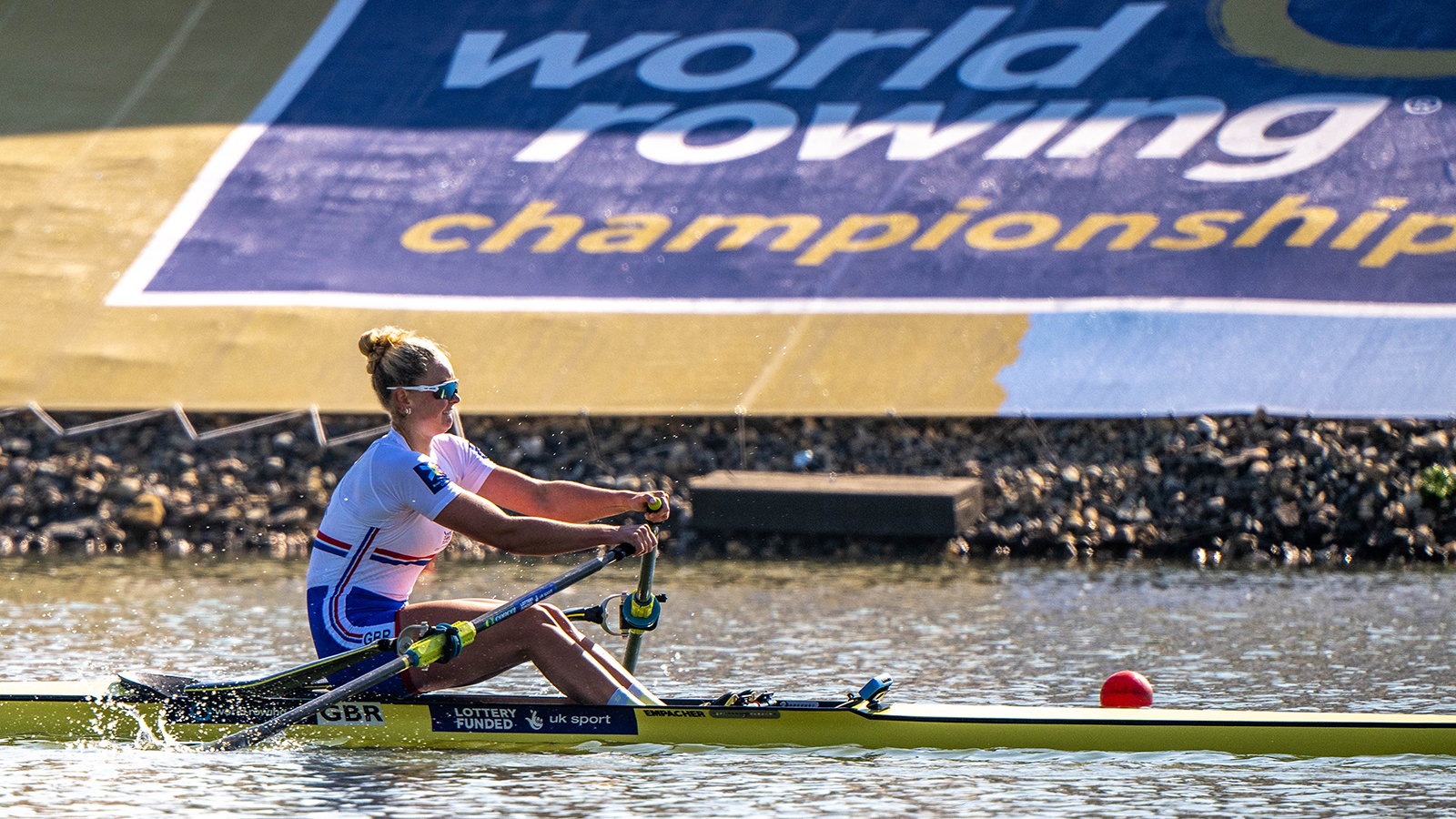 Hannah Scott will race in Sunday's Women's Single Sculls (W1x) final after a brilliant row which saw her hold on for third in the semi final. She said: "I feel pretty knackered right now but it felt good. My aim for that race was to progress on from the heat and the rep, because I haven't raced in quite a while. It was more about keeping my head in the progression of this regatta. I wasn't going to be the fastest boat in the heat, but it's a long week and anything can happen on Sunday."
Elsewhere, the Women's Double Sculls (W2x) of Saskia Budgett and Kyra Edwards finished fifth in the semi final and are through to Sunday's B final. Earlier in the day Dale Flockhart finished 11th overall in the Lightweight Men's Single Sculls (LM1x).
Day Six Results
Full results and crew lists for all GB Rowing Team boats are here.