Great Britain Celebrate Seven more Medals at World Rowing Championships
Great Britain go top of the World Rowing Championships medals table with four gold, one silver and two bronze medals on Saturday in Racice
Great Britain added a further four gold, one silver and two bronze medals to their tally on a superb day of racing at the World Rowing Championships in Racice. Great Britain go into tomorrow's final day of racing top of the medal table.
Three Olympic-class World Champion gold medals were awarded in the space of an hour with the Women's Four, Men's Four and Lightweight Women's Double Sculls all topping the podium.
Heidi Long, Rowan McKellar, Samantha Redgrave and Rebecca Shorten took World Championship gold by more than two seconds in the Women's Four (W4-). Having won at two World Cups and the European Championships, the crew have been unbeaten all season.
Samantha said the crew had built from their win at the European Championships in Munich, adding: "We came off of Europeans knowing that we were doing a good job but we still had stuff to work on, and we just got our heads down and trained hard at camp for over a month. It's really paid off, we said what we were going to do, and I think that's the one thing we've done so well this year is when we've said we were going to do something we really commit."
Rebecca said: "We knew that everyone was going to bring their game today, and we got off to a really good start. The speeds were good, we didn't lose our heads, stayed focussed and just kept going,"
The Men's Four (M4-) of Will Stewart, Sam Nunn, Freddie Davidson and David Ambler became World Champions after a composed and solid race which saw them win by a similar margin to the Women's Four.
"We said we were going to go out, get into our rhythm and see if we could move on everyone through the middle, and everyone else stuck on really well," Freddie said of the race. "I'm pretty proud of us for keeping calm, Sam called it really, really well. We all knew where we were and what we had to do, and managed to execute it on the line."
David said the crew's thoughts were with Matt Aldridge, who was substituted out of the boat for medical reasons before the start of the regatta. "He's been crushing it all season and has been working hard all year in this crew, so it's a tough thing to be ill. The result is a reflection of his work in the crew throughout the year," he added.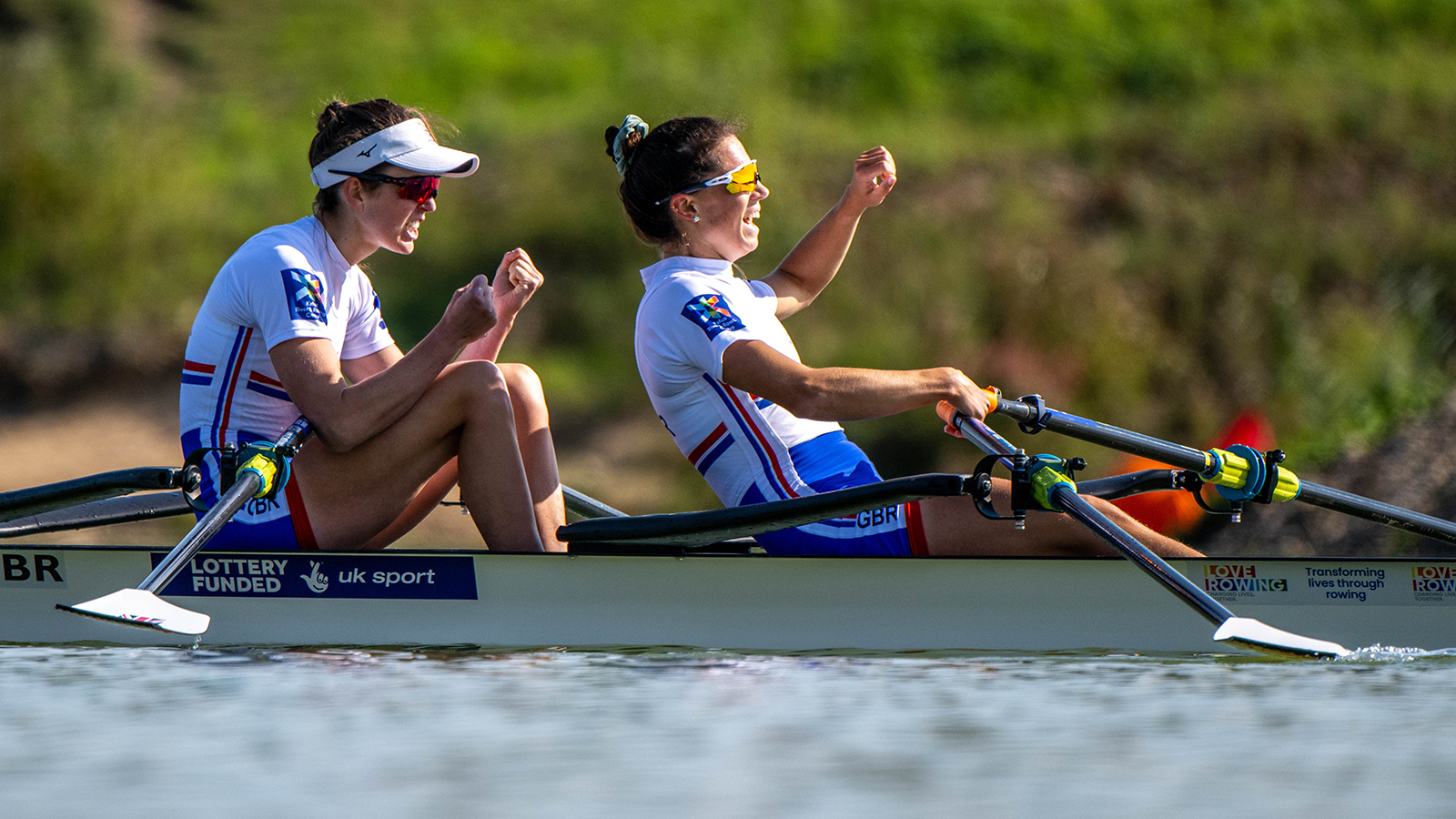 Emily Craig and Imogen Grant were dominant in the Lightweight Women's Double Sculls (LW2x), hitting the front before 500m and not looking back to earn a clear-water victory and claiming their World Champion title ahead of the USA.
Emily said coming fourth at the delayed Tokyo 2020 Olympic Games last year by just 0.01 seconds had driven the duo on. "The photo finish is printed off and hanging on my living room wall," she revealed. "Our coach summed it up nicely with a quote from Imo of 'you win or you learn'. We went and we learned. I wanted to retire after Tokyo. I said if I came back it would have to be completely different. I'm a different woman now than I was a year ago."
"A lot of people came fourth in Tokyo and came back, and if anything is going to put fire in your belly it's going to be coming that close to an Olympic medal," Imogen agreed. "(Women's coach) Andrew Randell has really rejuvenated the women's squad. There are new ideas, so much buy-in and a really positive culture from everybody in the squad."
The unbeaten PR3 Mixed Coxed Four (PR3 Mix4+) of Frankie Allen, Giedre Rakauskaite, Ed Fuller, Ollie Stanhope and Morgan Baynham-Williams (cox) continued Great Britain's long winning streak in this boat class with a decisive victory in a new world best time of 06:48.34. For all four rowers, it was a second gold medal after they won the PR3 Men's and Women's Pairs on Friday.
Giedre said setting a new world best time was an aim coming into the race. "We did have a bit of a headwind coming in at the start and all I could think about was 'go away, it's my time, my day, we're going to get this'," she said. Morgan added: "We had a very clear plan to go out there and change the boundaries. We changed our plan a little bit to try and stay a bit higher a bit longer."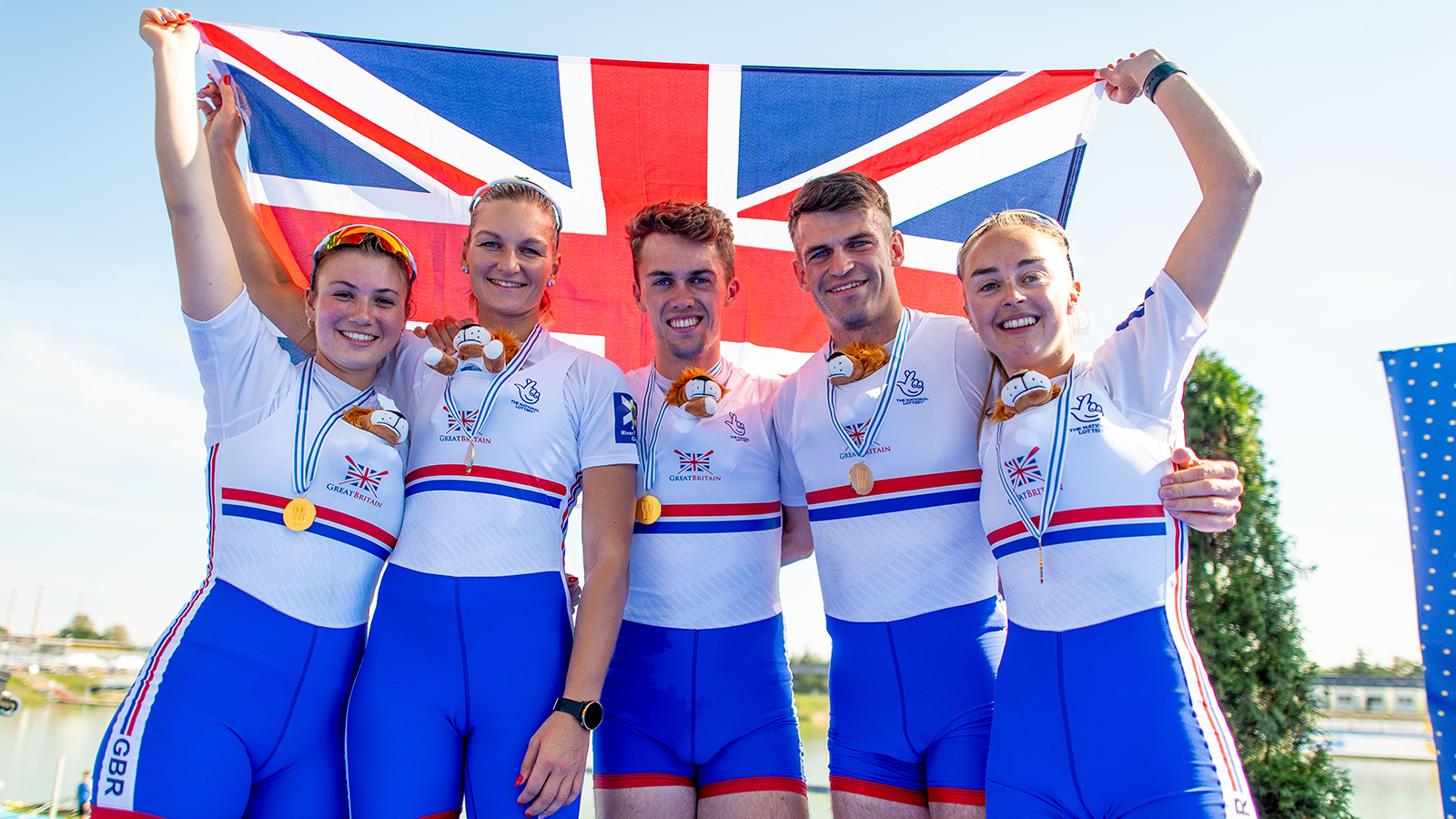 Frankie said the crew were also thinking of cox Erin Kennedy, who is currently receiving treatment for breast cancer. "Morgan made a call in the last 250, she was like 'do it for Erin'. I felt the boat just pick up, and everyone went for it. We've been talking to Erin the whole time we've been out here and she's been so supportive to us."
The Men's Quadruple Sculls (M4x) of Harry Leask, George Bourne, Matt Haywood and Tom Barras produced their best race of the season to win silver, less than a second behind champions Poland.
"We didn't have the best start to the season but thankfully we've got used to being in the boat now, and the results speak for themselves. It's absolutely amazing to be back on the podium again," Harry said, summing up the race. Matt added that having the Olympic silver-medal winning experience of Harry and Tom in the boat had been invaluable. "These guys have really helped us, we've improved each race and we're definitely on the right track." he said.
Jess Leyden, Lola Anderson, Georgie Brayshaw and Lucy Glover went toe-to-toe with Olympic Women's Quadruple Sculls (W4x) champions China throughout their race. The Netherlands came through on the outside in the closing stages to push the British women into bronze-medal position.
"Although we wanted a different colour, we're still so grateful to have a medal," Jess said before the ceremony. "We did attack the best we could; they kept throwing it at us and we kept trying to respond. You can't be disappointed when you've put everything on the track."
Georgie is new to the senior squad this year and said she was excited about what lay ahead: "We're going to keep working and we're going to be up there. Keep your eyes on us!"
Ollie Wynne-Griffith and Tom George also finished third, taking bronze in the Men's Pair (M2-) behind the Romanian and Spanish crews. Tom said: "We didn't have a great start and let them get out a bit. We knew we were strong in the second half but they were able to neutralise that and credit to them. It's a shame, having beaten Romania on Thursday, to not be able to stamp our authority on it and produce our best stuff."
Ollie added: "At the start of the season, we'd have been very pleased with this result, but obviously the goalposts move. A dream becomes a goal, a goal becomes an expectation, and if you don't come away with a gold medal there's work to do. It's a solid result but it's not the standard that we've set ourselves."
Meanwhile, the Women's Pair (W2-) of Emily Ford and Esme Booth raced a brave final, leading Olympic champions New Zealand to the first marker before dropping back to eventually finish fifth.
Day Seven Results
| Boat | Crew | Race | Time | Position |
| --- | --- | --- | --- | --- |
| PR3 Mix4+ | Ollie Stanhope, Ed Fuller, Giedre Rakauskaite, Frankie Allen, Morgan Baynham-Williams (cox) | Final A | 06:48.34 | |
| W4- | Rebecca Shorten, Samantha Redgrave, Heidi Long, Rowan McKellar | Final A | 06:26.40 | |
| W4x | Jessica Leyden, Lola Anderson, Georgie Brayshaw, Lucy Glover | Final A | 06:21.25 | |
| W2- | Esme Booth, Emily Ford | Final A | 07:16.82 | 5/6 |
| LW2x | Imogen Grant, Emily Craig | Final A | 06:54.78 | |
| M4- | Will Stewart, Sam Nunn, David Ambler, Freddie Davidson | Final A | 05:48.29 | |
| M4x | Harry Leask, George Bourne, Matt Haywood, Tom Barras | Final A | 05:40.97 | |
| M2- | Tom George, Ollie Wynne-Griffith | Final A | 06:30.86 | |
Full results and crew lists for all GB Rowing Team boats are here.