Six brilliant medals for GB U23 crews in Varese
GB wins three golds, two silvers and one bronze to finish third on the U23 medal table at the U23 Worlds
In a week of top-quality rowing on Italy's beautiful Lake Varese, Great Britain's U23 crews have had a spectacular competition winning six medals in contests with the most promising U23 rowers in the world. After making their mark, many of these athletes will be aiming to challenge for selection in their country's Olympic squads for Paris 2024 and beyond.
Last year, GB entered seven crews at the 2021 U23 Worlds – this time it was 13 with nine qualifying for the A finals. The coxed men's four, men's four and men's eight went on to win gold medals, the women's four and eight collected silver while the women's double scull brought home a bronze. There were fabulous performances from both the men's and women's squads which bodes well for the strength of the future senior team.
British Rowing's Deputy Director of Olympic Pathways, Peter Sheppard, said: "It has been a very exciting team to work with this summer, with many new athletes earning their first U23 World Championship vest and delivering world class performances when it mattered.
"I would like to say a big thanks to all the coaches on the team and the club coaches that have supported the athletes throughout the year in developing a quality cohort of athletes. As a team they have performed exceptionally well with 33 of the 46 athletes coming home with a medal. The future of the GB Rowing Team certainly looks healthy for the future."
With a gentle tail-wind breeze cooling the course on Friday, the first gold medal for GB came with the men's coxed four who set a World Best Time in 6:02.90, crossing the line ahead of USA in silver position and Italy in bronze. Coxed by Will Denegri, with Newcastle University's Bruce Turnell at stroke, the GB crew included DiSE* graduate Ben Hinves, Henry Pearson and Robbie Prosser.
Saturday's A finals were brought forward because of adverse weather conditions later in the day, as athletes faced another tail wind and more sunshine on Lake Varese.
The women's squad also performed out of their skins capturing two well-fought silver medals and a bronze
The GB men continued to impress with the men's four dominating their A final from start to finish, to the delight of the cheering GB supporters in the stands. With three U23 world champions on board – Calvin Tarczy, Douwe de Graaf and Miles Beeson – the GB boat with Theo Darlow, another DiSE graduate, in the bow seat had laid down a marker by winning their opening heat. In the final, they were equally imperious, holding off a strong NZ challenge down the course.
Fast-forward to the final showdown of the day and as the men's eight launched for their A final, the question was – could GB make it three golds? As defending champions in this boat class, the new-look men's eight could have been forgiven for feeling the pressure. But when Australia exploded from the start into the lead, GB kept their cool and by 500m they were ahead, urged on by experienced cox Scott Cockle with Harry Geffen calmly laying down the rhythm. Cockle had steered the men's eight to a dramatic victory in Racice last year, winning from behind – this time he was determined to keep in front. As USA and Australia piled on the pressure and the screaming from the spectators in the grandstand grew louder, GB upped their rate to 38spm to cross the line first in 5:51.71.
The women's squad also performed out of their skins capturing two well-fought silver medals and a bronze.
The first silver medal came in the women's fours. Last year, the GB crew had won gold with Lettie Cabot returning to stroke the boat in Varese. This year, they had a particularly strong crew from the US to contend with.
Coached by 2012 Olympic silver medallist Richard Chambers, Phoebe Campbell, Georgie Robinson Ranger, Lauren Carey and Cabot had come second to the USA in their heat and, despite chasing the Americans hard, the final was to prove a repeat.
The Americans were also the ones to beat in the women's eights. Anchored by 2021 U23 medallists Daisy Bellamy and  Phoebe Snowden, a DiSE graduate, the new GB women's eight won their heat in style against Romania and Germany. In the final they faced the favourites and defending champions, USA. With three GB athletes studying in the USA – Katherine Kalap and Zoë Scheske at Princeton and Hannah Medcalf at the University of Texas – they had fellow students Camille VanderMeer (Princeton) and Rachel Rane and Lanie Nitsch (Texas) in the US crew. Once again, the Americans were out in front of the field – but showing grit, GB held off the competition and pushed on to secure the silver medal.
The final medal for GB came in the women's double sculls, with Katherine George finishing fifth in this boat class at last year's U23 Worlds and delighted to be on the podium this time after winning a bronze medal with Start athlete Vwairé Obukohwo.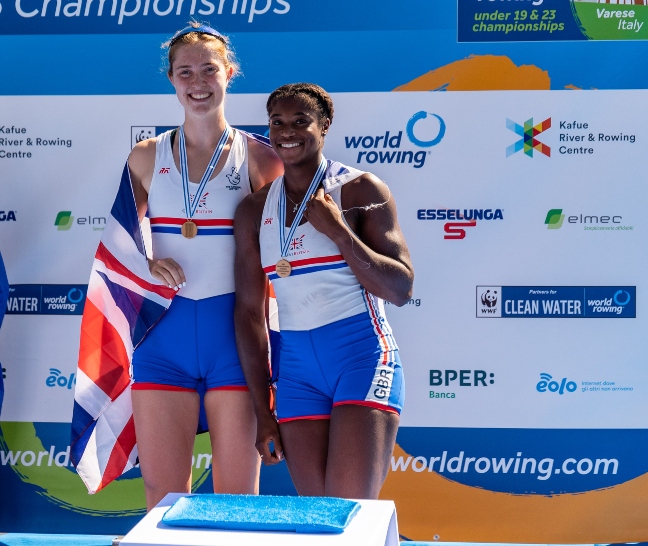 Katherine George and Vwairé Obukohwo celebrate their podium finish (c) AllMarkOne
It was a second coaching medal for the Chambers brothers this weekend too – George and Obukohwo are coached by Peter, brother of Richard, who raced together in the 2012 Olympic silver-medal winning lightweight men's four.
In an incredibly competitive race, the women's double were fourth at 500m, pushing through the pain to second place before a fierce final sprint saw them finish behind Romania and Canada.
There was disappointment for Leicester's Lauren Henry after the DiSE graduate narrowly missed out on the podium for a second year at U23-level. The women's single sculls included defending champion Alexandra Foester from Germany and 2021 silver medallist from Switzerland, Aurelia-Maxima Janzen. With Foester, a recent gold medallist at World Cup III, and Janzen both on form, Henry found herself jostling with Irish sculler Alison Bergin for bronze medal position, eventually finishing a creditable fourth in a category with one of the largest entries and competitive fields seen at the U23s for a few years.
In the lightweight women's double A final, Avery Louis and Lauren Maddison finished in fifth after racing hard to better their position in a tight field, while the men's pair of Cambridge students Oliver Parish and Luca Ferraro and men's double of Joseph Adamson and Adam Oliver both finished in sixth in their respective A and B finals.
There was fast and furious racing in the B finals as well; in the men's single sculls GB's Callum Dixon fended off a late charge by Hungary's Bence Szklenka to cross the line first. Welcome consolation after the Twickenham sculler, who competed at World Cup I and III, missed out on the A final by an agonising 00.18 hundredths of a second.
The men's quad also won their B final in style, with U23 returnee James Cartwright joining junior world medallists Victor Kleshnev, Bryn Ellery and Miles Devereux, putting their bow ahead at 1,500m in an incredibly tight race with Poland and Chile challenging.
Finally, there was disappointment for lightweight women's single sculler Olivia Bates, the 2021 U23 European silver medallist, who was forced to withdraw on medical grounds from her B final.
For full results, visit World Rowing here >>>
*DiSE: Open to teenagers aged 16-18 years old, the Diploma in Sporting Excellence (DiSE) programme enables promising rowers to follow a specialist rowing curriculum alongside an academic qualification. Find out more here >>>