GB juniors claim four fantastic medals at U19 Worlds
There were thrilling performances from GB U19s at the U19 World Rowing Championships with 26 out of 37 athletes winning medals on Lake Varese on Sunday 31 July
The final day of the U19 and U23 World Rowing Championships saw the spotlight shine on the U19s as they raced for medals. The monster week of racing had seen 1,500 athletes from 61 nations competing at U19 and U23 level on Italy's beautiful Lake Varese. There was a festival feel as spectators were keen to make the most of the last day of competition and cheer on their crews.
In one of the best performances from the Great Britain U19 squad, the men's four won a spectacular gold and there were well-earned silvers in the men's and women's eights and a bronze for a delighted women's quad.
The medal table saw GB finish fifth overall in the U19 and U23 medal standings with an overall tally of 10 medals shared equally between the men's and women's squads.
Seven out of eight junior crews qualified for the A finals with the men's pair in the B final – an exceptional achievement considering that crews had only been selected a few weeks beforehand with all of the team representing GB for the first time.
As the A finalists took to the water, GB fans didn't have to wait long for the first medal. The men's four of Saxon Stacey, Cameron Tasker, Joshua Brangan and Alex Forbes at stroke had won both their heat and semifinal in style and quickly took the lead in the A final, cruising to 35 strokes per minute. Looking fluid and relaxed, they moved ahead to clear water leaving Romania, Denmark and Italy to do battle for silver and bronze. With the finish approaching, Forbes took the rate up to 39 to cross the line in 5:56.81 over five seconds ahead of Denmark who took silver and Romania bronze. The margin of the win by the GB U19 men's four meant it was one of the standout crews of the U19 Championships.
With GB's long legacy in this boat class at senior level, it was fantastic to see the juniors continuing the tradition in such commanding style.
In the women's squad, GB was fielding an eight for the first time in 12 years
Excited to be a world champion, Stacey said afterwards that conditions were "very wavy". "There was quite a big tail wind, but it seems as though we dealt with it better than the other countries even though it looked a bit foreboding."
Coxed by James Trotman, the GB men's eight was stroked by Joseph Olagundoye with Matthew Johnston, Thomas Griffin, Hylton Harvey, Jake Birch, Max Peel, Zac Day and Ben Lundie. GB had come second to Germany in their heat with defending champions, USA, in third. The final was to be a repeat with Germany taking the lead through the 500m marker as Trotman urged his crew to keep contact. In a thrilling race, Olagundoye upped the rate to 41spm as GB tried to catch the German crew which had open water as it crossed the line to win gold.
In the women's squad, GB was fielding an eight for the first time in 12 years. Defending champions USA had three athletes returning and were the favourites to retain their title, though GB had qualified with the fastest time in the heats.
Coached by Headington's Ryan Demaine, the GB crew was coxed by Sophie Wrightson, also from Headington School, with Megan Johnston, Isla Bathgate, Alice Baker, Isabel Llabres Diaz, Madeleine Greenstock, Annalisa Janss Lafond, Isla Wilding and stroke Martha Shepherd.
USA took an early lead in a highly competitive pack with GB in third, just behind Germany. In the final 500m Wrightson pushed GB on as NZ and then Germany also charged to the line. Somehow GB held onto the silver medal position finishing behind USA who set an U19 World Championships' best time.
Pleased with how her crew had responded, Wrightson said: "We thought we put out a really good performance.
"I think the standard is unlike anything in the UK – if you compare the racing, it's so much closer, so much harder. It's really fun to pit ourselves against the world and see where we stand.
"Hopefully, we can have more GB women's eights. We all love representing our country."
The women's quad were equally thrilled to win a bronze medal in a final where Romania led the field from 300m, under-rating the other crews with impressive technique and efficiency.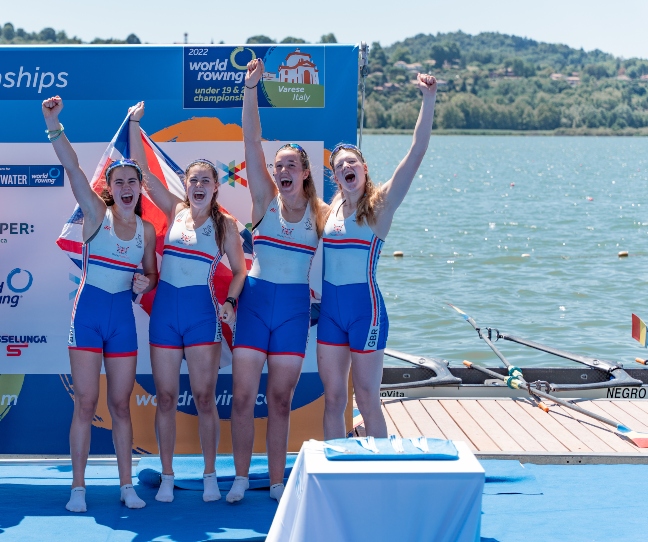 A bronze medal for the GB women's quad (c) AllMarkOne
GB's crew of Megan Knight, a recent DiSE* graduate who had raced at Varese in May, and newcomers Alice McCarthy, Laura Burton and Matilda Drewett were determined to hold on to second behind Germany as USA challenged them for third position. With Drewett upping the rate to 38spm in the closing stages, it was a tussle to the finish with final medal positions going to Romania, Germany and GB.
Afterwards, McCarthy put their podium finish down to all the training the crew had done before the Championships.
On representing GB for the first time, she added: "It can be quite overwhelming, but I think what helped me was thinking of them just as club rowers joined together for their country so [it felt] they were no better than us.
"It's a great experience and one that we will not get very often again, and it's been a real honour to represent GB."
There were memorable performances outside the medal finishes too.
Coached by Mark Wilkinson, GB single sculler Marcus Chute from the Windsor Boys' School had already won a gold medal at Varese in May's European Rowing U19 Championships, but it wasn't to be his day this time.
In his semifinal, Chute had put in an amazing sprint, racing from fifth at 500m to finish second behind Italy's Marco Prati. But in the final, Prati set a blistering pace, leading from start to finish with clear water between second-placed Germany's Cornelius Conrad and Slovakia's Peter Strecansky in third, with Chute finishing in fifth.
After securing their A-final spot in a tight battle with the USA, the GB men's quad found themselves at the back of the field in a fast-paced final. The crew of DiSE graduate Jacob Ioras, Josh Matthews, Harry Ruinet and Matt Long finished in sixth with medals awarded to Czech Republic, Italy and Greece.
"It was really cool to see the U23s race and to be around them. They were really big inspirations"
The women's fours' final also proved a tough proposition for GB, finishing in sixth in a highly competitive field with Italy setting a new U19 World Championships' best time. Joined by Izzie Magee and Amy Newton, Aberdeen athletes Zoe Beeson and Maisie Aspinall had competed at the European U19s in Varese back in May.
Finally, the men's pair B final saw Tom Corbett and Arthur Scott have a fantastic race, showing spirit in a super-tight contest with GB, the Netherlands and Austria all finishing within 20 hundredths of a second of each other and behind winners Greece.
The U19 and U23 Worlds are usually held as separate championships, but the new combined format added to some of the juniors' experiences with three GB medallists reflecting on their week.
Men's four gold medallist Stacey said: "It's been really nice having the U23s around. They are big and strong and it's nice to think that one day we'll be big and strong and fast. I think it drives us forward a little bit more.
Wrightson, women's eight silver medallist, said: "It felt like a big GB unit – it was really cool to see the U23s race and to be around them. They were really big inspirations for us."
Meanwhile, McCarthy, a bronze medallist in the women's quad, added: "I definitely think the squad feel in GB is amazing. Everyone comes up to you – everyone's very supportive, screaming for each other as soon as they finish their race, and I think it's a great team to be part of."
With the racing done, World Rowing President Jean-Christophe Rolland brought the U19 and U23 Rowing Championships to a close, thanking the organising committee and all the volunteers and athletes who had contributed to the event's success.
For the full results, visit World Rowing here >>>
*DiSE: Open to teenagers aged 16-18 years old, the Diploma in Sporting Excellence (DiSE) programme enables promising rowers to follow a specialist rowing curriculum alongside an academic qualification. Find out more here >>>