Imogen Grant wins Gold at World Rowing Cup III
The GB Rowing Team won its first medal at World Rowing Cup III in Lucerne today
Imogen Grant stormed home to take the gold medal in the Lightweight Women's single (LW1x) setting a world best time of 7:23.36.
"It's my first international race of the season" Imogen said as she spoke before collecting her medal. She continued:  "I was in the middle of my exams when the team went out to race in Belgrade, but it was really inspiring to see them all come away with medals.
"Now I'm back with the team and after racing at Henley, I knew that my speed was pretty good, so given that Lucerne is a favourable course I was crossing my fingers for some good conditions. I could see that my splits were looking pretty good and I chatted with our coach Andrew Randall this morning and he said 'if it's on it's on. Given that it's the final you don't let up, you don't stop until you cross the finish line'. I came here with the intention to try and see if I could break the world best time and I'm so happy that I managed it."
Elsewhere on the Rotse, five other crews made it through their semi final races and will join the five successful crews from Friday to race in A finals on Sunday.
Maddie Arlett and Emily Craig won their Lightweight women's double (LW2x) semi final and Emily said she's 'feeling excited' to race the final on Sunday. She added: "We've been really consistent the last two days and we look forward to stepping it on and racing tomorrow. Maddie added: "I felt we were even more in control today than yesterday. We went through the first kilometre and then stepped it up and then nobody came with us, so we just continued controlling. We're really happy with that race."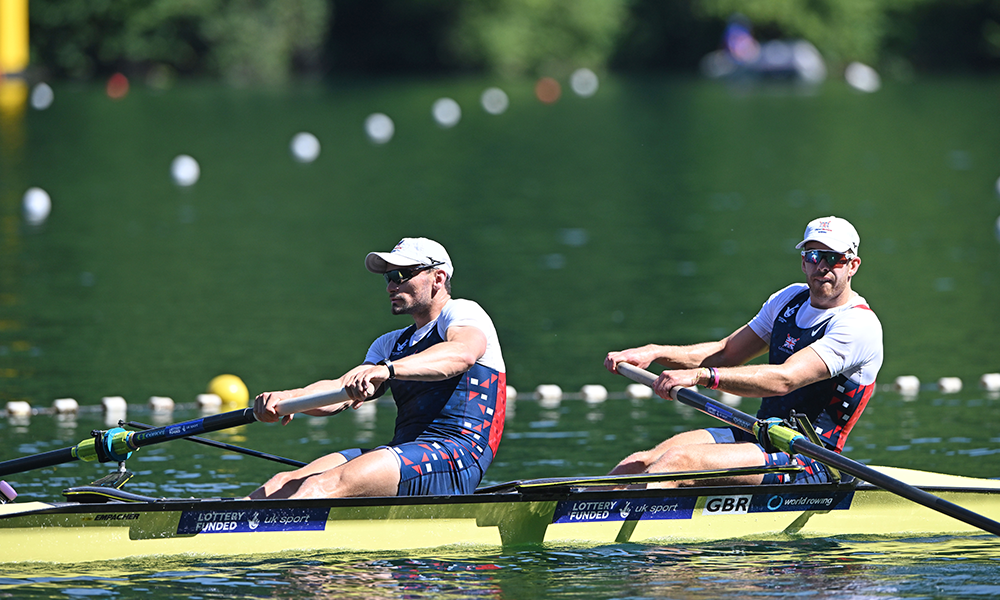 The Men's pair (M2-) GBR2 of Harry Glenister and Joshua Bugajski finished third in a tight heat to secure a final spot, while the Men's Pair (M2-) GBR1 of Ollie Wynne-Griffith and Tom George won their heat ahead of the New Zealand pair.
Talking about the race and looking ahead to the final, Ollie said: "We thought it went well. It was nice to have another go at racing the crews we raced at Henley last week. It's the semi final, obviously the big race is tomorrow, but today was positive and we're happy to be executing what we've done in training on the racetrack. We're excited for tomorrow – it's a pretty full field, we've raced most of them already this season and it's tight at the top, so it's anyone's game."
The Men's double (M2x) of Matt Haywood and George Bourne finished third also booking their final place. Matt said: "We're pleased. We tried out some new things – we're still building on our race plan and our race tactics.  It was a good opportunity today and yesterday to work on those things and find speed in places we perhaps didn't have before. It's nice to see that paying off, to being in commanding positions and feeling really in the race earlier on, and I think that's a good place to be.
so it's really nice to step through the regatta and build on. At World Cup I we had tight finishes in every single race, we had to come through the Dutch, and the same in the semi and final was close again, we've really been working for the last couple of weeks to be in it earlier, so we're either not in that position, or we have that little bit extra and we're in it to start with. I think it's going to better for us in the long run if we keep doing that. Nobody likes to be close, nobody likes to be finishing just outside, so if we can keep working on trying to be up there that would be great.
Men's single sculls (M1x) GBR1 Graeme Thomas won his semi final.
It's always nice to be in finals and gives you a chance to win something. Building through the regatta here just feels so much better than it did in Belgrade, which is nice.
Christian has briefed me on if someones not moving on you know then you are kind of in controlI. I was happy with the French rower to just sit there, and I felt good. I just thought about my rowing and concentrated on optimising my stroke and by the last 500m that energy that I was able to save I was able to put in a little move. Ok he's not really fought it because tomorrow's the day for the big race, so I can see that I've had that a lot easier than I would tomorrow. I'm ready for a big fight tomorrow and nobody is going to be letting me slip through in the last 500m, so I'm just ready for that.
Callum Dixon in the Men's single sculls (M1x) GBR2 will be racing in the B final tomorrow, as will the Women's Four (W4-) GBR2 of Rebecca Edwards, Lauren Irwin, Annie Campbell-Orde and Sophia Heath who finished fourth in the repechage.
Day Two World Rowing Cup I Results