Great Britain top World Rowing Cup III Medal Table 
Great Britain finished top of the medal table at World Rowing Cup III in Lucerne adding six gold, a silver and a bronze to the gold medal won by Imogen Grant (LW1x) yesterday on the Lake of the Gods
British Rowing Director of Performance Louise Kingsley said: "It's been a great weekend for Great Britain on the Rotsee. We have won medals across all disciplines (sweep and sculling, men's and women's squads) so it's been a solid team effort not just on the water but also behind the scenes.
"We have had two good World Cups in Belgrade and here and I'm very pleased with the results but we need to balance these performances with the perspective that some nations are not racing and others haven't boated their top crews due to covid. We expect that by the time we get to the World Championships there will be stronger and far more competitive fields. We've got to keep our heads but know that what we are doing is on the right track and it should give us confidence to keep building towards the World Championships."
Graeme Thomas won Great Britain's first men's single sculling gold medal in over a decade with an impressive performance to cap off his racing weekend. He said: "Years ago, I read a rowing book which talked about coming to Lucerne and it being a special place. Ever since I read that book it added an extra level to coming here and, yes, I've won here before but to come here and win in the single is just so special. It did give me that extra little something because for so long I've wanted to have a go and never had the opportunity to, and here this weekend I've won every race and have seized that opportunity so I'm just really happy."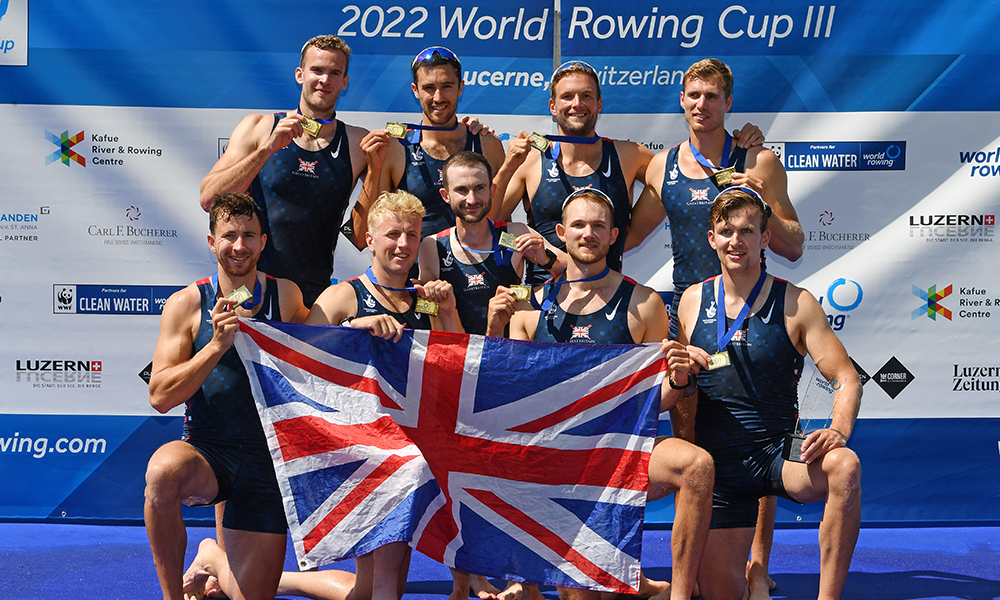 The Women's four (W4-) GBR1 of Rowan McKellar, Heidi Long, Sam Redgrave and Rebecca Shorten won in a World Cup record time to secure another Great Britain gold. Rebecca said: "It's very special to win a gold medal and set a World Cup fastest time. it's not often you can set one of those." Heidi added: "I didn't realise we were going that well. I think we saw that the conditions were slightly favourable today and we knew that if we executed our best race we would have a shot at the podium, so to win but also to come out with a World Cup best time exceeded our expectations."
The Men's four (M4-) of Will Stewart, Sam Nunn, Matt Aldridge and Freddie Davidson also won gold. Matt said: "It was a really good feeling to go past the Australians as they had three Olympic gold medalists in that boat. They beat us last week at Henley by about a couple of inches, so it was good to get one back on them by a decent margin.This is the first international race I've ever won so I'm just very happy!" Sam added: "Credit to the guys today. I think all four of us committed to what we said that we were going to do. We wanted to have a really solid middle thousand, as soon as we knew that there was a sniff in it, we said that we were going to commit to it as hard as we could and have no regrets. I think there was a big surge in our speed and everyone did exactly as we said, we all committed very hard, 110% and the result speaks for itself."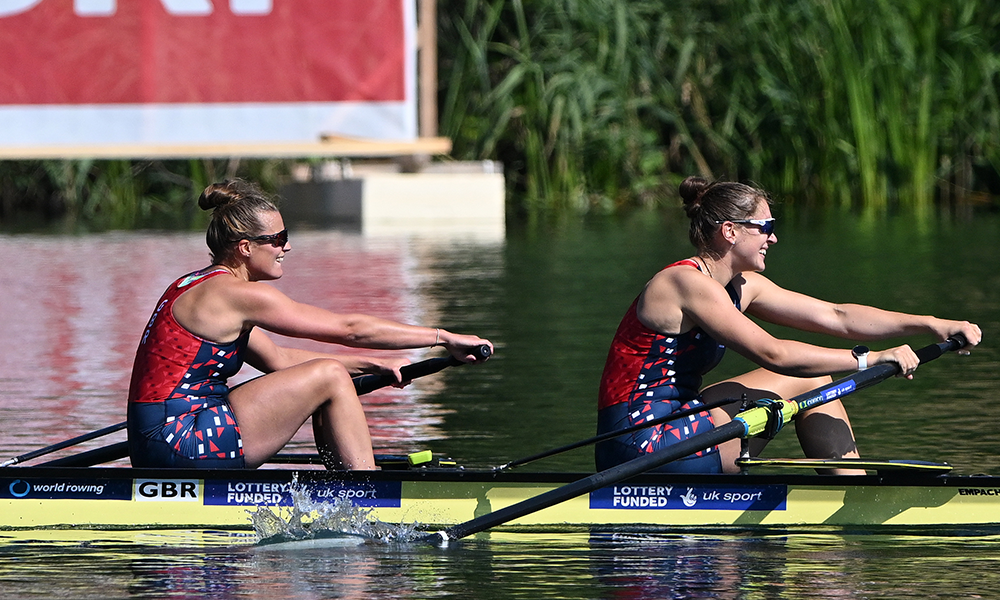 Maddie Arlett and Emily Craig won their second Lightweight women's double (LW2x) World Cup gold of the season after a tight finish against the French crew. "It's nice to be on the right side of a tight margin this time." Emily said, adding: "Maddie did a really good job, stayed in the boat the whole way. She trusted my calls and responded to them and we got the reward for that in the end. Andrew Randall became our women's head coach in February, Maddie and I were put together after April trials. I feel like an awful lot has happened, and then suddenly we're winning the heats, winning the semi final and posting the fastest times of the regatta. It's an exciting wave to ride!"
The Men's Pair (M2-) GBR1 of Ollie Wynne-Griffith and Tom George won the first gold of the day. Tom said: "It's nice especially after last week's race at Henley, but today was always our priority as it's about seedings for world championships and things like that. I think this has been only our eighth or ninth race as a pair, so it's pretty exciting to see where we can go." Ollie added: "The races come thick and fast at this time of year, so when you gets knocks like last week it's important to get back up, get back on it and know that there are performances in there, so I'm really pleased how we stayed focused, we stayed internal, we thought our processes and it's paid off today and we're just enjoying making the boat go fast!"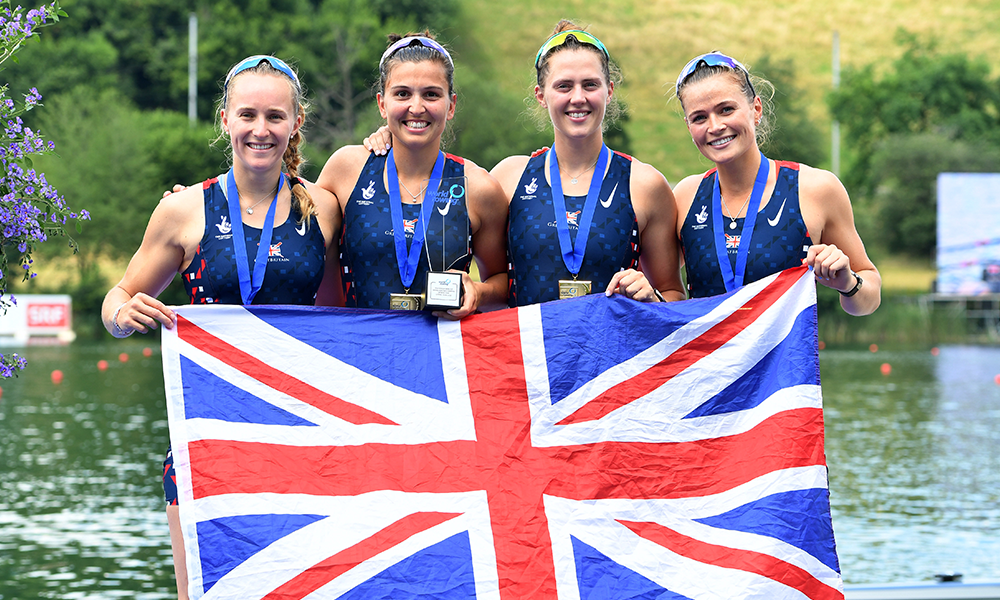 The Men's eight (M8+) of Rory Gibbs, Morgan Bolding, David Bewicke-Copley, Sholto Carnegie, Charlie Elwes, Tom Digby, James Rudkin, Tom Ford and Henry Fieldman (cox) completed the day with another gold medal performance.  Cox Henry Fieldman said: "It felt great to be back racing and it was really fun. I loved every minute of it. It was good to be back in the boat. I enjoyed a bit of coaching and seeing the sport from that side but to be back in the performance element is what I love. There's a lot more pressure and the nerves that come with that but that's part of the fun, and I'm really proud and pleased with how the guys performed today."
The Women's quad (W4x) of Kyra Edwards, Lucy Glover, Jess Leyden and Georgie Brayshaw won silver behind the Chinese crew. Kyra said: "The Chinese are really impressive, they've got the world's best time. We knew we wanted to push to be as close to them as possible. We're really happy with how much we've built in the last few days, and we'll just keep stepping on." Lucy added "I'm happy with the way we stuck to our plan, we made our moves when we wanted to. It was a great race and team effort, so I'm really proud of the girls."
Emily Ford and Esme Booth of the Women's pair (W2-) were "very pleased" to have won a bronze medal with Esme saying "we stepped on a lot from our race on Friday so we're very happy. Emily added "It was exciting to see the gap closing between us and the New Zealand crew. Credit to them, they haven't been together throughout the whole year because Grace Prendergast has been at Cambridge, they'll get stronger and hopefully we'll get stronger too and we can keep pushing it on."
The Men's double (M2x) of Matt Haywood and George Bourne and the Men's pair (M2-) GBR2 of Harry Glenister and Joshua Bugajski both finished in 5th place in their respective finals.
There were two B finals earlier in the day. Callum Dixon (GBR2) finished 10th overall in the Men's single sculls (M1x) and the Women's Four (W4-) GBR2 of Rebecca Edwards, Lauren Irwin, Annie Campbell-Orde and Sophia Heath finished 9th.
Final Day World Rowing Cup III Results
| Boat | Crew | Race | Time | Progression |
| --- | --- | --- | --- | --- |
| LW2x | Maddie Arlett (Edinburgh University BC), Emily Craig (University of London BC)  | A Final | 06:50.17 | |
| W2- | Esme Booth (Leander Club), Emily Ford (Leander Club) | A Final | 07:00.76 | |
| W4- GBR1 | Rowan McKellar (Leander Club), Heidi Long (Leander Club), Samantha Redgrave (Leander Club), Rebecca Shorten (Imperial College BC) | A Final | 06:18.64 | |
| W4- GBR2 | Rebecca Edwards (Leander Club), Lauren Irwin (Leander Club), Annie Campbell-Orde (Leander Club), Sophia Heath (Leander Club) | B Final | 06:35.74 | 9th overall |
| W4x | Lucy Glover (Edinburgh University BC), Georgie Brayshaw (Leander Club), Jessica Leyden (Leander Club), Kyra Edwards (Nottingham RC) | A Final | 06:16.85 | |
| M1x GBR1 | Graeme Thomas (Agecroft RC) | A Final  | 06:40.90 | |
| M1x GBR2 | Callum Dixon (Twickenham RC) | B Final | 06:58.87 | 10th overall |
| M2- GBR1 | Ollie Wynne-Griffith (Cambridge University BC), Tom George (Cambridge University BC) | A Final | 06:19.37 | |
| M2- GBR2 | Harry Glenister (Leander Club), Joshua Bugajski (Oxford Brookes University BC) |   A Final | 06:25.37 | 5th overall |
| M2x | Matt Haywood (Nottingham RC), George Bourne (Tideway Scullers School) | A Final | 06:11.44 | 5th overall |
| M4- | Will Stewart (Leander Club), Sam Nunn (Oxford Brookes University BC) Matt Aldridge (Oxford Brookes University BC), Freddie Davidson (Oxford Brookes University BC) | A Final | 05:51.14 | |
| M8+  | Rory Gibbs (Oxford Brookes University BC), Morgan Bolding (Oxford Brookes University BC), David Bewicke-Copley (Oxford Brookes University BC), Sholto Carnegie (Leander Club), Charlie Elwes (Oxford University BC), Tom Digby (Oxford Brookes University BC), James Rudkin (Newcastle University BC), Tom Ford (Leander Club), Henry Fieldman (cox) (Leander Club)) | A Final | 05:25.09 | |