World Cup 1: Bring on Belgrade!
BBC presenter Tim Dellor talks about race preparations with four GB athletes ahead of World Cup 1 this weekend
The first World Cup of the 2022 season starts in Belgrade, Serbia on Friday 27 May with 52 athletes representing Great Britain on the water.
Before the team departed for Belgrade, Tim Dellor caught up with Jess Leyden, Sam Meijer and Frankie Allen and Ed Fuller as they completed their final training sessions at the team centre at Caversham.
After missing out on the Tokyo Olympics last year, Jess Leyden will be racing in the women's quad and one of two women's double sculls this weekend. Jess is pictured below right with doubles scull partner Lucy Glover. Over to Tim and Jess…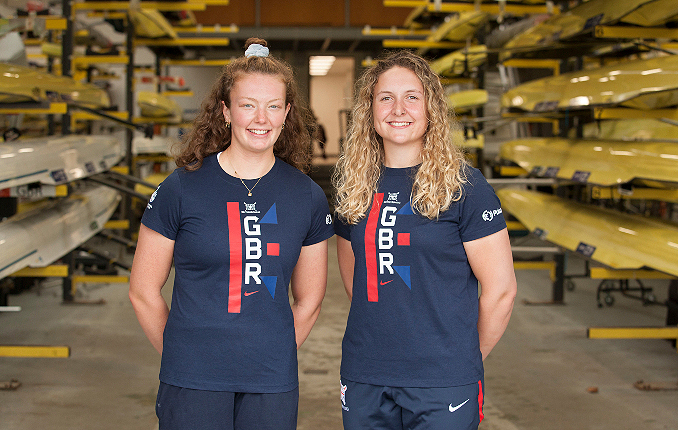 Jess: "I didn't race internationally last season, so it's really nice to get back out there and do what I enjoy doing.
"I'm really excited to be racing both events – we'll get a good idea of what the field's like in both events."
Tim: I've always been fascinated by people who are brave enough to do that. What sort of factors went through your mind and what was the decision-making process or was it just the coaches' decision?
Jess: "Definitely the latter! But we love racing and want to get as much experience. We don't have many races before the World Championships – it's one of three races or four that we're going to do before so it's all good preparation."
Tim: Do you have to manage your way through the weekend a little bit and leave a little bit in the tank?
Jess: "Definitely not. We're going to go for every race, go for every position. That's why we do so much training, we need to be repeatable, and this new training programme is definitely getting us set for that."
"We want to push our physiology all the time and push our limits. We're going to be going for every medal and every position we can. We want to test ourselves as much as possible."
Tim: How's it been the last few months? Because we haven't seen the GB squad out on the water for a few months…
Jess: "It's definitely been a big change, but we've needed a big change so [it was] very welcome and we're excited to see what we can do."
Selected for the men's quad pictured below, Sam Meijer (left) already has two gold medals at U23-level and is a world junior champion in this boat class. He also has a gold medal in the double sculls from the 2017 U23 Worlds.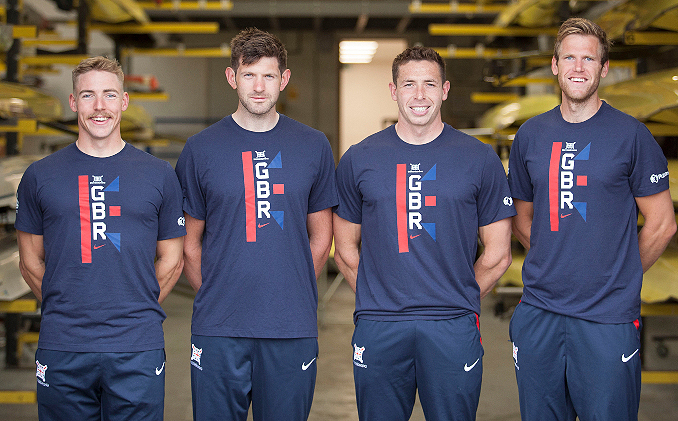 Tim: It must be a great feeling now you've put in all the hard work going into the international season…
Sam: "Yes, I'm really proud and excited to be racing in the men's quad – it's the crew that I've raced in through juniors and most of the time in under-23s so being selected into this crew at the senior level is a real honour and privilege and I'm looking forward to see what we can do."
Tim: And a nice mix in the quad with Tom Barras and Harry Leask from Tokyo, winning that silver medal, and a couple that are new to the quad, so it's going to be a good blend.
Sam: "Yes, exactly. Seb [Devereux] and I tried to learn a lot from the guys who got that silver medal in Tokyo and I'm hoping that Seb and I bring a bit of new energy into the boat, different ways of thinking, and hopefully we can bring that together to be a good crew.
"I think everyone has worked really hard to get into this position and we've got a great group of people, great coaches, great facilities – it's a really exciting group to be part of."
Tim: Have you been to Belgrade before?
Sam: "In 2017 I cycled back from the World U23 Championships in Plovdiv with Charlotte Hodgkins-Byrne, my girlfriend, who raced at the Olympics last year. We ended up cycling through Belgrade. I didn't really think of it as a rowing venue then – I spent nearly 10 hours in Belgrade, but not rowing!"
Frankie Allen (second from right below) and Ed Fuller (left) joined the world-beating PR3 mixed coxed four below this season and experienced their first racing in GB kit last week at the International Para-Rowing Regatta at Gavirate.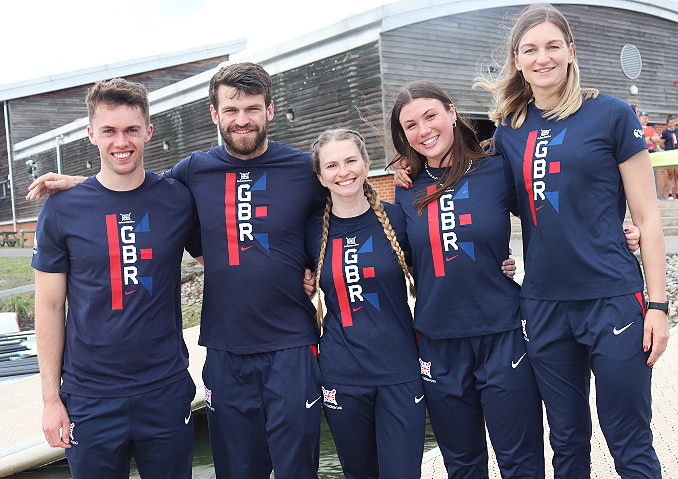 Tim: How's the new-look mixed coxed four bedding in?
Ed: "I think it's going pretty well. We've got Ollie [Stanhope] and G [Giedre Rakauskaite] still here, so they were in Tokyo and they won gold. So, we have two new people, two old people and we've got the cox, Erin, who was also here in Tokyo. I feel having a mix of two new and two old is a good dynamic and an exciting formation."
Tim: Stepping into a boat that's been so successful – and the whole Para squad has been so successful – is that a weight on your shoulders or a real treat, or a bit of both?
Frankie: "I'd say a bit of both. It was quite daunting going into the first race in Varese because their last race was their Tokyo final, and it was quite a big weight on our shoulders. But, once we got that out the way, and we did quite well and got another two golds which was good, that made me relax a bit more."
Tim: Yes, I suppose you're trying to get that feeling of belonging there… It's a big responsibility to keep that gold rush going.
Ed: "Obviously the four is undefeated for 12 years – it's amazing. And as Frankie says, lining up for that first race of the Paralympiad – you don't really know where everybody's standing.
"We're just looking forward to World Cup 1 now and the World Championships in September."
Tim: Yes, it's also exciting for everyone who's helped you on your way. Have you got a big family entourage heading out to support you?
Frankie: "Yes definitely, my family are big fans. They've helped so much with everything, and I've moved back home from uni – I'm at Oxford Brookes – just 'cos it's closer to Caversham, so they've also let me move back home!"
Read the full GB Rowing Team line-up for World Cup 1 here >>>