'Life is still out there for the living and I can still challenge myself to be better'
Hot on the heels of the Invictus Games comes Mental Health Week from 9-15 May, so we've asked four indoor rowers from Team UK how sport contributes to their wellbeing
The 2022 Invictus Games showcased so many inspirational athletes from different sports, including indoor rowing. Team UK rowers collected four gold medals, one silver and three bronzes – but it's not just about the medals.
To celebrate Mental Health Week, we asked four athletes from Team UK how sport has transformed their lives and what competing at the Invictus Games means to them.
Dan Phillips on how sport saved him
After I was medically discharged from the army with a spinal cord injury my life changed irrevocably. All of my hopes and dreams were dashed and I couldn't even be the dad that I wanted to be anymore. I became a recluse and wanted to shrink my world down as small as possible, so I didn't have to deal with anything outside of the bubble that I had created. I was wasting away and even became suicidal.
"I will not be beaten and defined by my injury"
Luckily for me, I was encouraged to try out for the Invictus Games in Toronto in 2017. But I didn't believe I would be able to take part in sports with a spinal injury, especially indoor rowing. But I was proven wrong; I was shown how it can be adapted and how anything is possible. People with worse injuries than me were taking part, competing and living their lives to the fullest.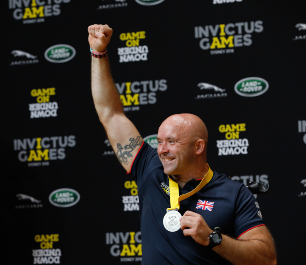 I wasn't selected but I came back fitter and stronger for Sydney in 2018 and wanted to prove to myself that I will not be beaten and defined by my injury.
Life is still out there for the living and I can still challenge myself to be better. I came home from Sydney with a silver medal dangling around my neck from the indoor rowing – picture above – and a pride in myself that rivalled the proudest of days of my life.
"It was taking part in sport that gives me the drive and determination to live again"
I was extremely lucky to be selected again for the Hague in 2022, taking part in different sports and finding a love for wheelchair racing. This time around it was not about me though, it was about inspiring others to get out there, to grab life by the short and curlies and live life to its fullest. It was not the medals that had saved me. It was the need to leave my comfort zone, push myself outdoors and interact with other people. It was taking part in sport that gives me the drive and determination to live again. Sport saved me.
Gill Charlton on how sport can underpin wellbeing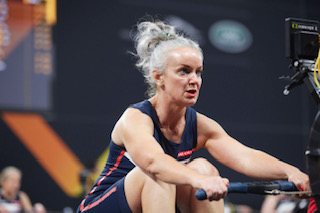 Being involved in the Team UK rowing team for the Invictus Games 2022 has had a profound impact on my mental health.
"I am proud of the mental strength I demonstrated"
I was a complete beginner when I first applied for the team and knew that the training would be both mentally and physically challenging. Making the decision to put myself significantly outside of my comfort zone allowed me to test and build upon my mental resilience and demonstrate to myself that I can tackle difficult obstacles in life and achieve positive outcomes.
Leading up to the Invictus Games I sustained injuries that prevented me from training fully; stepping out to compete in front of an international audience – and knowing this – took real guts and I am proud of the mental strength I demonstrated – it was just me and the rowing machine that day, with nowhere to hide and no teammates to pick up any slack. But when the going got tough, I knew that I could turn to any of the other competitors for support, no matter the nationality / language spoken, as we all had an incredible common ground upon which to connect.
Prior to the Invictus Games I don't think I ever understood fully the way that sport can underpin positive mental health outcomes. However, I am now a convert and will be seeking out fresh challenges both on and off the rowing machine from now on.
Team UK captain Rachel Williamson on overcoming barriers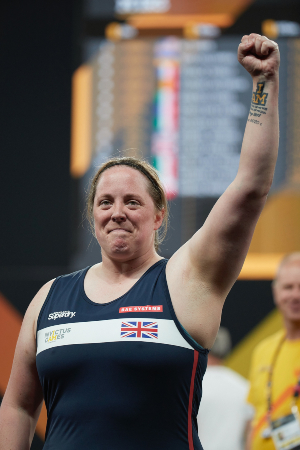 Sport as a whole has been in my life as early as I remember; yes, it can be a tough environment, but what has truly helped with my mental health is that I know after two seconds into the gym or a sport session, I've owned it. As long as I start the session, I know from that point it's going to make me stronger mentally and as a result happier.
Following a sports injury and quitting, ironically, I have found I needed sport again to help me mentally break through that barrier. It's what I enjoy, and a setback will not take away the love and fun of it.
"Find a positive in every negative"
Invictus Games has taught me that adapting in sport is normal and that's how I was introduced to indoor rowing – it's highly adaptive, a great workout and I made new friends.
My three best tips for improved mental health are:
'Try before saying no'. This can be trying a new sport or a new food – as long as you try then you have already taken a step forward no matter what the outcome.
Find a positive in every negative. There is always a positive no matter how small it is!
Breathe – obvious but effective! Try to control your breathing (box breathing technique), it can help take the edge off.
Shane Rossall and success at the Invictus Games
I attended the very first Camp at Bath and trying rowing with a fixed seat for the first time, and although it was very different to what I've experienced before, I was immediately hooked.
"Rowing made me better myself"
Some may say, why? But, for me, it gave me a sense of purpose and belief again that I could maybe compete in something that would require hard work and determination. Rowing made me better myself and with the help of the coaches and programming it gave me a sense of accountability towards what would lead to an amazing experience at the Invictus Games in The Hague.
Having closely missed out on the four-minute endurance race I knew that I would have to use everything I had to gain a medal. All the training, both technically and mentally, gave me the opportunity to gain a silver medal. This has made me want to continue with rowing, and I now know that I can achieve anything.
https://twitter.com/Stannah/status/1454032765234475011
We hope reading this has inspired you to make a change, give something a try, or just look at things in a more positive way. If you fancy giving indoor rowing a try, why not check out the indoor rowing section of the website for technique advice, workout videos, training plans and more.