Latest British Rowing Advice on Coronavirus (COVID-19)
Last updated 25 February 2022
Living With Covid-19 : British Rowing Response
On Tuesday, 22 February 2022, the UK Government announced its plans to end all remaining Covid legal restrictions in England, including the requirement to isolate.  Since government restrictions were first introduced, British Rowing has always followed the advice of the UK Government and we continue to do so.  As such, we advise the rowing community to continue to follow the government's guidance over the coming weeks up to 1 April when all legal restrictions will end in England.  The government's timeline can be found on Pages 21 and 22 of Covid-19 Response: Living With Covid-19 or here.
For continuity and clarity, from today (25 February 2022) we are moving to Rowing Level 1 in our own Managing Covid-19, Advice for the Rowing Community but we suggest that clubs and the rowing community continue to act as safely as possible by following best practice within the guidance and in particular:
Equipment cleaning
Good ventilation
Booking systems
Stay away from your club if you have, or suspect you have, Covid-19
We also recommend that all clubs and competitions explicitly include Covid-19 in any risk assessments carried out.  Respect for others who wish to continue to wear face coverings and/or continue to self isolate is to be encouraged as well.
For rowers returning to training after catching Covid-19, we recommend they read and follow the recent safety alert from British Rowing on returning to fitness.
Up to and including 1 April 2022, we will provide further updates as required.
Managing Covid-19
With regards to our framework, we have now moved to Level 1 –  normal pre-pandemic activity.
Our guidance from version 15 remains available for those who want to use it as a reference point for best practice👇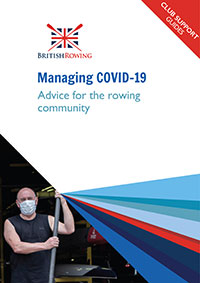 Elite Sport
The GB Rowing Team continues to operate a secured environment which includes stringent cleaning protocols and acting on all the lessons learned during the pandemic to operate the best possible standards of hygiene and safety.  They also continue to follow closely all UK and local guidance as they travel to overseas camps in preparation for the upcoming international racing season.