Thornley lays down mark as Team GB hit the water in Tokyo
Martin Gough reports on the Team GB crews from day one at the Sea Forest Waterway in Tokyo
Single sculler Vicky Thornley won her heat on Friday while the Great Britain men's double scull qualified for the semi-finals as the Olympic rowing regatta began in Tokyo, before the Games officially open later today.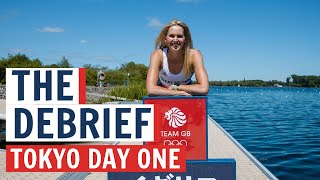 Play Video
Check out our today's Tokyo Debrief with Pete Lambert, Melissa Wilson and Martin Gough
Thornley
beat Swiss sculler Jeanine Gmelin, reversing the finish order from the final of the 2017 World Championships, in an assured display on a windy Sea Forest Waterway.
The men's double, Graeme Thomas and John Collins, finished second to the duo from the Netherlands, who set an Olympic Best time in winning the heat.
And Collins believes he and Thomas are capable of more, saying afterwards: "We're very firm believers that our best performance is at the top of the field. That's what we have to deliver.
"We haven't sat on top of a podium yet but I believe we have the performance in us to be there."
However the men's and women's quads must both make their way through "repechage" second-chance races on Sunday if they are to reach their finals later in the week.
In the Games opening ceremony later on Friday, Mohamad Sbihi is one of Team GB's two flag-bearers. Twice an Olympic medallist, Sbihi is preparing for his third Olympic Games, this time in the men's eight.
Thornley is Britain's first female representative in the single in 21 years and has her eyes on becoming her country's first ever medallist in this event.
"Coming to the Olympics in the single has been a dream of mine for some time, so it's good to be out there doing what I love," said Thornley, an Olympic silver medallist in the double at Rio 2016.
With the temperature around 32C and 60% humidity, the British rowers donned ice vests immediately after their events in order to lower body core temperature effectively.
"It's obviously hot but I felt cool on the start line, which is good," said Thornley. "We all knew it was going to be like this. The conditions are pretty similar to what they were in training."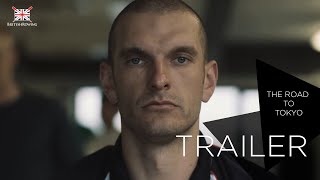 Play Video
The 34-year-old from Wrexham led her heat throughout, looking long and relaxed. She finished a boat length ahead of Gmelin in a time of seven minutes 44.3 seconds to book a spot in Monday's quarter-finals.
New Zealand veteran Emma Twigg was the fastest qualifier, in 7 mins 35.2 secs, although it is difficult to compare times between races at this stage of the event.
There was thrilling racing throughout the men's doubles heats. Collins and Thomas established themselves in second place in heat three then did enough in the sprint to finish ahead of Romania and secure their semi-final place on Monday.
The heat winners, Dutch duo Melvin Twellaar and Stefan Broenink, led from the start to set a new Olympic Best time of 6 mins 8.4 secs. There was just 0.1 seconds between GB and the Netherlands when they finished third and second respectively at the European Championships in April.
"We were a bit frustrated with our performance; we perhaps didn't row as well as we could have done," admitted Collins, who finished fifth in the double at the Rio Olympics five years ago.
"Had we done a better start, which we are capable of, we perhaps would have made life a bit easier.
"But the beauty of an Olympic format is that you've got a bit of time to fix these things. We're both very good at learning from our errors so we're looking forward to doing that."
Prestonian Thomas, 32, admitted to "some tears behind the sunglasses" after finally making his Olympic debut, 10 years after first racing for Great Britain. He missed out on selection for London 2012 then was ruled out of Rio at the last minute with a virus.
"It was very emotional," he admitted. "I'm not going to lie, there has been some anxiety in the weeks leading up.
"It's a big relief to get it out of the way. I can call myself an Olympian and the job is now winning a medal for GB, me and John. It's good to get that milestone out of the way after all these years."
Just two automatic qualification places were available from the heats of the quads, and the GB men's combination of Harry Leask, Angus Groom, Thomas Barras and Jack Beaumont could not quite grab one, despite closing the gap on the leaders with a burst of speed in the last 500 metres.
The world champions from the Netherlands moved ahead in lane five, while GB and China raced neck-and-neck on the other side of the course. The Brits pulled clear late on but finished a canvas behind second-placed Australia.
"I'm a bit disappointed that we didn't manage to get direct passage to the final," said Beaumont, the stroke man. "However I think we're fit enough – we've trained hard enough over the last five years – than an extra race is not a hindrance for us.
"In fact it gives us a chance to fine-tune our race a little bit better. Hopefully we'll make a step up and get into that A-final."
The British women's quad of Lucy Glover, Hannah Scott and sisters Mathilda and Charlotte Hodgkins-Byrne also finished third, behind crews from Germany and the Netherlands.
The boats were all overlapping as they battled for much of the race but the Germans, who finished third behind the Brits and Dutch at the European Championships three months ago, took the victory.
"It was a tough heat, we were in the dogfight but we didn't get on the right side of it today," said Scott.
"We're a young crew, we're adaptable. I'm not saying we need to change a lot but we will keep improving and there's a lot of time to keep stepping onwards."
Later on Friday, Mohamed Sbihi is set to become the fourth rower to carry the British flag at an Olympic opening ceremony, alongside sailor Hannah Mills. Sbihi and the men's eight start their campaign on Sunday.
Four GB crews start their Olympic regatta on Saturday, including Helen Glover and Polly Swann in the women's pair and the lightweight double of Emily Craig and Imogen Grant.
Both British fours race in heats, the men beginning the defence of a title GB has won at the last five Games while the women compete in an event that is back in the Olympic programme for the first time since 1992.