More fourth-place heartache for British crews in Tokyo
Team GB women's pair and lightweight double deliver two inspirational and gutsy A-Final rows that ultimately lead to more near-misses on the Sea Forest Waterway
Great Britain's crews battled hard but were left with two more fourth-place finishes in Thursday's second day of Olympic finals in Tokyo, taking their total to five.
A further medal is possible, though, after Vicky Thornley became just the third British female single sculler to reach an Olympic final – and the first for 25 years – after finishing second in her semi-final.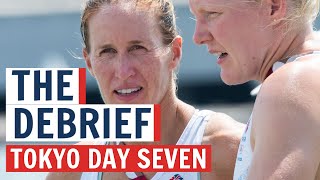 Play Video
Watch the Tokyo Debrief: Catch up on the action with Double Olympic Champion, Heather Stanning, Olympic silver medallist Richard Chambers and rowing blogger, Daniel Spring.
The lightweight double of
Emily Craig
and
Imogen Grant
missed out on bronze by one hundredth of a second in an incident-packed finale, while
Helen Glover
and
Polly
Swann
clearly left everything out on the course but were a boat length down on the podium places for the women's pair.
"It was about who was able to get it quite right on the day and we were pretty close," said Grant. "We did everything we could and obviously it's pretty gutting to not be coming away with a medal round our necks."
Glover said of the pair: "I'm pleased we put everything on the line. Getting here was a tough route so we knew that if we crossed the line having spent everything, looking back on the way we've got here, we're pleased with that result."
Thornley still has her sights on a first ever British medal in women's single sculls after finishing behind New Zealand's Emma Twigg but crucially ahead of Austrian Magdalena Lobnig and Kara Kohler of the USA.
With a strong tailwind and waves on the Sea Forest Waterway, a photo finish showed just a bow ball separating Craig and Grant and the defending champions Marieke Keijser and Ilse Paulis from the Netherlands, who led throughout but crabbed in the last few strokes.
Italian duo Valentina Rodini and Federica Cesarini screamed in disbelief at their gold medal, in a time just half a second ahead of the British crew. France took silver.
Craig and Grant had started strongly and led the race at the 500m mark. The Dutch duo moved past to take a half-length lead but there was nothing to choose between the next three before the final few strokes.
"We knew it was going to be tight," said Grant. "Three crews yesterday rowed faster than the world best time and that reflected on the quality of the event. There were six crews there and I think we all deserved a medal to be honest.
"When you're in high performance sport it's got to be more than just the outcome and I'm really proud of what we've done over the last two years, over the last few months, over the last few days."
There were similar emotions from Glover and Swann after a result that brought to a close the reunion of the pair that had won the 2013 world title together. Glover returned after three seasons out and having given birth to three children, while Swann came back having spent time working as a junior doctor in the NHS during the Covid pandemic and missing the 2017 and '18 seasons to complete her training.
The British pair sat in the middle of the pack throughout their final, down only on a fast start from Canada's Caileigh Filmer and Hillary Janssens in the lane next to them.
Kiwi world champions Grace Prendergast and Kerri Gowler took command to succeed Glover and Heather Stanning as Olympic champions, while Russia pushed on for second.
Great Britain could not force their way into the podium places, getting within half a length of bronze before Canada reasserted themselves in the last few strokes.
"We didn't account for the Canadians going out so hard to our left," said Glover. "That shaped how we rowed the rest of the race but I couldn't ask for more and I guess that was what we had on the day."
Swann confirmed: "We threw the bucket at it. Kitchen sink and all.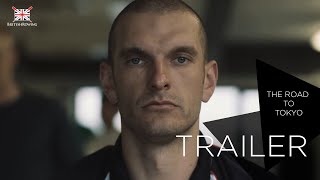 Play Video
"We probably thought we would have a bit more of a buffer at the front end, it wasn't to be but the way we've attacked this project has been really exceptional and I couldn't be prouder of her and what we've done together. It's been a special ride."
The journey continues, though, for Thornley after what looked like a change in race plan from the quarter-final. Rather than attacking the start and trying to hang on, here she was patient early and came back from a length down on Austrian Lobnig at halfway.
"I'm just really happy to have executed the race I thought I was capable of. It was tricky in parts but totally manageable," she said.
"When I saw the draw I thought it was pretty much an A-final, and to wait three days there was some mental gymnastics. It's a huge relief to have done the job."
"I was aware of the other results before I went out. We've had a lot of fourth places, which is really hard, but I know everyone has given everything they have in this regatta."
Welsh sculler Thornley follows Guin Batten in 1996 and Beryl Mitchell in 1980 and '84 in reaching an Olympic singles final for Great Britain. Each of her predecessors managed a fifth-place finish.
World champion Sanita Puspure will not be among those Thornley meets in Friday's final after the Irish sculler finished fifth in the first semi-final.