Day three and three more Team GB crews secure A-Final spot
The women's four, men's double and men's quad all booked their place in the A-Final as Vicky Thornley progressed to the semi-final of the women's single
Great Britain now have four crews through to Olympic A-finals as the men's quad and women's four both won their repechage "second chance" races on the third day of the regatta, while the men's double finished second in their semi-final.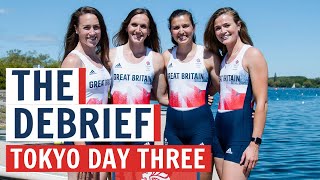 Play Video
Debrief host Fergus Mainland joins Olympic silver medallist Zoe De Toledo, Olympian Sarah Cook, COO of Rowing Australia, together with sports journalist Martin Gough to chew over the overnight action from the Sea Forest Waterway
"You have to be in it to win it," said
Jack
Beaumont
, stroke man of the British quad, as he looked ahead to Wednesday's final. "And now we're in it."
Single sculler Vicky Thornley continued her progress, booking a semi-final slot despite a third-place finish in her quarter-final, but the GB women's quad missed out in their repechage, finishing fourth, and will now race in the B-final.
The men's quad of Beaumont, Harry Leask, Angus Groom, Tom Barras went into their repechage as favourites and duly delivered, establishing a strong rhythm to take the lead by the 500m mark. Their final sprint kept them ahead of a dogfight between Estonia and China for the second qualifying place.
"We turned up today with a job to do and we did that," said Beaumont. "I'm really proud of how we attacked the race, took it by the scruff of the neck."
Barras, who started rowing aged 11 at Burway RC near Staines, said: "We built on the heat really well and executed our pattern in the first 1000m.
"Maybe in the second thousand we tried to take two inches rather than one inch at a time but it's a really good stepping stone from the heat and gives us somewhere to go in the final in a couple of days' time."
In Saturday's heat, the GB women's four of Rowan McKellar, Harriet Taylor, Karen Bennett and Rebecca Shorten dropped behind Canada late on. On Sunday they were already well ahead of the Canadians by 500m gone, establishing the sort of rhythm they felt was missing 24 hours earlier.
They got out early alongside Poland, moved on in the second quarter of the race then withstood a frenetic sprint to the line from both Poland and Romania, with just two spots available in the final.
"We had a really good debrief yesterday. Today, even in the pre-paddle, we were straight on it," said Bennett. "We knew exactly what we wanted to do and just kept doing it every stroke.
"From stroke one, we backed each other up. There wasn't a moment where I thought we weren't going to do it. I knew we were rowing well enough, long enough, strong enough and relaxed. I'm really happy with that."
Asked about their chances of a medal on Wednesday, Shorten added: "If we do what we've just done, I think we can be in the pack."
Collins and Thomas said they felt like a different crew from the one that contested Friday's nervy opener, turning what was expected to be a tight semi-final into a more ordered affair.
They were patient through the first three-quarters of the race, sitting third at that point but stepped on as Poland faded in the final 500m.
"This morning I woke up and realised the step we had to make from the heat was a big one," said Collins. "We both committed well to making the changes we needed to make.
"It was noticeable from ten strokes in that it was a different boat to the other day. The pre-race nerves were washed out by the first 300m."
Prestonian Thomas pronounced himself "absolutely thrilled to bits" after dealing with the stress of the semi-final.
"Through the race we knew we were in the top three," he said. "It was a bit disappointing to let the French slip away like that but there's still more to come from us and that was another good learning experience."
Thornley, meanwhile, was pleased by the first half of her quarter-final but pragmatic about the second. She shared the lead with Russian Hanna Prakatsen to the 1km mark but the European champion moved away from there while barely raising her rate.
Welsh sculler Thornley, was passed by Canada's Carling Zeeman in the sprint over the last few hundred metres.
"I got the job done in getting to the semi," said Thornley. "It was probably not the result I would like but it's about taking it a round at a time, you've got to play the game a little bit.
"I took on this boat class knowing how tough it is and this is the Olympic Games – it's never going to be easy. Everyone is going to have to fight it out to get into the final and it's exactly what I expected it to be."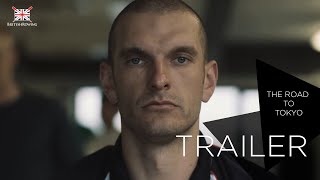 Play Video
Thornley
now has an extra day to rest as her semi-final has been moved to Thursday. Storms and strong winds are forecast for the Tokyo area on Monday and Tuesday so organisers have cleared both days, cramming more into the remaining schedule.
It was not to be, though, for GB's women's quad of Lucy Glover, Hannah Scott and sisters Mathilda and Charlotte Hodgkins-Byrne, with seventh overall the best possible outcome for them now.
Although they recovered from a crab in the opening few strokes to share a three-way lead going through the halfway mark, Australia and Italy moved away from there, with New Zealand also coming through late on.
"I'm pretty gutted. That wasn't the result we wanted," said Scott. "It's not that I don't think we had it in us. We just had a few hiccups at the start. At the Olympics there are seconds in it and you can't afford to make a mistake. Unfortunately ours came at the wrong time.
"It's hard to accept right now. For me it's not about going to the Olympics but about performing and for me we didn't perform today. With the year we've had with the Covid-19 pandemic, maybe it's an achievement to get here in the first place but I can't really see it right now."
Report by Martin Gough