'Noelle dedicated so many hours to my development as well as to the whole squad'
Rowan McKellar, European bronze medallist in the women's four, talks about how her first coach – Noelle Stallard – at Broxbourne Rowing Club supported her rowing career
1 – How did you get into the sport?
My parents have both rowed since they were at school and university, so they took my siblings and I to our local rowing club in Broxbourne. I was 10 when I joined, so I've been a member for 17 years!
2 – How did the volunteers there support your journey into rowing?
When I started at Broxbourne the junior squad was relatively small with only a couple of other kids. It grew and expanded loads when I was there – thanks to the commitment of the volunteer coaches and helpers.
The coaches were really good at letting us enjoy the sport. We trained hard, but they created an environment that meant kids from all walks of life could join the squad, could fit in and have a good time. I think this is one of the reasons I'm still enjoying the sport now, we didn't put too much pressure and intensity into it when I was a junior.
3 – Any particular memories?
There were volunteer coaches who would run learn to row courses as well as coaching the top crew at the club. It was entirely volunteer led. Even off the water there was a rota for each squad to make breakfast for the other squads, everyone pitched in.
The coaches organised rowing camps in the Easter Holidays at Shiplake College. They dedicated so much time to help us improve and enjoy the sport.
"When you're a junior you don't really realise or appreciate how much of a sacrifice people are making… just to help you succeed"
4 – Tell me about your first coach and the impact she had on you?
My first coach was Noelle Stallard. She was in charge of the juniors for the entire time I rowed at Broxbourne and for many years after. Noelle dedicated so many hours to my development as well as to the whole squad.
I think when you're a junior you don't really realise or appreciate how much of a sacrifice people are making spending so many hours at the club in the evenings and weekends just to help you succeed.
I really appreciate it now and can't believe how much time Noelle gave up to help me. She drove me and lots of other kids up and down from Nottingham and Boston and all over the place.
She was at the club helping out every week for years and the junior squad wouldn't be what it is without her.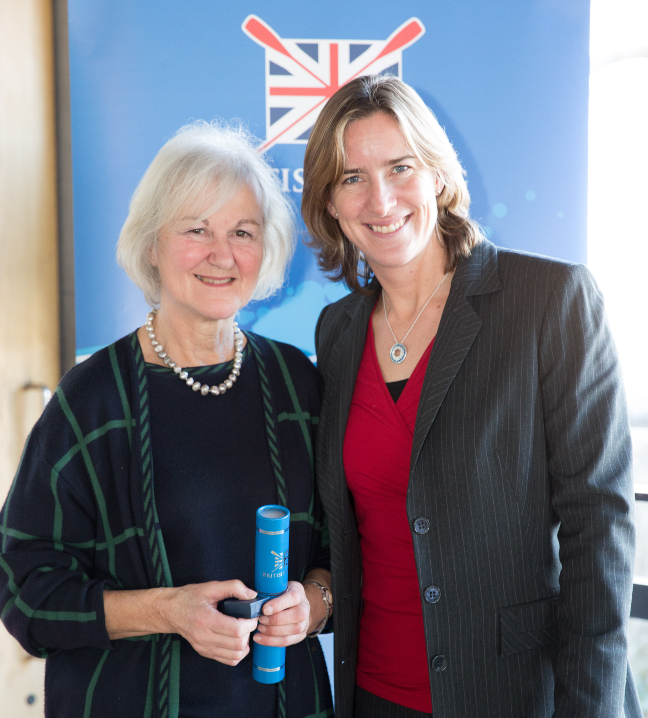 Noelle is pictured with Dame Katherine Grainger at the 2017 British Rowing Awards after receiving her Club Performance Coach Commendation
5 – Does Broxbourne have any paid coaches, or are they all volunteers?
When I was training there the club was entirely volunteer-run, however, it now has a couple of paid coaches – but not for the juniors.
6 – Looking beyond your GB career, do you think you will stay in the sport, perhaps as a volunteer?
I'm sure I will. My parents are still training hard at Broxbourne, so I feel like it's in my genes.
My mum helped Noelle when I was a junior. She would be out coxing and looking after the beginners in order to make sure Noelle, or her husband Matt, were free to coach me.
Once I went to uni, she started rowing again in the women's squad, so it's nice for her to get coached now rather than helping everyone else with theirs.
7 – Moving to Tokyo, what are you looking forward to most?
I'm looking forward to the racing, obviously, and seeing how we get on. But I also think being in the Olympic Village will just be so cool. It'll obviously be different to other Olympics, but it's always been this sort of elusive place that only so few people get to go to. Being there with all the other athletes will be surreal.
8 – Finally, when the rowing training is done, how do you like to relax and chill out?
I love being in the garden and just relaxing and pottering around outside.
Photos: Nick Middleton