British Rowing announces new partnership with Clasado
British Rowing has partnered with Clasado Biosciences, the team behind Bimuno, a leading prebiotic supplement that supports good gut health
British Rowing has partnered with Clasado Biosciences, the team behind Bimuno, a leading prebiotic supplement that supports good gut health. The partnership will see Clasado provide the GB Rowing Team with Bimuno products and British Rowing members will be able to access products with a 20% discount at Bimuno.com.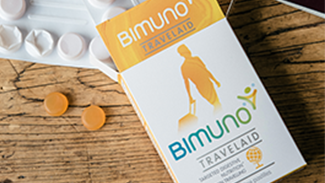 To celebrate the launch of the partnership, Clasado are giving British Rowing members the chance to try Bimuno for free*. Look out for details on how to access this offer in your email inbox.
*Just pay for postage, over-18s only
Designed to nourish good bacteria in the gut, the supplement takes a 'wellbeing from the inside out' approach to health by unlocking the potential of a well-supported gut microbiome. Good gut bacteria have a significant influence on many key areas of health, including immune function, mental health and cognition and crucially, the body's response to physical effort and athletic exercise.
Bimuno is the only prebiotic ingredient of its kind with Informed Sport accreditation; a quality assurance program that independently tests supplements for a wide range of substances banned by the World Anti-Doping Agency.
Through the partnership, Clasado Biosciences is providing the GB Rowing Team with supplies of Bimuno® TRAVELAID, a handy easy-to-chew prebiotic fibre pastille that is easy to take when on-the-go. The fibre travels through the digestive system to the gut, where it nourishes bifidobacteria, a good gut bacteria that is associated with key benefits for the body.
Per Rehné, CEO at Clasado Biosciences, commented: "It's a pleasure to partner with British Rowing. Collectively, we're all getting more in touch with gut health and its benefits. The gut microbiome, the trillions of bacteria that inhabit the gut, are so influential throughout the body and we've only scratched the surface in understanding it.
"Bimuno is the most widely studied prebiotic of its kind, supported by over 90 scientific publications, including more than 20 clinical trials. It's a particularly interesting area to explore in terms of sports nutrition. We know that gut health plays a role in supporting how effectively we perform, which means supporting the good gut bacteria may be front and centre for athletes in the future.
"One particular study we conducted demonstrated that including Bimuno in diets of athletes reduced the instance and severity of exercise-induced bronchoconstriction (EIB). Further studies have shown that elite-level athletes had a very different bacterial profile to a non-athlete control group. There's a clear link there, and we're delighted to be sharing our gut microbiome development and expertise with British Rowing and its members!"
Kenny Baillie, Director of Partnerships & Communications at British Rowing, commented: "We're extremely pleased to partner with Bimuno and provide our members with Bimuno TRAVELAID. While many events have been postponed, for many of us, the training continues at pace. It's a great chance for our members to get better acquainted with the good gut bacteria that are so important to the body."
As well as the convenient TRAVELAID format, the prebiotic is also available as the award-winning Bimuno® DAILY powder supplement and Bimuno® IBAID, a pastille designed for those with sensitive digestive systems. Bimuno is available at Boots, Holland & Barrett, Tesco, Sainsbury's and independent pharmacies, as well as on Bimuno.com.
To find out more about Bimuno or to learn more about the gut microbiome and its influence on physical and mental health, visit www.Bimuno.com.
---
To access the members discount, login to your membership profile and select membership details and then member benefits.
In line with British Rowing's Supplement Policy, all rowers should Assess the Need, Assess the Risk and Assess the Consequence of using any supplement as ultimate responsibility sits with the individual athlete.