Managing COVID-19 Version 10
Our Managing COVID-19 guidance has been updated to version 10 to incorporate the lockdown restrictions as previously published
With more details about the latest lockdown now available, we have updated our 'Managing COVID-19' guidance to version 10 incorporating the previously published advice. The previous restrictions for the tier structure have been retained in the document as an archive.
---
Nick Hubble, Chair of the Sport Committee introduces this version of the document, with a note to the rowing community:
The last year has been a massive challenge for the rowing community. From the lockdown in March, through the reopening process and then further lockdowns, the rowing family has really stood up and been counted. Rowers and volunteers around the country have made significant efforts to support their clubs, each other and also their local communities.
Rowing has to take second place to public health but, throughout this pandemic period, the whole team, including the Sport Committee, other volunteers and British Rowing staff, has worked to try and ensure we provide the best possible advice to help people get back on the water as safely as possible. We have worked with clubs, event organising committees and volunteers to help clubs reopen their doors and to try our best to get some form of competition back up and running.
It is really clear now that we have a challenging few months ahead of us as a nation and that will make for challenging times for rowing and sport in general. Rowing has its part to play in helping the nation come out of this in a healthier state than before but it's really important, at this critical juncture in the fight against COVID-19 that we are also sensible and play our part in helping to combat and minimise the spread of this virus.
Now is the time to ask "what's sensible for us to do?" not "what are we allowed to do?". I can speak from my own experience, volunteering at Peterborough City RC, where we took the tough decision to close the club when our local area entered Tier 4. Now the same position has been forced on us all as we enter the current lockdown. Personal exercise is clearly really important to maintaining our physical and mental health, however, now is the time for us to focus on the bigger picture. We know it is frustrating that the way the restrictions have played out has often created a disparity in what rowing is available to different groups of people and we are working as hard as we can (as many clubs are too) to minimise this imbalance. Ultimately though, if we all do our part, we can keep as many people as possible safe in our communities and get back towards normal life sooner rather than later. When that time comes, I know we'll all be chomping at the bit to get our clubs back up and running and on the water.
During this difficult time, please remember that the team at British Rowing is always ready to offer advice so please do let us know if you have any questions – email us at clubsupport@britishrowing.org. This support and guidance such as this document are only available because of the continued support of our members. Thank you to all of you who have renewed your membership over the last year, it really does make a huge difference and allows us to continue to support the whole rowing community.
I look forward to seeing many of you on the water at clubs and competitions later this year but in the meantime, stay safe!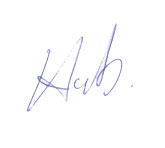 Nick Hubble
Chair, Sport Committee | British Rowing