Confirmation of move to Return to Rowing Phase E
British Rowing confirms that we will move to Phase E of our Return to Rowing guidance as scheduled on 15 August, allowing a move to a wider range of crew boats
Following a review of the current situation, we will be moving to Phase E of our Return to Rowing guidance on 15 August as originally scheduled. Subject to any local restrictions which may affect your club, this allows clubs to include more crew boats into their plans if they feel this is appropriate based on their risk assessment and COVID Secure plans.
Our guidance document has been updated to version 5.2 to reflect this move to Phase E and to elaborate on our advice for coxes.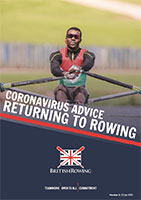 Thank you to the vast majority of clubs who are following the guidance set out so far – we appreciate this involves a huge effort for many volunteers to work out how to make your club environment's COVID Secure.