Coronavirus Advice: Return to Rowing Version Two
Following changes to the UK Government's coronavirus guidance, we have updated our guidance for clubs, particularly in relation to group sizes.
Following the changes to the UK Government's coronavirus (COVID-19) guidance related to group sizes, we have amended our advice for Phase B and created an updated version two of our 'Return to Rowing' guidance. This can be download below: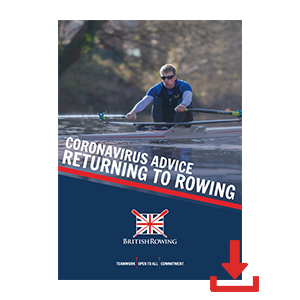 The guidance is detailed but inevitably there will be specific scenarios that aren't covered by the guide. The document sets out some guiding principles for decision-making in these situations. If you have any further questions then please contact clubsupport@britishrowing.org or we will also be hosting a webinar on Thursday, 4 June at 19.00.
The two supporting resources available for the document, are unchanged:
Changes to the document from the original version one have been highlighted in yellow and are summarised in the table below. The cover image of the document has been updated to make it easy to recognise the different versions of the PDF.
| Section | Change | Page |
| --- | --- | --- |
| Following Guidance | New section created | 7 |
| Phasing | Phase B coaching advice changed to reflect changes to Government guidance on group sizes | 8 |
| Advice for Rowing Clubs | Previous advice for school and university rowing clubs added to document | 12 |
| Advice for Rowing Clubs | Advice related to cleaning solutions updated | 13 |
| Advice for Rowing Clubs | Reminder about wildlife added to club facilities section | 14 |
| Club Facilities – Phase by Phase Checklist | Phase B coaching advice changed to reflect changes to Government guidance on group sizes | 20 |
| Advice for Coaching & Training | Phase B coaching section updated to reflect changes to Government guidance on group sizes | 26 |
| Advice for Coaching & Training | Phase B section added to clarify advice related to launches | 26 |
Section:

Following Guidance

Change:

New section created

Page:

7
Section:

Phasing

Change:

Phase B coaching advice changed to reflect changes to Government guidance on group sizes

Page:

8
Section:

Advice for Rowing Clubs

Change:

Previous advice for school and university rowing clubs added to document

Page:

12
Section:

Advice for Rowing Clubs

Change:

Advice related to cleaning solutions updated

Page:

13
Section:

Advice for Rowing Clubs

Change:

Reminder about wildlife added to club facilities section

Page:

14
Section:

Club Facilities – Phase by Phase Checklist

Change:

Phase B coaching advice changed to reflect changes to Government guidance on group sizes

Page:

20
Section:

Advice for Coaching & Training

Change:

Phase B coaching section updated to reflect changes to Government guidance on group sizes

Page:

26
Section:

Advice for Coaching & Training

Change:

Phase B section added to clarify advice related to launches

Page:

26