Coronavirus advice: return to rowing
To assist the rowing community in its planning for a return to rowing, British Rowing has released advice on each of the identified phases
The advice has been collated with the help and support of a number of volunteers and staff from around the rowing community to assist with planning for a safe return to rowing. The document is split into sections for rowers, clubs, coaches and competitions and, as more information becomes available, it will be updated with additional guidance for particular areas and phases.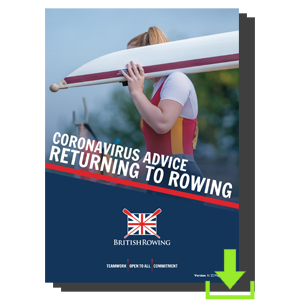 The guidance is detailed but inevitably there will be specific scenarios that aren't covered by the guide. The document sets out some guiding principles for decision-making in these situations. If you have any further questions then please contact
clubsupport@britishrowing.org
Two supporting resources are available for the document:
British Rowing will be hosting a webinar for all members of the rowing community on 4 June at 19.00 with Andy Parkinson, CEO, Dr. Ann Redgrave, Chief Medical Officer and Nick Hubble, Chair of the Sport Committee. During this webinar, there will be the opportunity to ask questions related to this advice. Sign up will be added to our Lockdown Webinar series page early next week.