Behind the scenes with the GB Rowing Team coxes
We asked Erin Kennedy, Henry Fieldman and Matilda Horn about life as a GB cox, Tokyo postponement and making the boat go faster
When did you first start coxing?
Matilda Horn I began coxing when I was 20. I had rowed from the age of 11 and had been the one going backwards for too long – I fancied having a look at the finish line before I got there! During a long injury period I was told I was a great facilitator which, coupled with being small, made me the perfect candidate so I made the transition.
Erin Kennedy I started coxing at Pembroke College during my undergraduate degree at Oxford. I had always watched the boat race and rowing is such a quintessential part of Oxford life, I felt that I should at least give it a try! I went to the river during fresher's week and they look one look at me (standing at the great height of 5 ft 3) and said that maybe I should try coxing. I got hooked very quickly and rowing quickly overtook any other hobbies I had. It became such a huge part of my life at university.
Henry Fieldman I started coxing at Latymer Upper School in Hammersmith when I was 13. I'd always wanted to give rowing a try. On day one they lined us up in height order and I found myself at one end of the line, and so was put in the coxing seat. Apart from a very short stint with an oar at university, I've pretty much stayed in the coxing seat since then.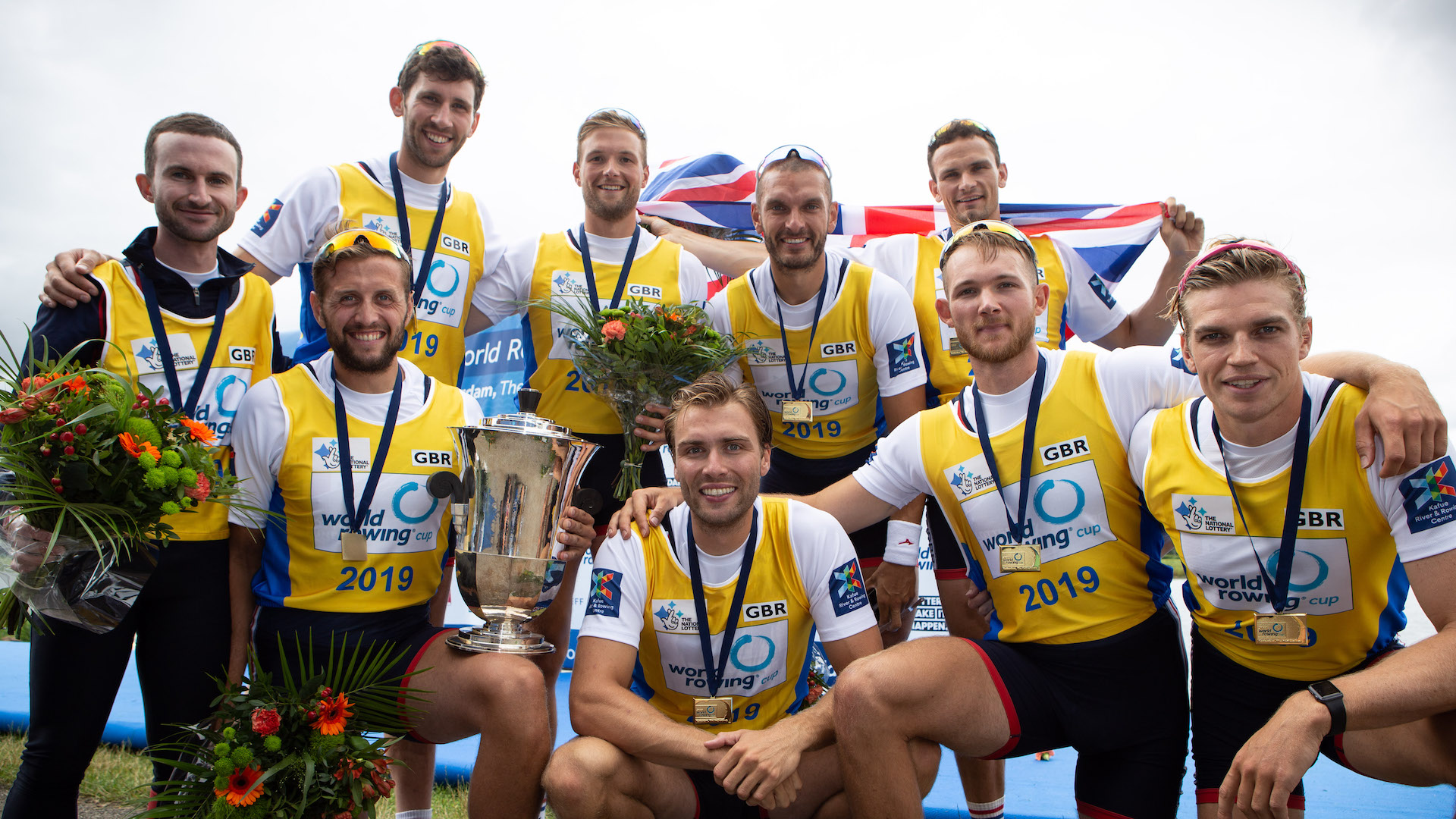 How did you get into coxing for GB?
HF I earned my first GB vest at the Coupe de la Jeunesse in 2006 in the coxed four. I had enjoyed coxing at school but hadn't really imagined I could ever cox for GB. One early morning during one of our runs around the river before school began, I found myself running with one of the girls in our team who was a few years older than I was. She had been doing GB trials for a few seasons by this point, and suggested I go in for trials myself. I remember her saying 'I don't see why you can't be of that standard,' and that really put the seed in my mind. I trialed that year and didn't make it, then came back the following year and won the seat in the Coupe coxed four. Following that I worked my way up through the Under 23 team, GB 2nd 8+ and then finally into the senior team proper.
EK I am naturally competitive and always aspire to be the best at what I do, but honestly, I didn't consider coxing for GB for a long time, as I didn't think I would be good enough. In the Oxford bubble, everything is focused around College Bumps and the Boat Race and so it wasn't until I joined Leander Club that I started to realise that it could be possible. I came to coxing very late and so I was nowhere near experienced enough to consider trialling for U23s. In the 2015-16 season however, I coxed a group of GB Development athletes, many of whom would join GB programme after the Rio Games to a win at Women's Head in 2016 and I was noticed by some of GB Development coaches. It then led to a summer of racing with the Development athletes, the spare seat for the Para 4+ for the Rio Games and an invite to trial full time with GB for the Olympic Women's programme. That summer was also the start of around 15 months trialling against Matilda. Trialling so closely against another coxswain on a daily basis was incredibly challenging but also more valuable that I could have ever predicted. We differed drastically in styles yet we were, and are, good friends and somehow managed to collaborate, compete and perform in such an intense environment. I was unsuccessful in securing the seat for the World Championships in 2017 and I was crushed, however I emerged from the process a better, more confident cox. I took these skills into trialling for the Paralympic squad in the 2017-18 season and it led to my selection for the 2018 World Championships, where we (just about!) managed to win a gold medal. Matilda and I now both cox for GB and we are both in the right seats for our skill sets.
MH I had always wanted to row for GB. I remember going to watch the World Championships at Dorney Lake when I was about 13. All I wanted was to be in the lightweight double! I wasn't really strong enough when it came down to the trials system, both at junior and at U23 level. In my first year of coxing I trialled for the U23s to get a taste for what I would be in for. I wasn't really sure what I was doing at the time and learnt a lot that year working with a very high end men's eight instead. I trialled in 2015 for the GB Paralympic programme which was an incredible opportunity where I went to Banyoles on camp, alongside cox testing. I didn't quite make it but I really had my sights set on a senior seat, so I put my name forwards for the Senior Women's Programme. Erin and I were trialled for the development programme with the sights on the next Olympiad. Zoe De Toledo was a great mentor of mine and I became the spare for the Rio boat, but was then beaten for the top development 8.
After Rio, the selection process was quite gruelling; both Erin and I spent most of the season working with (and against) each-other with only one seat available at the time. We made a great double act and are both now coxing for GB!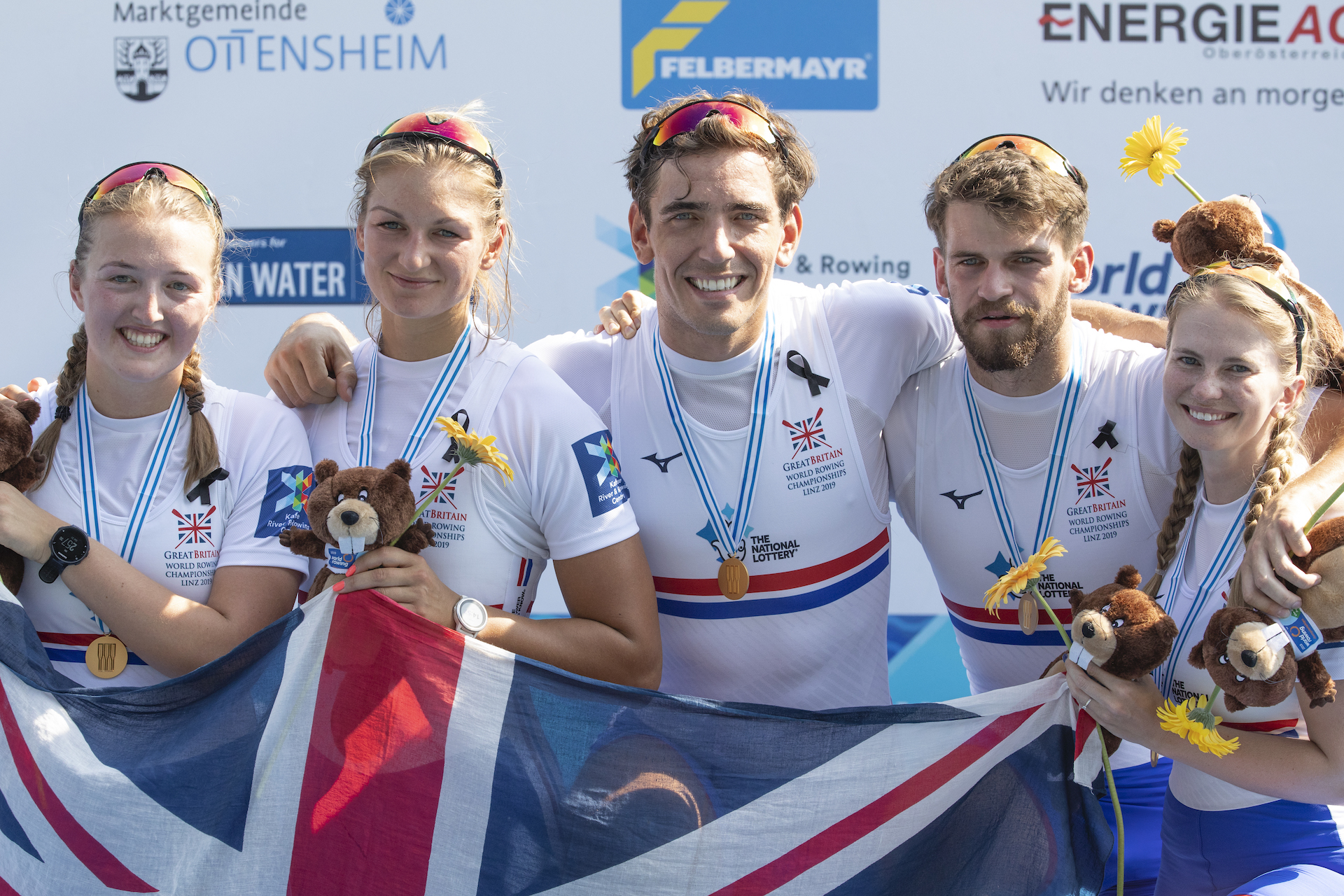 What's the best part of your role?
EK The best part of my role is the team – I absolutely love being part of the Para squad and, without being too cheesy, it feels like a very weird but functional family. The coaches, support staff and athletes have great relationships with each other and we are good at having difficult conversations, as well as having a laugh with each other. I feel really lucky to be in the position I am in and to be part of such a successful programme. Whilst I obviously love racing and I really love winning, I think it is winning with the team, and for the team which I love the most.
MH The fact you get to facilitate others and get the best out of everyone you work with. Day in and day out you're pushing to be better and supporting others to be the best versions of themselves.
HF Winning. We are in this sport to win races. But if I were to expand on this point, it's winning with a likeminded group of some of the most inspiring people I've come to know. Seeing how hard my teammates, coaches and support staff push themselves day in and day out and then seeing that effort come to fruition is one of the most satisfying feelings I know.
What's the hardest part?
HF Not winning. I definitely feel the losses more than the wins. Ultimately I get a lot out of losing in terms of learning and using it as a formative experience. But with all the hard work that goes in and to not be rewarded for that in the way that one would like, it stings. A close second place candidate for 'hardest part' is not being there for friends and family because of our training camps and racing schedules. I'm lucky to have such a great network of family and friends who understand that I'm often not around and they are always there when I get back.
MH Sometimes it can be lonely being the one in the middle of athletes and coaches. As a cox you don't get to go through the gruelling pits of a training camp or sessions the same way as the athletes, yet you're expected to be out there fighting for them come the race. It can be a challenging position, where you feel hugely part of the team but sometimes a bit on the outside.
EK For me, the hardest part is when illness/injury hits and we are unable to train in the 4+. As we operate as a very small group, we don't often have spares so it means that I spend a lot of time on the bank instead of in the boat. I am someone who always like a purpose and a project so I get stuck into coaching small boats, working on technique off the water or, spend a lot of time rigging!
How are coxes selected?
MH This is a tricky process which I've been through a few times at university and with the GB team. It can sometimes feel like quite a subjective selection, based on which cox fits the crew best. However, the processes I have been involved in with GB have tended to be as objective as possible. Races early in the season were split evenly to give both coxes equal opportunity to work and race with the crew. We were assessed regularly using a score sheet which consisted of around 12 criteria such as steering. Each cox would be scored by athletes and coaches in racing and training to generate an aggregate score, and the best aggregate score won the seat.
HF Coxing selection is a tough one to pin down, mostly because we as coxes produce less quantifiable data than the rowers from which to draw conclusions on how good we are. During the junior trials it's very much about how you cox during trial races, with each race's calls recorded on a dictaphone and feedback taken from the rowers in the crews. At Under 23 level the focus switches a little to encompass more of what you do in training as well as racing. You are now expected to basically run sessions on your own and get the most out of the group. This continues into the senior ranks. After a time, you build up almost a portfolio of results which can be used as some form of quantifiable data which goes some way to indicating how experienced and effective a cox you are. For the Olympic team the decision ultimately rests with the chief coach and for me that's Jürgen. In 2016 I was on the wrong side of that decision, but all going well I hope to be on the right side for 2021.
EK The Paralympic coxes are selected by Tom Dyson, the Chief Coach based on individual's skills and the contribution that they can make to the crew's performance. It is essential that the cox works well with all crew members and the coaching team and that they are under 55kg (the minimum weight for international coxswains) at all assessments and racing. In 2018, the coxes wishing to be considered for selection submitted two recordings of themselves, one from training and one from racing which were listened to and assessed by Tom and Nick Baker, the crew coach. We then tortuously listened back to them individually as Nick and Tom stopped and started the recording – questioning us our meaning and analysing our tone/language etc. It is a very tough process and can be awkward listening to yourself at times but it does really make you consider your words and style carefully. The coaches then reduced the number of trialists to just myself and the incumbent cox and we were assessed through a camp and over a number of months, eventually being tested against one another during some seat racing for the U23s so it was an entirely neutral environment.
How do you keep fit?
EK As I am in a bowloader, my neck and shoulders have to absorb a lot of force and my core needs to be very strong to hold myself still. Therefore, whilst I do a 60 min bike 1-2 times a week, I do weights alongside the athletes. I have started lifting "properly" this season and I am really getting into it! I am now able to do a few pulls ups (which I am very proud of) and getting (relatively) strong. It has really helped me in the boat and the athletes enjoy watching me suffer alongside them – especially during core testing!
HF I run as regularly as I can. Often times that needs to be out of normal training hours, but sometimes I can squeeze a run into the normal day if the guys are doing a session that I don't strictly need to be on hand for. I also did a 'press up challenge' a few years back now. I love little things like that to keep training interesting.
MH I run quite a lot, the headspace it provides is great and it's an amazing tool to be able to achieve this when you're away on camp. I also swim and cycle a bit. I am currently building my strength, particularly my core to better support my weight when in the boat and to protect my back when squished into the coxing seat.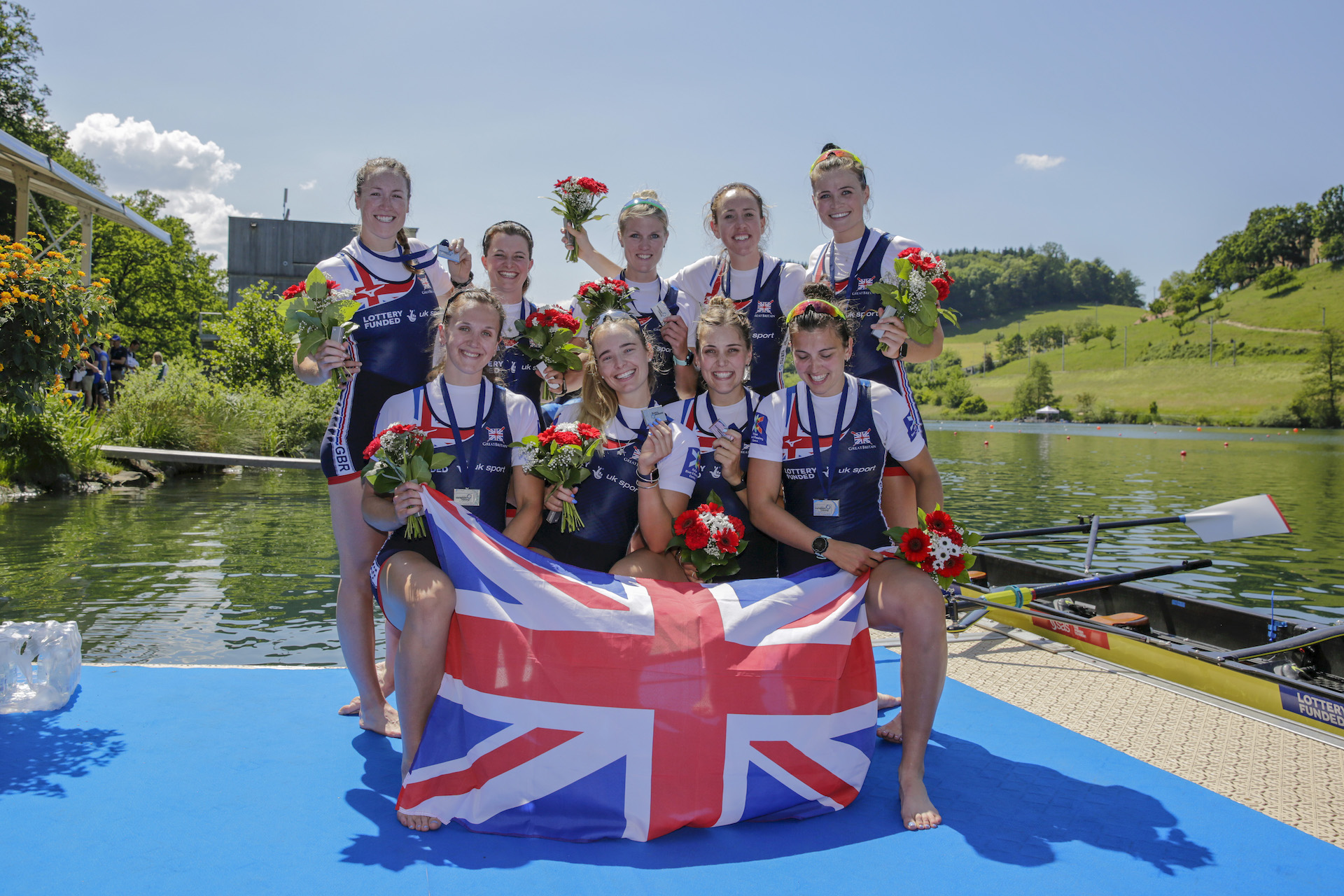 How do you keep your crews motivated in and out of racing?
MH Motivation often has to come from within for it to be lived and breathed. More so out of racing, I find I try more to facilitate the athletes drive with the coaches rather than just presenting them with what I believe to be inspiring. Within the races, I will draw on an individual's strengths. Something unique they bring to the team that could keep or turn the momentum into our favour. A drive where the rest of the crew supports and backs that person can hugely increase the overall motivation and thus momentum of a boat.
HF Athletes in our team are by definition highly motivated anyway so it doesn't take a lot to motivate them. Sometimes I try to reference the wider picture of what we are aiming to do despite being focused on the day to day grind. I think some of the most powerful motivation can come through setting an example, so day in day out I try and bring my all and be there for my teammates as much as possible. That can range from bringing high energy and precision to sessions, to making sure the equipment is meticulously set up and maintained and is done so very much ahead of time.
EK I find that I don't really need to keep the athletes motivated around racing, as they are some of the most determined, savage people I have ever met. Outside of racing, we all approach the training a little differently. Some athletes can deal with long term goals and are happy to grind out the mileage whereas others need a little more morale to get through a long winter week. I try to support everyone as well as I can and look out for each individual, whether that is through regular coffees at Coopers or playing Monopoly Deal in our breaks! Sometimes, just being there and listening is enough.
What are your top tips for coxing?
MH I have three; the first is safety. Nobody will be able to trust or respect an unsafe cox. Mistakes happen of course, but the majority of the time you have a huge responsibility to get the boat and the athletes from A to B as safely as possible.
The second is organisation. Having all the tools (physically) an athlete or you may need to keep the boats in running order. Being able to get where you need to safely, on time. Running a session, having the ability to remember or write down the plan or a session and stick to it.
The third is being able to identify your strengths, why you're there and what makes you a good cox. This would be my key baseline for gaining your own coxing identity, this will then allow you to develop and progress, adding/adjusting to integrate what you are looking to progress.
HF I've stolen this from one of our coaches, but be an aggressive learner. You are competing on the traditional field of play but also in how much you can learn, how fast you can learn it, and how well you can implement that learning. Don't be afraid to make mistakes. Learn from them and don't fall into making the same mistakes twice.
EK Invest in your relationships and then make sure you take time to look at yourself too. Your athletes will respond to you so much better if you take the time to understand them, to know where they are at physically and mentally, what they are aiming for and how you could help them achieve it. Working well with coaches and support staff is essential to developing as a cox too as you are acting as the mouthpiece for the coach in the boat whilst also adding your own feel to the mix. Lastly, look at how you can keep upskilling – speak to your team so see what you need to work on and act on it!
How did you react to the Paralympic and Olympic postponement?
EK I was disappointed but not all that surprised when I heard the Games were being postponed. A huge part of me was actually relieved that they were not just being cancelled which would be heart breaking. I have been really impressed with the way that the Para Squad has dealt with the shift and how they are managing lockdown and I feel we are all convinced it will bind us more tightly as a team and give us the opportunity to go even faster come 2021.
HF I was initially very frustrated. I wasn't focused on the global situation at all, with my focus wholly on being ready to compete successfully in the summer of 2020. Anything that got in the way of that was registering to me as an obstruction that needed to be confronted and dispatched. However, once I had taken into account the global crisis that we are currently in, postponing the Olympic and Paralympic Games was obviously the only sensible decision that could be made. People's lives are hanging in the balance and sport has got to take a back seat on this occasion. One of my brothers is on the front line of this right now and my thoughts go out to all the inspirational people who are doing amazing things to combat COVID 19. We've now got to try and see the positives that we can take from the situation. There is a whole extra year to train and improve. One of the criticisms that has been levelled at us as a team is that we are a relatively young and inexperienced team. But now we've got the opportunity of a whole extra year to learn more about ourselves and become a wiser and even more cohesive unit. I can't wait to see what we can produce.
MH I would be lying if I said I wasn't disappointed! However, after digesting the information I have had two thoughts. First and foremost, I am hugely behind the postponement given the current situation, people's safety and health should always come first. Secondly, I am excited to have another year of building momentum and excitement, in which we can improve and find an edge within this strange time.
What do you do in your spare time?
EK Usually in my spare time – not on lockdown – I bake, I spend time with my friends and I read a lot. Until recently I have been planning a wedding which took up a lot of time and I also moved house which is never simple! I used to work full time alongside coxing and only fairly recently have stopped work and just been coxing full time. I have really enjoyed the opportunity to focus on rowing and my teammates without feeling stressed about work. I am about to start an online Psychology course as I am looking into whether I might like to study part time alongside training after the Games.
HF I like to spend my spare time with my family and friends as much as I can. I also really enjoy soaking up interesting music, film, art and culture generally. I basically love seeing anything or anyone being passionate and showing expertise in anything at all. What with my own focus on sport and my background in science, I find myself gravitating more towards art and music because it's something I know relatively little about.
MH Alongside coxing in the GB team, I am a rowing coach at a school in London. I spend three days a week with them coaching ages 13-18, it's awesome. I also like running as I said before, baking and cooking.
How are you spending your time in lockdown?
MH I am using the time to build my own training, some yoga, some core strength, some running and some circuit training. I am starting some online courses that I think will improve my coxing role when we are back to being fully integrated. I am catching up with my team regularly. I've been watching lots of rowing races and videos and am also baking and cooking lots!
EK I am working on a few projects as well as keeping up my training. I have built a mini gym at home so I don't lose the ability to do a pull up! I am finishing off my thank you cards as I recently got married and I am experimenting with more and more complicated recipes! I have also bought a sewing machine but currently I am only managing straight lines so I have warned my godchildren not to get their hopes up too soon.
HF I'm locked down at home with my Dad and cat. My day mostly consists of getting up early to go for a run and then core stability work back home. Apart from that I'm just working on a few small projects, reading / watching screens and trying to be as sociable as I can with family and friends online.
What would you be doing if you weren't a GB cox?
MH I studied Sport Rehabilitation at University and my dream is to to use my training to help children who have cerebral palsy, improving their function with sporting movements.
HF I'd be trying to get into coxing and the GB team. This is my passion. But if I must choose something else then it would have to be something where I'm competing at a high level, ideally with a strategy component to it. That is the sort of thing that makes me tick.
EK I haven't got a clue what I would be doing in all honesty! I used to work in a start-up and I loved building a business and having input into every area of the organisation – from sales to marketing to strategy. I like the idea of running my own business in the future as I enjoy managing my own time and I am very motivated however, who knows if that will come to fruition! For now I feel incredibly lucky to sit in a coxing seat and row for a living.