GB rowers crowned Wingfield champions on the River Thames
Racing was close in the historic Wingfield Sculls with GB rowers Jess Leyden and Sam Meijer prevailing on the Tideway course. Tim Koch reports
On Thursday 3 October, the title of 'Champion of the Thames' was contested for in the 179th Wingfield Sculls and the 13th Women's Wingfield Sculls in single sculling races with GB rowers Sam Meijer and Jessica Leyden triumphant over the Putney to Mortlake course
The men's race first began in 1830 when Henry Colsell Wingfield presented a pair of miniature silver sculls 'to be held by the best'.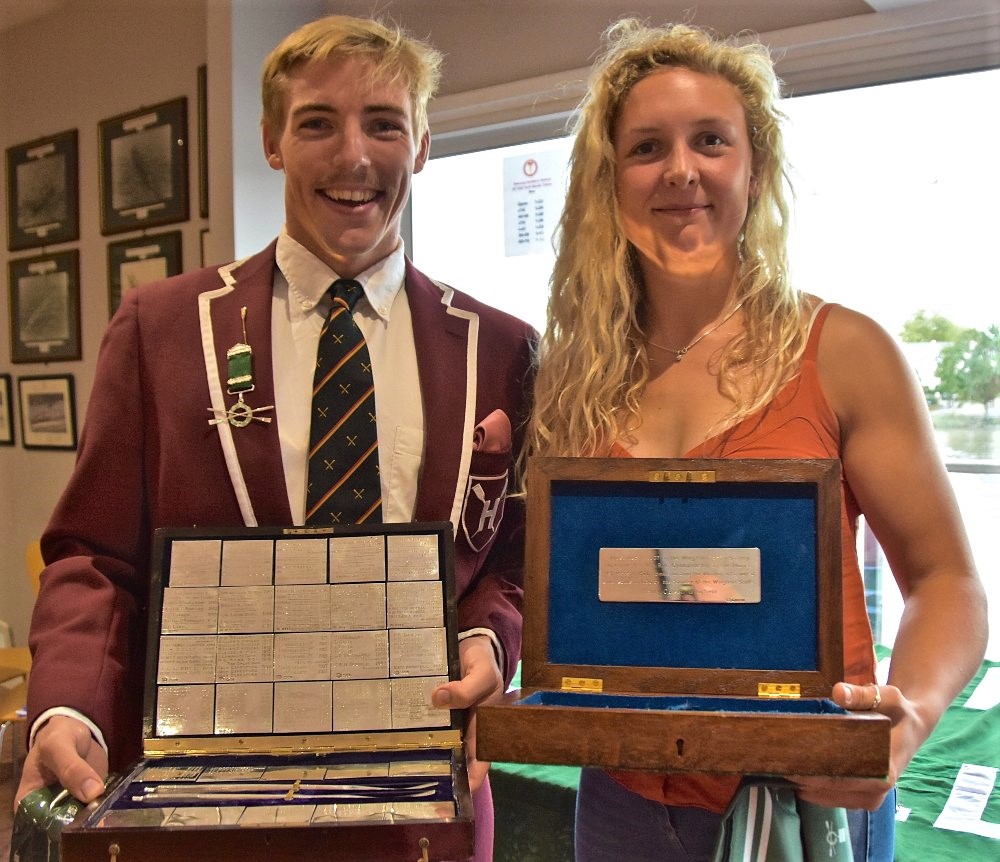 Champions of the Thames – Sam Meijer and Jessica Leyden pictured above 
The women's race was fought out between Meghann Jackson (London), Katy Wilkinson-Feller (Tideway Scullers), Fran Rawlins (Tideway Scullers, winner or 'champion' in 2017) and GB rower Jess Leyden (Leander, champion in 2016).
It was a clean start but, 30 seconds in, Jackson clashed with Wilkinson-Feller and both stopped for ten-seconds. As they passed the Black Buoy, Leyden was a length up on Rawlins, who was the same distance ahead of Wilkinson-Feller, who was overlapped by Jackson. This sequence stretched out but lasted to the finish.
Olympic hopeful Leyden steered a confident, though sometimes not conventional, course but was always in control, often underrating her opponents. There was a good tussle for second place between Rawlins and Wilkinson-Feller, with the spirited Jackson never giving up.
Olympic hopeful Leyden steered a confident, though sometimes not conventional, course but was always in control
Finish times: Leyden 22.30, Rawlins 22.43, Wilkinson-Feller 23.05, Jackson 23.31.
In the race to decide the 94th men's champion were Sam Meijer (Tideway Scullers) and George Bourne (Durham) – both members of the gold-medal winning GB quad at the U23 World Rowing Championships earlier this year.
Chris Revell (London), Ashley Cowley (Notts County), Alex Morris (Thames) and Gregor Maxwell (London) completed the line-up for the Wingfields Sculls.
In unsettled water and a fast stream, it was Meijer who took the lead, starting at 43 and going down to 35. With Morris trailing, the middle four fought it out and, approaching the Mile Post, the sequence was Meijer, Bourne, Maxwell, with Revell in a duel with Cowley, and Morris.
Maxwell briefly claimed second place at the Mile but Bourne soon took it back and continued to pursue Meijer. Maxwell's forearms were seizing up which resulted in the scullers in third to fifth place constantly changing and, at the Bandstand, Morris got ahead of a flagging Maxwell.
All competitors steered a good course and all fought right to the finish – where Revell and Cowley could not be separated. It was a true champion's race.
Finish times: Meijer 20.35, Bourne 20.48, Revell and Cowley 21.18, Morris 21.42, Maxwell 21.50.
Afterwards, Graeme Mulcahy as the 'senior champion' and Ian Wingfield presented the trophies. Leyden received a bar to her 2016 Wingfields medal and collected her scarf which hadn't been available back then, while Meijer received his medal and tie as the 94th Champion of the Thames.