World Class Start: Q&A with Strathclyde Park coach Tom Young
Former Edinburgh University coach Tom Young has joined British Rowing as the coach at the new World Class Start centre in Strathclyde Park
British Rowing and Scottish Rowing have joined forces to help high potential athletes progress into future Olympians with the opening of a new World Class Start centre in Strathclyde Park. Tom Young, the new coach there, tells us more about the centre and the kind of people encouraged to sign up for testing.
Why is British Rowing's World Class Start programme such a good opportunity for people in Scotland?
The World Class Start programme provides the expertise and support of the GB Rowing Team directly into the Scottish club system and gives an opportunity for non-rowers to progress onto the Olympic pathway.
Importantly, you don't even need to have even rowed before to be accepted onto the programme – indeed, many of the successful graduates had never set foot in a rowing boat before joining Start.
More than a quarter of the rowers who competed for Great Britain at the London 2012 and Rio 2016 Olympic Games graduated from the Start programme, so we have a strong history of taking people right to the top of the sport.
What role will the coach play? 
I will be leading the Start programme at Strathclyde Park RC, with my roles including the identification, recruitment and coaching of any athletes on the programme. Providing day-to-day support to athletes in their development as high performance athletes.
What/who are you looking for specifically? Ages, height, where from in Scotland, previous sporting ability, and numbers?
We have some basic criteria that we look for in our potential athletes – these are the characteristics that you find in almost all Olympic rowers; this is what guides the initial stage of our Talent Identification. For the measurements and dimensions we are looking for, see the infographic below.
There is no requirement for athletes to have previously rowed. In fact we specifically target complete beginners who have never been in a boat, although those with rowing experience will also be considered. A background in other sports is beneficial, but not essential. For example, Start graduate Alex Gregory – now a double Olympic champion – started rowing after training as a swimmer throughout his childhood.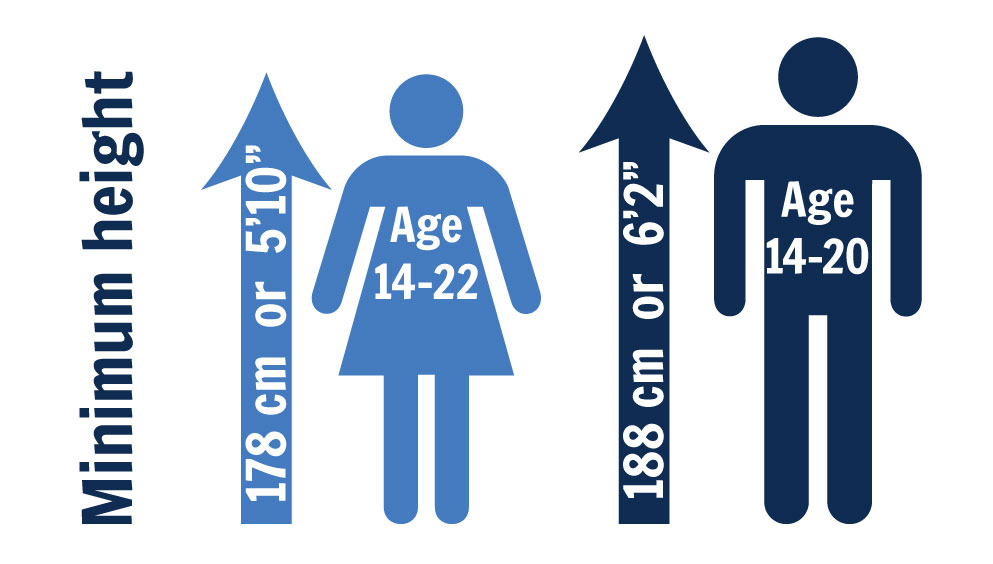 Are there people out there in Scotland who you believe could be an Olympic rower but haven't been discovered yet?
Of course! There are plenty of examples of Scottish athletes who have come from the Start programme, including double Olympic champion Heather Stanning and silver medallist in the women's eight Karen Bennett.
Scotland has also produced Great Britain's most decorated female Olympian in rower Dame Katherine Grainger, who won medals at five consecutive Olympics including gold at London 2012.
The GB Rowing Team has a strong core of Scottish rowers heading into the Tokyo 2020 Olympic cycle and we're looking to develop more for the 2024 Olympics and beyond.
How long could it take these new rowers to reach a high level? 
We don't like to set a time frame on developing Olympic athletes, but a rower with the right physical and mental characteristics could be competing internationally within a matter of years.
Tokyo 2020 is now only three years away, so we're really looking for people to represent Great Britain in 2024 and future Games.
What does the Start selection process involve?
If you meet the initial criteria then the Start programme team will be in touch to arrange further testing. This will involve some more anthropometric measurements to discover things like your height, weight and arm-span, as well as a few more strength & endurance tests. We may also do a couple of rowing specific tests, to get a more specific view on a person's strength & fitness.
Once we have a potential athlete's data, we review their attributes and provide feedback as to whether we think they are suitable to be taken into the programme. We are very selective with the athletes that we choose, but that doesn't mean that they can't take up rowing as part of another programm  in Scotland!
Ideally, what are you looking for in terms of physical attributes, mindset etc?
Start is looking for big, strong young people. Some will have done many different sports as a youngster, others not. One of the great things about rowing is that you can learn it from scratch – it does not rely on hand/eye coordination and so it is perfectly possible to become world class in a short space of time – 40 per cent of the last three Olympic teams started rowing after leaving school.
But it also requires some serious mental attributes too – you have to be committed to training a lot and willing to work hard, both technically and physically to progress in the sport. If you are prepared to put in the hard work, we will help you become the best rower you can.
What training do Start rowers do?
Rowing is an endurance sport, so there is a lot of mileage and training hours required to really progress in the sport. However, when a beginner starts on the programme we ease them in slowly; throwing them in to a full programme would risk injury and would potentially harm their development.
There's obviously lots of training on the water, where you will have to master the art of a single scull, as well as building fitness and developing an efficient technique. There is also a lot of gym work required, with sessions on rowing machines, strength training, core training, flexibility, mobility and general cardiovascular training too.
Do you have to live in Glasgow to join the Start programme?
The programme is based at Strathclyde Park Rowing Club, so ideally the athletes will be based within reasonable distance from the rowing lake, but there is the potential for athletes to train at satellite clubs while working with the Start Programme.
Where an athlete cannot move- because they are still in school, for example – there is the possibility to row at a local club with a club coach who is supported by the Start coach, although this will be approved on an individual basis.
How would someone get involved in the Start programme in Scotland?
If you think that you meet the initial criteria and are interested in being tested you can either register your interest via the British Rowing website (www.britishrowing.org/application-for-start-testing) or get in touch with me directly to discuss testing/ask any questions about the programme at tom.young@britishrowing.org
How many other sports in Scotland are benefitting from GB investment?
Alongside the Start programme, the GB Rowing Team also recognises and supports Edinburgh University Boat Club through the High Performance Programmes in Clubs.  This makes rowing one of only a small handful of sports in Scotland to benefit from British National Governing Body (NGB) investment and this is a reflection of the current strength of Scottish Rowing.
What was your previous roles as a coach, competitor?
I got into rowing quite late, learning to row at Liverpool Victoria RC whilst studying at university. I eventually went on to do a little coaching there too, and a little with Liverpool John Moores Uni BC before being offered a full-time coaching role at Edinburgh University BC in 2013.
During my time in Edinburgh I've worked with athletes of all levels – beginner to seniors, men & women. I've coached crews at the European University Championships as well as the Scotland Rowing Team at the Home International Regatta.
Where is home for you?
I'm originally from Stockport, near Manchester, which is where most of my family is based, though I have quite a bit of family based in Stirling, among a few other places!