Mat Tarrant and Stewart Innes take pair honours at third winter assessment
Tom Barras, John Collins and Nick Middleton made it a one-two-three for Leander Club in bitter temperatures at the men's single scull 5km time-trial at the GB Rowing Team third winter assessment at Boston Rowing Club, Lincolnshire.
The Henley-based club also took places 4-7 with Edinburgh University's Josh Armstrong in eighth.
Holly Nixon brought the women's single scull home in 18:45.80 with Vicky Thornley, Rio Olympic double scull silver medallist, proving that her determination to keep fit while taking an extended post-Games break has paid off.
Former world junior champion Jess Leyden was third, with some promising performances from clubs like Leeds RC, whose top-finishing sculler Georgina Brayshaw came home sixth.
Molesey's men's four Olympic Champion Moe Sbihi and Leander's Will Satch, winner of men's eight gold at the Rio Games, came home third in a men's pair time trial won by Mat Tarrant and Stewart Innes in a time of 16:06.29.  Tim Clarke and Tom Ford put in an outstanding performance to take second.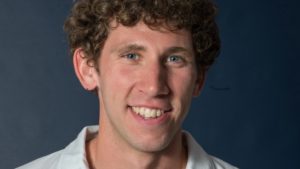 Hot on the heels of the news from Tokyo that FISA – the world governing body for rowing – had voted to recommend to the IOC the addition of a women's four to the Olympic programme for 2020, the women's pair event was won in 18.09.96 by Karen Bennett and Katherine Douglas, substituting for Zoe Lee.
Holly Hill and Melissa Wilson from Cambridge University were second with Fiona Gammond and Holly Norton in third.
FISA's recommendation for an added women's four event, to achieve gender parity, would mean the disappearance from the Olympic programme of the lightweight men's four – an event in which Peter Chambers, the third assessment winner in the lightweight men's single took Olympic silver in London.
Chambers's victory on the River Witham came eight seconds faster than Agecroft's Zak Lee Green, with Sam Mottram in third.
Putney Town's 2015 world lightweight double scull silver medallist Charlotte Booth (nee Taylor) won the equivalent lightweight women's single scull time trial, with Gemma Hall of Wallingford taking second by a margin of less than a second from Taylor's 2015 partner and 2012 Olympic gold winner Kat Copeland of Tees RC.
Full results here:  https://www.britishrowing.org/gb-rowing-team/rowing-for-gb/trials/senior-u23-trials-information/