CPGA and British Rowing launch first 'Club in a Box' training gig in Dorset
The 'Seven Stars' was launched in Christchurch, Dorset, on 18 February – the first of two GRP training gigs that will be loaned to clubs around the country
Sunshine greeted the launch of the 'Seven Stars' GRP training gig in Christchurch, Dorset on Saturday, 18 February – the latest phase in the Cornish Pilot Gig Association's 'Club in a Box' initiative, a project supported and co-funded by British Rowing and Sport England.
Announced in December, the initiative will help emerging clubs get off the ground by loaning a package of start-up equipment, including GRP training gig, oars, cover, seats, cover supports and trailer – everything they need to get out on the water, building their membership and raising funds for their own traditional wooden Cornish Pilot Racing Gig. Once achieved, the CPGA will move the equipment onto a new club, where the process will start again.
Two packages will be loaned out initially, with the first GRP training gig, built by Rossiter Yachts and unveiled at Rossiter's Quay in Christchurch. Named the Seven Stars after sponsor St Austell Brewery's first pub, the boat was launched by British Rowing's Director of Membership & Rowing Community, Phil Hornsey.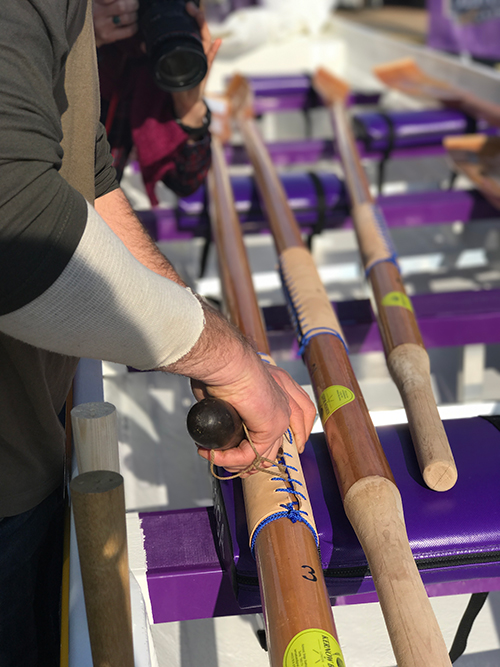 Hornsey said: "British Rowing is very happy to be supporting the CPGA in getting more people into the sport. Cornish Pilot Gig rowing is growing fast outside of its traditional heartland in the south west of England, and the Club in a Box initiative is a great way to provide new clubs with what they really need, at a time they need it most.
"I'm really grateful to the Trustees of the CPGA and support staff at British Rowing, who've done a phenomenal job in getting this important phase of the project over the line in such a short space of time."
There has been plenty of interest from clubs wanting to be the first recipients of the new equipment, with numerous applications to be reviewed by the CPGA.
Shane Sullivan, Chair of the CPGA trustees commented 'It was a great day and also quite significant for the Cornish Pilot Gig Association in delivering one of our aims to help grow the sport by supporting fledgling clubs build capacity. It was also good to see so much support and interest with over twelve (12) CPGA clubs represented at the launch.
"I would like to thank British Rowing for their help and assistance with this project, without their support this would not have been possible, I would also like to thank all the committee and suppliers who helped us meet the short deadline.
"We now look forward to the launch of the second Gig built by Rossiters Yachts in March'.
For more information about gig rowing and the Club in a Box initiative, visit the CPGA website.