Four and eights lay down marker
Alex Gregory, Mohamed Sbihi, George Nash and Constantine Louloudis laid down a strong marker in their opening Olympic men's four heat here at the Lagoa Rodrigo de Freitas in Brazil.  They built on an early lead to win in 5:55.59 and move into Wednesday's semi-finals.
"I feel like a pressure valve has been released", said Gregory  It's been a lot of waiting but it was good to get the job done".
Nash added: "It was good to get that one under our belts and out of the way".
Helen Glover and Heather Stanning experienced a much tighter affair, coming through a stiff Danish challenge to win their opening heat of the 2016 Olympic regatta in 7:05.05.
The Olympic, World and European Champions saw the danger in the final 250m and needed a powerful flourish at the end to secure the win.
Stanning said:  "The important thing today was to get into the semi-finals and we did that.  It definitely wasn't a bad row but it wasn't an exceptional row either".
Glover added:  "On time and on margin that was a tough race but we have experienced having to dig deeper in other races and in training".
The GB women's eight paced their heat to perfection to break through a New Zealand lead in the final 500m to win and take a place in Sunday's final.  The win was revenge for their defeat to the Kiwis at the season's final world cup.
GB's men followed up with a commanding performance to win their eights heat in 5:34.23 to move straight through to Sunday's final.
"We have put in a lot of hard work over the past two months and I think it's beginning to show", said Pete Reed.
"They are all very, very good crews here. The final is going to be an incredible race", added Paul Bennett.
Will Fletcher and Richard Chambers secured their semi-final slot with second place in their lightweight men's double heat behind South Africa.
Chambers talked on behalf of the crew whilst his crew-mate Will Fletcher was called to anti-doping. "Today was good but not good enough. I know we can do better. We didn't settle as well into our rhythm as we have been doing in training.  It w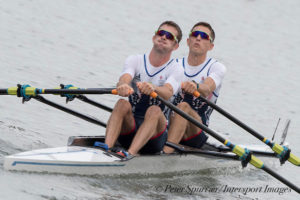 as probably just the excitement of an opening heat at the Olympic Games".
Kat Copeland and Charlotte Taylor did not get the result they wanted today as they were fifth in their heat and now race a repechage of the lightweight women's double scull.
Taylor said: "I guess the disappointing thing is that we haven't shown what we can do.  We need to deconstruct what we have just done and put it all back together again for tomorrow's repechage".
Earlier the GB men's quadruple scull warmed GB hearts as they overcame recent bad luck to reach the Olympic final, taking second place in their repechage. As Jack Beaumont, Sam Townsend, Angus Groom and Peter Lambert crossed the line there was probably a bit of Graeme Thomas – the man who had to go home ill  – with them as they became the first GB crew to reach a final here in Brazil.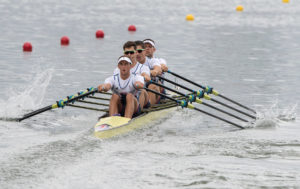 "It hasn't been the ideal preparation but I'm very happy for the three guys behind me in the stroke seat as well as for Charles (Cousins) and Graeme (Thomas) who helped get us here". said Lambert.
John Collins and Jonny Walton were also in much better racing fettle today as they powered into the semis of the open men's double scull with a win in a tensely-contested repechage.
For further information about this report please contact the GB Rowing Team press officer, Caroline Searle, via comms@gbrowingteam.org.uk OR the phone numbers in the contact box below.
Open All
Race Report
HEATS
Racing was twice delayed at the Lagoa Rodrigo de Freitas yesterday which meant for a packed racing programme today.
"New Zealand, of course, beat us in the last world cup so we will want to beat them", said Melanie Wilson previewing the women's eight heats today.  Drawn alongside each other with Canada also featuring in a  three-boat heat, GB needed to come home first to book a place in the final on Saturday.
Self-styled the "sassy" crew, the GB women, who are reigning European Champions, were solid off the start but down a canvas on New Zealand at 500m gone.  Canada were pressing New Zealand on the far side.
By contrast to the preceding heat in which the USA blew away the field, this was more a three-boat affair.  At halfway the GB boat was trailing but still in contention and lifting the pace as the 1500m marker came in sight.   Gradually the GB boat edged ahead of Canada. and gained on New Zealand.  What did both crews have left for the final 500m?
The answer from the British was "quite a lot" as they powered on through the Kiwis to take first in 6:09.52 and to move into Sunday's finals.
Zoe de Toledo said:  "That was a strong start.  We know that if we bring out our best performance in the final that we can be in the medals".
Zoe Lee said:  "Yesterday I was a bit apprehensive when I saw the conditions but I am quite confident in our processes. It is very good to get going. Good to be out of the heats and into the final".
Frances Houghton said:  "A really good rhythm was set up in the stern and it went well from there.  We have some things that we can work on before the final, too".
Karen Bennett added:  "In that final we'll stick to our plan and do what we always do.  We believe we can beat the Americans, we have to, and that's what counts and what better place to do it than at the Olympics?"
Polly Swann said: "It was good to get that out of the way and we have confidence going forward".
The GB men's eight have been World Champions three times since the 2012 Olympic regatta in which they took bronze.   Today's line up of Scott Durant, Tom Ransley, Andrew T Hodge, Matt Gotrel, Pete Reed, Paul Bennett, Matt Langridge, Will Satch and cox Phelan Hill includes many of the rowers who produced those world-winning performances as well as twice Olympic men's four gold medal winners Reed and Hodge.
From the outset they moved to stamp their mark on today's heat and were a half length ahead of the Netherlands with the first 500m out of the way.
Looking strong and connected and powering on, encouraged by cox Phelan Hill, the GB men's eight moved out to over a length lead at halfway.  They never looked challenged from there to win in 5:34.23 to reach Sunday's final.
"It was a start and a solid start", said Reed.  "We have put in a lot of hard work in the past couple of months and it's beginning to show".
Hodge added: "We came onto the field of play focussed on one single goal today.  We also set our standard against the Dutch who are a strong crew. We know that they will come back strongly n the final".
Bennett said:  "I think we are all very, very good crews.  The final will be an incredible race".
Durant talked of the focus needed here: "It feels really, really good to be an Olympian and that was a good start.  But you have to put the Olympic experience to one side and concentrate. It's a question of using the environment only to buoy up the intensity"
Hill said: "It was good to get it right in racing. We have had some really good times in training but we haven't quite laid it down in the races.  So it felt really good today".
Langridge talked of the venue.  "It's a really brilliant rowing venue, right in the heart of city. We hope that people will be inspired by what they see us doing to take up rowing.
"It was a good start and a job well done.  We now have five days until the final to get better and we will use all of those five days".
Gotrel said: "I feel like an official Olympian now that we have raced.  It was good to get started. We have a few things to work on but it's good to get through to the final".
Charlotte Taylor and Kat Copeland had Juliane Rasmussen and Anne Loik Thomsen in their heat.  The Danes were silver medalists at the world cup last month in a race which also featured Pan Feihong and Huang Wenyi of China, drawn alongside the GB duo.
Today Taylor and Copeland were in the early mix chasing down the Chinese leaders but with only two crews to go through to the semis they needed to catch up ground as the race moved through 1000m at which point the GB boat was lying in fourth with the Chinese and Danes out front and the USA chasing them.
As the sun burst out of the clouds for the first time in the morning, the British boat was fighting to get back on terms, using all their power but it was not to be, fourth for them in 7:10.25 and they move into the repechage tomorrow. China and Denmark move into the semis.
Will Fletcher and Richard Chambers were up next.  Fletcher, the Olympic rookie, from Chester-le-Street is teamed here with Coleraine's seasoned international Richard Chambers, winner of silver in London in the lightweight men's four.
Chambers was beaten to gold in London by the South Africans and two of that crew form the double who were drawn alongside the GB boat in today's heats.
Fletcher and Chambers were quick off the start and took a strong lead – almost a boat length- over the South Africans in the opening quarter of the race.
They kept their rhythm through the second quarter and held onto their lead at the halfway point but the South Africans mounted a strong challenge to nudge into the lead after 1250m gone.  With only two crews qualifying for the semi-final, the British duo made sure of their slot, coming home in 6:25.62.
Helen Glover and Heather Stanning are diverse personalities joined by a singular aim here on the Lagoa, to defend successfully their Olympic crown. Unbeaten since 2011 they started today in an unaccustomed position, trailing the Danish to the 500m and 1000m marks.
On the nearside, the British duo stuck to the task and picked up the pace in the third quarter but the Danes still held the upperhand. Understandably there was a tense silence from the GB supporters.
Reacting to the pressure, with Glover looking across at the Danes momentarily, the GB boat picked up the pace and pulled harder and harder to ultimate victory in 7:05.05.
Bringing the curtain down on a fuller day of racing than originally anticipated because of yesterday's cancellations, the men's four of Alex Gregory, Mohamed Sbihi, George Nash and Constantine Louloudis moved out to an early and big lead and held that to the end.
The quartet were not challenged and won in 5:59.59.  Behind them the Greek four surged past the French in the final 500m to take second.
Gregory said: "We did what we needed to do. We got our nose in front and stayed there. Now we can build on that.
"Yesterday felt like a lifetime just twiddling our thumbs so today it felt as if a pressure valve had been released".
REPECHAGES
Jack Beaumont, Sam Townsend, Angus Groom and Peter Lambert were first in action for GB in a repechage of the men's quadruple scull from which only the top two boats could progress to Wednesday's final.
Today the GB crew whose preparation was disrupted when Graeme Thomas fell in and had to return to the UK, needed in the words of Townsend after the heats to "turn up with their best race". They duly obliged in 5:53.10 to come a close second to Germany.
Off the start, the GB crew of Jack Beaumont, Sam Townsend, Angus Groom and Peter Lambert was tucked in a tight pack following Canada and Germany who were the early leaders.  Switzerland were third but the GB boat was in the right place to mount an attack on the top two spots.
Just before halfway the British bows eased ahead of Canada.  A cheer went up from the significant GB support in the stands but there was still nail-biting all round.  By 1500m gone the GB quartet were just over a canvas down on Germany and in a qualifying slot.    From there they were rock solid to take the second qualifying slot.   This was a professional and connected performance and a gutsy row to boot.
"We are all bringing something different to the boat and our coach Paul Stannard has done a fantastic job with us and we're feeling confident", said Groom.
Late substitution into the boat, Jack Beaumont, said: "From the bow seat I was confident that we had the speed and I was feeding that back to the guys".
The men's double scull were out of the progression positions on Saturday but started today's repechage in positive mood and ready to put things right after a day of waiting because of yesterday's weather delays.
Jonny Walton and John Collins were strong off the start, tucked behind the Serbians who were leading at 500m gone.  Collins and Walton continued to mount a challenge on the leader and were only half a length down as the race reached the halfway point.
The world cup silver medallists continued to show their pedigree, consigning their heat to history, closing in stroke by stoke on the Serbians and coming through to take second place.
Walton said:  "That was much better.   We dealt with the conditions and produced what we had to and didn't have to do anything extra special.  That puts a line under the heat".
Collins added:  "Today was all about getting the job done and it was a good opportunity to learn from our mistakes and try and few things".
Race Results
RESULTS
(Events featuring Team GB crews only. For full results – www.worldrowing.com)
HEATS
OPEN WOMEN
Pair
1.  Helen Glover/Heather Stanning (GREAT BRITAIN) 7:05.05
2.  Hedvig Rasmussen/Anne Andersen (Denmark) 7:05.28
3.  Keratin Hartmann/Kathrin Marchand (Germany) 7:17.98
4.  Jennifer Martins/Nicole Hare (Canada)  7:22.99
5.  Karlen Robbers/Aletta Jorritsma (Netherlands) 7:23.10
Eight
1.  Katie Greves/Melanie Wilson/Frances Houghton/Polly Swann/Jess Eddie/Olivia Carnegie Brown/Karen Bennett/Zoe Lee/Zoe de Toledo (cox) (GREAT BRITAIN) 6:09.52
2.  Canada 6:12.05
3. New Zealand 6:12.44
OPEN MEN
Four
1.  Alex Gregory/Moe Sbihi/George Nash/Constantine Louloudis (GREAT BRITAIN) 5:55.59
2.  Dionysos Angelopolous/Ioannis Tsilis/Georgios Tziallas/Ioannis Christou (Greece) 5:59.65
3.  Benjamin Lang/Mickael Marteau/Valentin Onfroy/Theophile Onfroy (France) 6:00.72
4.  David Hunt/Jonathan Smith/Vincent Breet/Jake Green (South Africa) 6:01.64
Eight
1.  Scott Durant/Tom Ransley/Andrew T Hodge/Matt Gotrel/Pete Reed/Paul Bennett/Matt Langridge/Will Satch/Phelan Hill (cox) (GREAT BRITAIN)  5:34.23
2.  Netherlands 5:36.16
3.  New Zealand 5:36.28
4.  Italy 5:52.83
LIGHTWEIGHT MEN
Double scull
1.  James Thompson/John Smith (South Africa) 6:23.10
2.  Will Fletcher/Richard Chambers (GREAT BRITAIN 6:25.62
3.  Daniel Wiederkehr/Michael Schmid (Switzerland) 6:29.95
4.   Sun Man Wang Chunxin (China) 6:30.83
5.  Xavier Vela Maggi/Wililan Giartetton (Brazil) 6:31.13
LIGHTWEIGHT WOMEN
Double scull
1.  Huang Wenyi/Pan Feihong (China) 7:00.13
2.  Anne Loik Thomsen/Juliane Rasmussen (Denmark) 7:01.84
3.  Devery Karz/Kathleen Bertko (USA) 7:07.37
4.  Laura Milani/Vanetina Rodini (Italy) 7:09.12
5.  Charlotte Taylor/Kat Copeland (GREAT BRITAIN)  7:10,25
REPECHAGE
OPEN MEN
Double scull
1.  Jonny Walton/John Collins (GREAT BRITAIN) 6:19.60
2.  Georgi Bozhilov/Kristian Vasilev (Bulgaria) 6:20.56
3.  Marko Marjanovic/Andrija Sljukic (Serbia) 6:20.62
4.  Eduardo Rubio Rodriguez/Adrian Oquendo (Cuba) 6:21.52
Quadruple scull
1.  Philipp Wende/Lauritz Schoof/Karl Schulze/Hans Gruhne (Germany) 5:51.43
2.  Jack Beaumont/Sam Towsend/Angus Groom/Peter Lambert (GREAT BRITAIN) 5:53.10
3.  Dovydas Nemeraricius/Martynas Dziaugys/Dominykas Jancionis/Aurimas Adomavicius (Lithuania)  5:55.78
4.  Nico Stahlberg/Augustin Maillerfer/Roman Roeoesli/Barnabe Delarze (Switzerland) 5:56.13
5.  Julien Bahain/Robert Gibson/Will Dean/Pascal Lussier (Canada)
6.  Nathan Flannery/John Storey/George Bridgewater/Jade Uru (New Zealand)
Contact Info
CONTACT DETAILS IN RIO
For background information about the The GB Rowing Team contact the Press office via The GB Rowing Team Press Officer or  whilst in Rio
GB Rowing Team number:  +55 21 966316237 (until 22 August)
Or
Team GB number:  +55 21 990330061 (until 22 August)
When we are back in the UK from August 23 onwards, please call:
07831 755351
For picture requests please contact:
press@matchtight.co.uk
GB Rowing Team website, including full rower biogs: www.britishrowing.org
Follow us on:
Facebook: www.facebook.com/gbrowingteam
Twitter: www.twitter.com/gbrowingteam
Youtube: www.youtube.com/thegbrowingteam