"Excited, inspired and focussed" – say GB's Para-Rowers
GB's para-rowers are excited and inspired by the success of their Olympic counterparts but focussed on the task at hand as they complete their final days of training in the UK before departing for Rio.
They took time out yesterday, at their training base, to hear from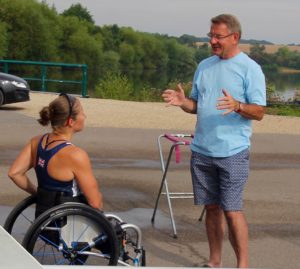 Olympic medallists Andrew Triggs Hodge and Frances Houghton as well as Open Men's squad Chief Coach, Jurgen Grobler, who answered questions about food, transport, facilities at the venue and the Games Village as well as the all important water conditions at the Lagoa Roger de Freitas.
Laurence Whiteley who will race with Lauren Rowles in their 2015 World Silver medal trunk-arms double scull said: "It was exciting to watch the success of the Olympic team. We take a lot of inspiration from that and there is a lot of experience to be drawn from the guys here today".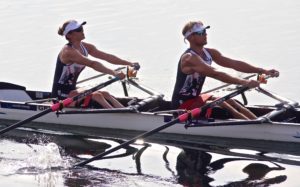 Grace Clough, World Champion in the mixed coxed four, batted away the negative stories surrounding budget cuts when she said:  "We're just focussing on what we have to do. We have a huge support staff behind us, our team manager and the British Paralympic Association are sorting all of that out for us and letting us focus on our job at hand:.
She also went on to say that the success of the Olympic team, in an integrated squad set-up, gave the para-rowing squad confidence.  She said: It gives us confidence to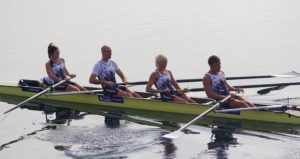 know that their planning went well and we are under the same roof and all have the same support staff so we are hoping that our planning should be just as good".
James Fox talked of the excitement of watching the medals come in from the Olympic Team from the para-rowing squad's training camp in Banyoles, Spain.
He said:  "We all watched it on the big screen with a projector out in Banyoles. It was amazing.  I absolutely loved it, watching the A finals but also seeing the conditions that we may face out there.
"We are all very excited since the Olympics, it has brought new momentum to what we are doing and gives us a final kick. I'm not nervous yet but we are going well and going to make the most of the next two weeks before we have to race".
Daniel Brown says going out to Rio will give the squad the chance to showcase their own skills.  ""I am looking forward to showing what I can do out there to follow on from everything that the Olympic team has done".
But there was also a sense that the Games were still a fortnight a way with much work still to do.
Cox Oliver James summed it up when he said:  "Each day is just another day of training. It's another opportunity to work out what makes the boat go fast and to go out and practise it.  Very much it's day by day and another day at the office".
Andrew T Hodge, now the proud holder of three Olympic gold medals since 2008, talked of his enjoyment of meeting up with the squad just a few days after going back to Caversham to talk to the world junior eight.
"It's been a pleasure.  I've enjoyed it and good to offer some insights".
The Opening Ceremony for the Paralympic Games takes place on Wednesday7 September with racing for the GB crews starting on 9 September.
The timetable of racing is (all times BST):
Friday 9 September
Heats:  12.30-14.50
Saturday 10 September
Repechages:  12.30 – 14.50
Sunday 11 September
B Finals:  12.30 – 13.30
A Finals:  13.50 – 14.50
NB – Channel 4 is the Paralympic broadcaster in the UK.