World Champions head Rio Paralympic selections
The crowds at Henley showed their appreciation today for nine Rio-bound rowers.
Henley Royal Regatta provided the backdrop as the nine GB rowers for the Rio Paralympic Games took part in a row-past to celebrate their announcement today by the British Paralympic Association.
The list of named rowers was led by Grace Clough, Daniel Brown, Pamela Relph, James Fox and cox Oliver James, the reigning World Champions in the mixed coxed four (LTAMix4+).
Great Britain has claimed the World Championship title in this boat for three consecutive years since London 2012.
The 2015 World Championship final was one of the most thrilling of the overall event with the GB four holding off the Americans by a narrow margin. This event is increasingly competitive on the global stage.
Relph is the only returning member of the victorious gold medal crew from London 2012.  A physics graduate from University of Birmingham, Relph took up rowing after arthritis led to reduced movement in her wrists and ended her planned Army career.
Relph said: "I am over the moon to be selected for my second Paralympic Games and feel so excited and nervous at the prospect of trying to defend my gold medal from London 2012. This season has been the toughest yet and I am looking forward to going to Rio to race the rest of the world. The team that has been selected is far stronger than any I have been a part of in my six years of rowing for GB and I am proud to be a part of such a talented squad."
James Fox and cox Oliver James are triple World Champions with Relph.  James took up coxing whilst at the University of Warwick and Fox, a former non-disabled club rower, classified into para-rowing because of a congenital ankle condition.
James said:  "It's exciting to be selected to go to the Games in Rio and I'm looking forward to knuckling down over the next two months before the Games to make sure we bring back the result that we have been training so hard for over the last four years".
Fox added:  "It is a real honour to be selected for the GB Paralympic Rowing Team. Racing at World Championships is exciting but being selected to race at a Paralympic Games is something special. It is my first Paralympics and I can't wait to get out to Rio and crack on".
Grace Clough and Dan Brown are the most recent additions to the crew, joining the boat in 2014 for the World Championships that year and contributing to World titles in both 2014 and 2015. Clough – who graduated from University of Leeds with a first in Sociology – was first introduced to disability sport in 2013 when she attended a ParalympicsGB SportsFest event at the EIS in Sheffield.
Brown said:  I'm excited about being selected to race in Rio. Things have been going well in training and I'm looking forward to showing what we can do as a crew come September.
Selected for his third consecutive Games, Tom Aggar will compete in the arms-shoulders (ASM1x) men's single scull event. Aggar is the longest-serving of the para-rowers currently on the squad. He started rowing in 2007 and made history as the first ever Paralympic champion in the men's arms-only single scull when he won gold at Beijing 2008, where the sport made its Paralympic debut. He is a 2014 and 2015 World silver medallist and will be seeking to add to his medal collection in Rio.
Aggar said:  "It's a huge privilege to be selected to represent your country at a Paralympic Games, and it means even more to be able to say it for a third time. Competing at the Games at the highest level is an exciting time to showcase our sport and brings with it tremendous personal pride".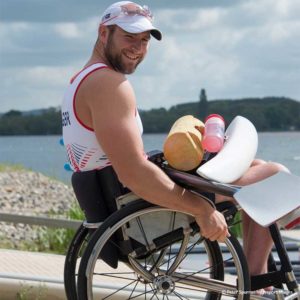 Also selected today is Rachel Morris, who has previously competed for ParalympicsGB in cycling at two Paralympic Games, winning gold in Beijing and bronze in London, and who now turns her attention to the women's single scull (ASW1x).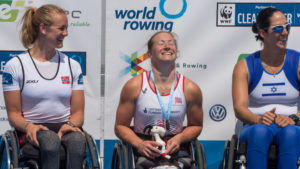 Already a World silver medallist in her new sport from the 2015 World Championships, Morris will be seeking to add her to Paralympic medal tally when she competes in Rio this summer.  On the eve of being selected, Morris won world cup gold in Poznan, beating the reigning World Champion.
Morris said today: "I'm so proud to be wearing ParalympicsGB kit again, to be representing my country is such a privilege. I'm so happy to have had such an incredible few years changing from a cyclist to a rower and had the chance & people believing in me. I would like to thank the GB Rowing Team support staff and Tom Dyson for coaching me and helping me achieve new goals and getting me into the position I am now, both mentally and physically.
"My family have been such a support by providing understanding and calmness as I'm challenged further and further to set new levels."
A relatively new partnership in the mixed double sculls (TAMix2x) is selected, with Laurence Whiteley joining up with Lauren Rowles.
Whiteley had competed in a non-Paralympic class boat while the GB Rowing Team undertook a two-year-long search for a partner who could compete alongside him in the double.
Teenager Rowles was spotted by GB Rowing Team staff by chance at Stoke Mandeville and transitioned from athletics where she was a successful wheelchair racer having competed for England at the Glasgow 2014 Commonwealth Games in the T53/54 1,500m. The duo first competed internationally at the 2015 World Championships, where they won silver.
The pairing have not raced internationally this season while Rowles has been taking her A-levels.
Rowles said:  "Being selected to represent your country at a Paralympic Games is the biggest honour and wouldn't be achievable without the support I've received from the coaches and specialists on the GB Rowing Team and also my mother who continuously supports me.  It fills me with a great sense of pride to be part of such a powerful and successful team and I am very much looking forward to producing a good performance in Rio".
Whiteley added: "After what was a very uncertain start to my first Paralympic cycle, missing the first two World Championships due to not having a partner to row with in the trunk and arms mixed double scull, I am delighted to finish this Paralympic cycle by being selected to row for Great Britain in the TAMx2."
Penny Briscoe, Chef de Mission of ParalympicsGB, said:
"The GB Rowing Team is known internationally for producing consistently outstanding crews and this para-rowing team is absolutely no different – today I am delighted that I am announcing such a strong team to join ParalympicsGB for Rio 2016.
"These rowers have proved themselves on the international stage and I am confident they will do the same at the Paralympic Games. I would like to thank all their coaches and support staff at GB Rowing for all their hard work to produce this team."
Sir David Tanner, British Rowing Performance Director said:
"I am confident that this team will prove the strongest that GB has ever sent to a Paralympic Games.  Our para rowers have worked daily with the GB Olympic Squad since London 2012 and this integration has produced real dividends in improved performance. I am sure that our four boats will do GB proud out in Rio."
Louise Kingsley, Team Leader for Rowing, said:
"I am extremely proud that we are able to announce a full para-rowing team today, this has only been achieved through the dedication and hard work of all of our coaches and support staff. The quality of international competition has increased significantly since London 2012, we had a great World Championships in 2015 however, some very good new crews have achieved qualification slots this year for the Paralympic Games so we will leave no stone unturned as we challenge for places on the podium in Rio."
Open All
Crew List
Rachel Morris – women's single scull (ASW1x)
Home town: Farnham
Main training base: Caversham
Club: Guildford RC
Tom Aggar – men's single scull (ASM1x)
Home town: London
Main training base: Caversham
Club: Marlow RC
Lauren Rowles – mixed double sculls (TAMix2x)
Home town: Bromsgrove
Main training base: Caversham
Club: Marlow RC
Laurence Whiteley – mixed double sculls (TAMix2x)
Home town: Northallerton
Main training base: Caversham
Club: Tees RC
Oliver James (cox) – mixed coxed four (LTAMix4+)
Home town: Henley-on-Thames
Main training base: Caversham
Club: Leander
Grace Clough – mixed coxed four (LTAMix4+)
Home town: Sheffield
Main training base: Caversham
Club: Nottingham RC
James Fox – mixed coxed four (LTAMix4+)
Home town: Peterborough
Main training base: Caversham
Club: University of London
Pam Relph – mixed coxed four (LTAMix4+)
Home town: Aylesbury
Main training base: Caversham
Club: Leander
Daniel Brown – mixed coxed four (LTAMix4+)
Home town: Reading
Main training base: Caversham
Club: Upper Thames Rowing Club