BLOG: "Glassy" in Cerla – from World Champion James Fox
Reigning World Champion in the para-rowing coxed four, James Fox, begins the first of his blog series today as we celebrate 200 days to the Rio Paralympic Games.
Hi, I'm James Fox and I've rowed for a little over a decade but most recently I have stroked the Paralympic LTA Mixed 4+ since 2013. This is the first of my light hearted but hopefully informative monthly pieces aiming to shed some light on what goes on behind closed doors in the GB Paralympic Team, and keep you 'in the know' in the run up to Rio. It's an exciting time and I think it would be great to have you on-board as the season unfolds and we go in search of some m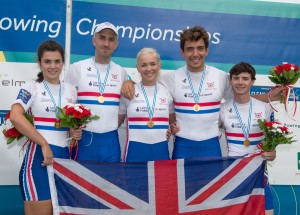 etal work across the pond this Autumn.
We have just got back from training camp in Cerla; a relatively new, unknown venue on the Spanish-Portuguese border. Traditionally the Paralympic team goes to Banyoles three times a year – twice in the winter, once in the summer.
Banyoles is a great place to train. A buoyed 2k course in the middle of a vast lake in the shadows of the foothills of the Pyrenees. Very little wind and a warmer-than-home climate has meant that its popularity as a venue for national teams and keen clubs alike has exploded over the years and January was set to be a busy month. This was the perfect excuse for us to try somewhere new.
Before this year I had never heard of Cerla. The GB Rowing Team Juniors chose it as their venue for their winter training camp in December and I know there are a few other high performance teams that have been or are going there to train this year. Its 10k stretch suits winter miles down to the ground.
On arrival we were told by the local rowing manager that wind was rare. 3 or 4mph was about as stormy it was going to get. Obviously this was met by sniggers of disbelief. You've seen the wind on the tideway on Head race days. Or at any time for that matter. The University of London is my home club so I know better than to believe that. But he was right. As some of my friends would describe it; it was 'glassy'. Perfect.
We got some really good training done over the fortnight. Mainly in pairs and fours in preparation for the impending trials in March but it was nice get out in sculls too and churn through some miles.
Imagine our shock when Storm Imogen welcomed us home…Now, with 200 days to go to Rio,  it's business as usual for me. It's very exciting that it's closing in but there's a lot of work still to be done.